French police called for calm and said crowds had been attacking people in Paris suburbs they believed were responsible for rumored abductions.
A pregnant young Roma mother has been jailed for a year in Nice after being convicted of mistreating her children on the Mediterranean city's streets. Human rights and Roma groups see a worrying link between the woman's arrest and conviction and a campaign by the right-wing mayor Christian Estrosi to clean up the city's streets for the tourist season, and claim the authorities have sought to make an example of her. Louise Fessard reports.
French president made comments in speech to 500 people at Montreuil-Bellay, the largest of 31 camps in which up to 6,500 Roma were interned.
Protest aimed at getting prisoner, whose father was among those killed in Roma camp earlier this week, released for funeral.
Officials said northern Paris slum with its ramshackle huts, home to around 300, posed a health and safety risk to the community.
The dead at the camp near Roye in the Somme in northern France include a six-month-old baby and a gendarme.
Christian Leclerc, the mayor of Champlan near Paris who provoked a media storm last weekend when he refused to allow a Roma baby to be buried in his town, has form when it comes to antipathy towards the community. Since the controversy Leclerc has sought to portray himself as a victim of the media and political opponents and claims he has been misrepresented. But Mediapart has got hold of a recording of a recent council meeting in which the mayor denigrated the Roma people in his area. He also wrote a letter to local residents in which he fuelled their fears over a suspected case of tuberculosis. Carine Fouteau and Ellen Salvi report.
Mayor of Champlan denies refusing to bury baby but apologises as saga continues to spark row and child is buried in nearby town.
Right-wing mayor of Champlan near Paris provoked outrage for blocking burial of the baby, who will now be laid to rest in neighbouring town.
Centrist politician Gilles Bourdouleix, who is also a local mayor, lost an appeal against conviction for condoning a crime against humanity.
A 16 year-old Roma boy beaten unconscious by a lynch mob on a sink estate in the Paris suburbs remained in a coma in a Paris hospital on Wednesday, when doctors said he was uncertain to survive the multiple injuries he sustained. Suffering notably from severe fractures to his skull, the teenager was found dumped unconscious in a supermarket trolley beside a main road after the mob of masked individuals kidnapped him from the makeshift camp (pictured) his family and other Roma were living in. Carine Fouteau reports from the run-down housing estate, where she found few people among its multi-ethnic population prepared to openly condemn the horrific events.
The 16 year-old, suspected of stealing, was severely beaten in a cellar before being abandoned in a supermarket trolley beside a main road.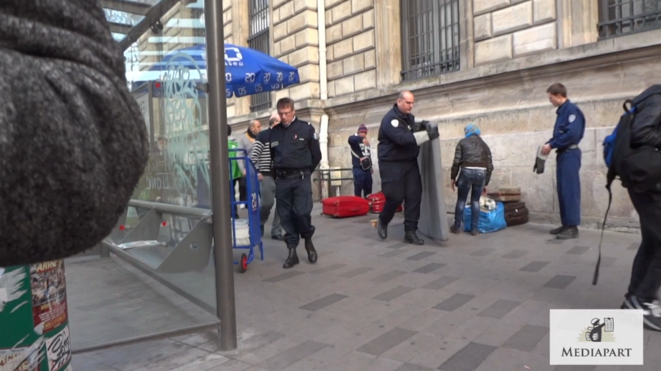 Vidéo dans l'article
A video obtained by Mediapart shows three police officers removing a mattress from members of a Roma family who are living rough on a Paris street. The incident passed off without incident or even raised voices, either from the family or the officers. Indeed, the episode happened so quickly and so calmly that many passers-by walked on with barely a second glance. But as Carine Fouteau reports, with no clear legitimate reason to take the mattress, the officers are perilously close to being guilty of theft. The incident, which took place at a time when the police in a nearby district were being instructed to "evict" Roma people "systematically", highlights what some call the regular "harassment" endured by such families.
Original memo caused row after it said Roma families needed to be 'evicted' from well-heeled district of French capital.