French environment minister Nicolas Hulot has applauded a Californian court judgment which found agrochemical giant Monsanto did not warn of the serious health risks of using its herbicide Roundup, ordering it to pay nearly $290 million to a school groundskeeper who developed terminal cancer after using the product, adding that he hoped the ruling 'corrects the indifference of politicians' over the dangers of the weedkiller's key compound glyphosate.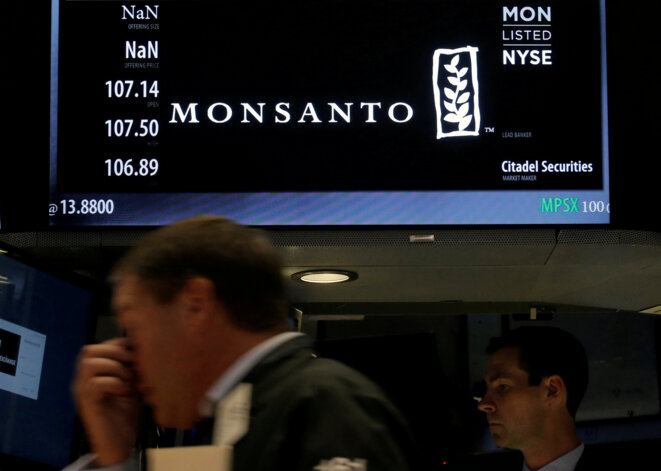 Monsanto shares tracked on the New York Stock Exchange © Reuters.
Glyphosate, the compound used in the herbicide Roundup manufactured by US agrochemical corporation Monsanto, which earlier this month was acquired by German pharmaceuticals and chemicals giant Bayer, is suspected by several scientific studies of being carcinogenic, and notably of causing non-Hodgkin lymphoma. But now a French couple have launched a lawsuit against the firm over serious malformations of their son's digestive and respiratory systems which they argue was caused by his mother's exposure to glyphosate in the early weeks of pregnancy. Crucially, they say that Monsanto knew of the compound's potential dangers, but failed to warn of them in product labelling. Dorothée Moisan reports.
Glyphosate, the active ingredient in Monsanto's Roundup weedkiller, has stirred fierce debate since a WHO body said it was probably carcinogenic.
Monsanto product will be barred from self-service shopping outlets amid evidence that one of its constituents, glyphosate, is carcinogenic.