Related keywords
Defence minister Florence Parly says a Russian spy satellite got close to a Franco-Italian satellite last year and tried to intercept its transmissions.
In a tightly fought game on Tuesday, France beat Belgium to earn a place in the World Cup final in Moscow next Sunday to face either England or Croatia who play their semi-final match on Wednesday.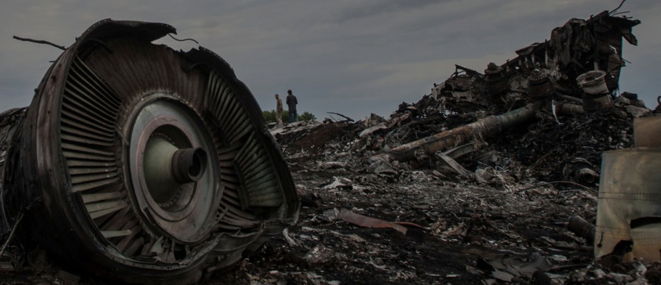 Wreckage from Malaysia Airlines flight MH17 found in eastern Ukraine on July 17th 2014. © CORRECT!V
An international investigation has concluded that the destruction of a Malaysia Airlines flight linking Amsterdam to Kuala Lumpur over eastern Ukraine in July 2014, which killed all 298 passengers and crew aboard, was caused by a missile from a Russian army anti-aircraft brigade, confirming a report published by Mediapart just six months after the horrific events. The attack occurred over territory held by pro-Russian Ukrainian separatists at the height of the secessionist conflict with the Ukraine government.  The Joint International Team investigation, involving officials from the Netherlands, Australia, Belgium, Malaysia and Ukraine, have found that the missile which destroyed the plane "came from the 53rd Anti-Aircraft Missile Brigade based in Kursk in Russia", just as the investigation by Mediapart media partner CORRECT!V had pieced together in this detailed report first published in January 2015.
In a joint press conference in St Petersburg ahead of an annual economic forum on Friday, the Russian and French leaders reiterated their support for the Iran nuclear programme limitation deal after the recent US decision to withdraw from it, and that despite US President Donald Trump's decision to pull back from planned talks with North Korean leader Kim Jong-un negotiations over the latter's proposed denuclearisation of the peninsula should continue.
French President Emmanuel Macron, on a two-day visit to St Petersburg where he is holding talks with Russian President Vladimir Putin, has highlighted his contacts with the leader of the rights' group Memorial, Alexander Cherkasov, and Natalia Solzhenitsyn, the widow of Soviet dissident writer Alexander Solzhenitsyn, whom he called 'the echo of a voice that marked the 20th century and continues to shine in ours'.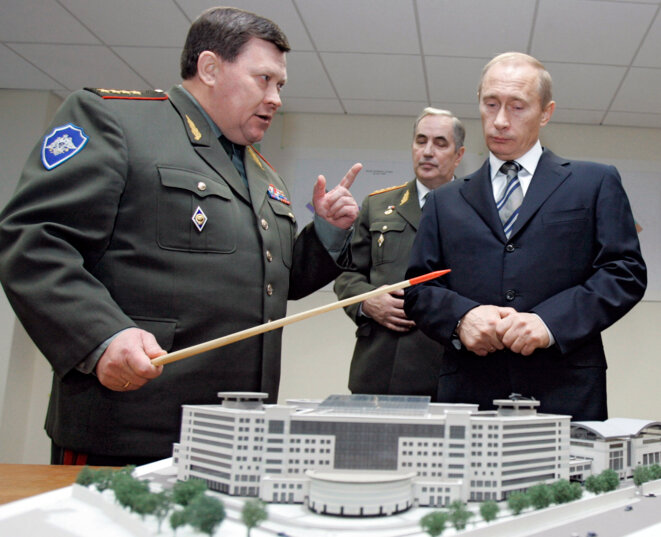 Vladimir Putin, himself a former KGB officer, listening to officials from the Russian foreign military intelligence agency the GRU in 2006. © Reuters/Itar-Tass/Service de presse présidentiel russe
Russian spies in France are trying to recruit business people, diplomats and military personnel, using resources and methods similar to those used at the height of the Cold War. French counter-intelligence officials are meanwhile working hard to unmask the Russian agents. Though Russia and France are co-operating over antiterrorism issues, their respective intelligence agents are engaged in a parallel, largely hidden struggle, with French soil as the battleground. Matthieu Suc and Jacques Massey report.
French President Emmanuel Macron Thursday said the poisoning in Britain of exiled Russian former double agent Sergei Skripal and his daughter Yulia apeared 'attributable' to the Russian authorities, describing it as an 'unacceptable attack on the soil of an allied country' and pledged to announce retaliation measures 'in the coming days'.
British Prime Minister Theresa May has said French President Emmanuel Macron agreed that their two governments 'should coordinate closely' over the growing crisis between London and Moscow following the poisoning of a former Russian double-agent and his daughter in an English town earlier this month.
Yoann Barbereau evaded house arrest in Siberia, went into hiding for a year in Moscow, and then crossed wolf-infested forests to Baltic state.
The head of France's cyber security agency says that the hack behind the massive leak of emails from Emmanuel Macron's campaign team on the eve of his election as president on May 7th was of such "simplicity" that it could have been carried out by "anyone". It is therefore impossible, says Guillaume Poupard, to say whether Russian hacking groups with ties to the government in Moscow were implicated. However, as Agathe Duparc and Anastasia Kirilenko report, investigations by two independent websites in Moscow do indeed point to Russian involvement.
Russia, Armenia and the former West Germany were all major suppliers of technology and raw materials for Syria's programme of chemical weapon production, exiled Syrians who worked on the project have told Mediapart. They also say that, in violation of intentional law, the Damascus regime still has a secret arsenal of up to 35 tonnes of chemical weapons. René Backmann reports.
Russian President Vladimir Putin on Monday congratulated France's newly-elected president Emmanuel Macron, whose campaign staff  previously accused Russia of orchestrating a dirty tricks campaign against him, adding that it was "especially important to overcome mutual mistrust and unite efforts to ensure international stability and security".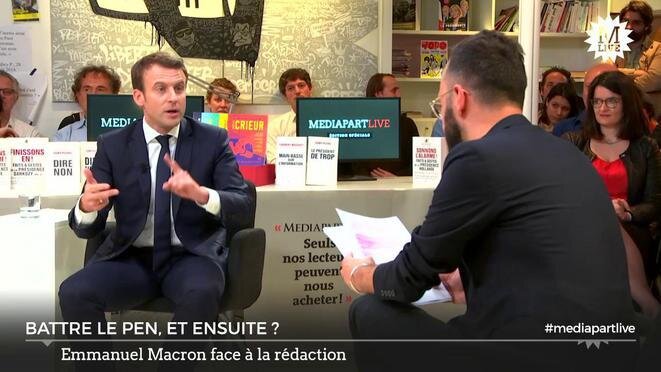 © Mediapart
Emmanuel Macron, who was elected as France's new president on Sunday, gave his last interview before his landslide victory to Mediapart, in which he detailed the measures and policies he would adopt over his five-year term of office. During the two-hour interview on Friday evening, he detailed his approach to a number of foreign policy issues - which were little mentioned during his campaign - including French military intervention abroad, his views on Donald Trump and Vladimir Putin, the Israeli-Palestinian conflict, the Greek debt crisis, and US reluctance to implement the Paris COP 21 measures to combat climate change.
French forein minister Jean-Marc Ayrault has said his country's intelligence services will present proof that the Syrian regime launched a chemical weapons attack on the town of Khan Sheikhun on April 4th which claimed 86 lives, which both Damascus and its allies, Russia and Iran, have denied.