An aircraft carrying the coffin of General Charles-Etienne Gudin de la Sablonnière landed at Le Bourget airport on Tuesday afternoon.
Celebrated Champagne producer Moët Hennessy, part of the LVMH luxury group that includes Veuve Clicquot, Ruinart, Mercier, Krug and Dom Pérignon, threatened to suspend exports to Russia after President Vladimir Putin required all non-Russian producers of bubbly wine to mark their products in Russia as 'sparkling wine', but has now backed down.
Some demonstrators waved Russian flags and held banners calling for greater cooperation between Mali and Russia.
The French government has called for the 'immediate release' of Alexei Navalny, principal opponent of Russian President Vladimir Putin, after he was arrested in Moscow on his return to Russia on Sunday after recovering in Germany from a poisoning attack that nearly killed him.
France's defence minister Florence Parly has confirmed that a French army lieutenant-colonel, whose identity was not released, has been arrested for passing secret information to Russia, which reportedly happened as he prepared to leave France to return to his post with NATO's southern command headquarters in Naples. 
Emmanuel Macron and German Chancellor Angela Merkel also discussed growing tensions in the eastern Mediterranean and the coup in Mali, during talks at the French president's retreat in the south of France.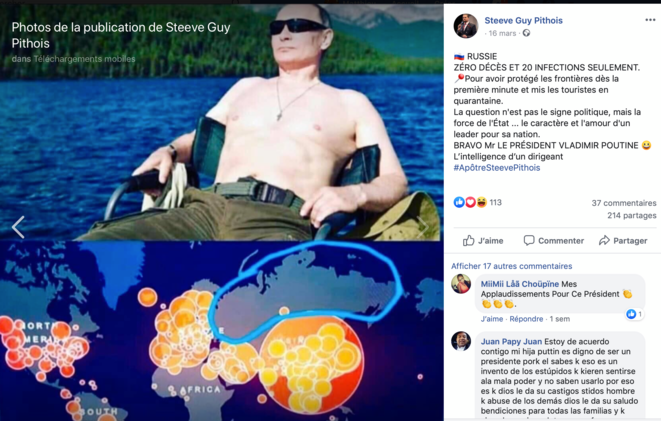 A meme that has gone viral: Russian leader Vladimir Putin relaxing; below is a map of Europe showing how it has been invaded by the virus. © DR
The Covid-19 coronavirus pandemic has not brought a stop to the activities of hackers and trolls bankrolled by various foreign governments, including Russia and China. In some cases hacking attacks have targeted institutions who are in the front line in the battle against the virus. Trolls meanwhile have been extolling the virtues of how authoritarian regimes have handled the health emergency. François Bougon and Matthieu Suc report.

French President Emmanuel Macron, speaking in Germany on the second day of the Munich Security Conference, said sancions slapped on Russia by the European Union for its actions in Ukraine had changed 'absolutely nothing' and, while not proposing their lifting, urged what he said was a more 'credible' approach of re-engaging 'in a strategic dialogue'.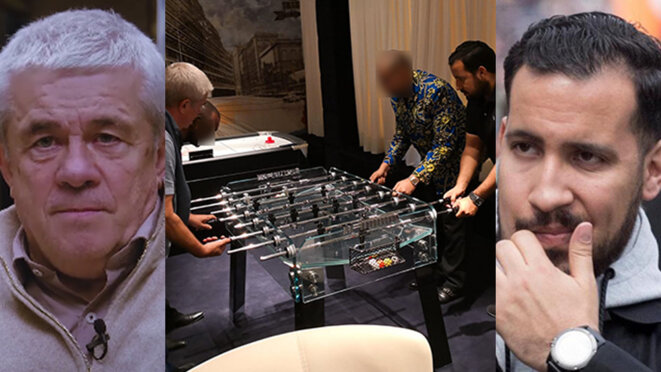 Jean-Louis Haguenauer, left, and Alexandre Benalla at a château in the Dordogne in August 2018. © Document Mediapart
In the unfolding saga of the Benalla affair, which involves President Emmanuel Macron's sacked security aide Alexandre Benalla, one man played a key role in the shadows. He is French middleman Jean-Louis Haguenauer, the man behind the Russia security contract negotiated by Benalla while the latter was still working as a key aide at the Élysée. Mediapart can reveal how over a period of 30 years Haguenauer cultivated a network of contacts in Russia, including close links with the Russian secret services. Fabrice Arfi, Antton Rouget and Marine Turchi report.
Defence minister Florence Parly says a Russian spy satellite got close to a Franco-Italian satellite last year and tried to intercept its transmissions.
In a tightly fought game on Tuesday, France beat Belgium to earn a place in the World Cup final in Moscow next Sunday to face either England or Croatia who play their semi-final match on Wednesday.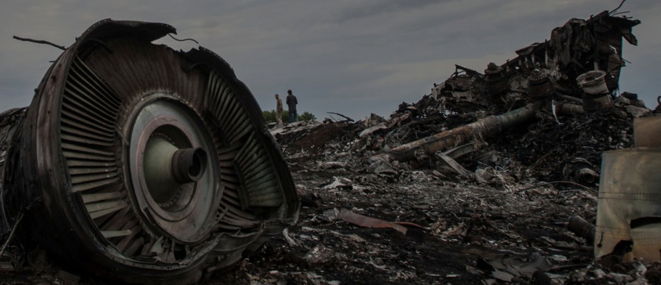 Wreckage from Malaysia Airlines flight MH17 found in eastern Ukraine on July 17th 2014. © CORRECT!V
An international investigation has concluded that the destruction of a Malaysia Airlines flight linking Amsterdam to Kuala Lumpur over eastern Ukraine in July 2014, which killed all 298 passengers and crew aboard, was caused by a missile from a Russian army anti-aircraft brigade, confirming a report published by Mediapart just six months after the horrific events. The attack occurred over territory held by pro-Russian Ukrainian separatists at the height of the secessionist conflict with the Ukraine government.  The Joint International Team investigation, involving officials from the Netherlands, Australia, Belgium, Malaysia and Ukraine, have found that the missile which destroyed the plane "came from the 53rd Anti-Aircraft Missile Brigade based in Kursk in Russia", just as the investigation by Mediapart media partner CORRECT!V had pieced together in this detailed report first published in January 2015.
In a joint press conference in St Petersburg ahead of an annual economic forum on Friday, the Russian and French leaders reiterated their support for the Iran nuclear programme limitation deal after the recent US decision to withdraw from it, and that despite US President Donald Trump's decision to pull back from planned talks with North Korean leader Kim Jong-un negotiations over the latter's proposed denuclearisation of the peninsula should continue.
French President Emmanuel Macron, on a two-day visit to St Petersburg where he is holding talks with Russian President Vladimir Putin, has highlighted his contacts with the leader of the rights' group Memorial, Alexander Cherkasov, and Natalia Solzhenitsyn, the widow of Soviet dissident writer Alexander Solzhenitsyn, whom he called 'the echo of a voice that marked the 20th century and continues to shine in ours'.