French President Emmanuel Macron Thursday said the poisoning in Britain of exiled Russian former double agent Sergei Skripal and his daughter Yulia apeared 'attributable' to the Russian authorities, describing it as an 'unacceptable attack on the soil of an allied country' and pledged to announce retaliation measures 'in the coming days'.
British Prime Minister Theresa May has said French President Emmanuel Macron agreed that their two governments 'should coordinate closely' over the growing crisis between London and Moscow following the poisoning of a former Russian double-agent and his daughter in an English town earlier this month.
Yoann Barbereau evaded house arrest in Siberia, went into hiding for a year in Moscow, and then crossed wolf-infested forests to Baltic state.
The head of France's cyber security agency says that the hack behind the massive leak of emails from Emmanuel Macron's campaign team on the eve of his election as president on May 7th was of such "simplicity" that it could have been carried out by "anyone". It is therefore impossible, says Guillaume Poupard, to say whether Russian hacking groups with ties to the government in Moscow were implicated. However, as Agathe Duparc and Anastasia Kirilenko report, investigations by two independent websites in Moscow do indeed point to Russian involvement.
Russia, Armenia and the former West Germany were all major suppliers of technology and raw materials for Syria's programme of chemical weapon production, exiled Syrians who worked on the project have told Mediapart. They also say that, in violation of intentional law, the Damascus regime still has a secret arsenal of up to 35 tonnes of chemical weapons. René Backmann reports.
Russian President Vladimir Putin on Monday congratulated France's newly-elected president Emmanuel Macron, whose campaign staff  previously accused Russia of orchestrating a dirty tricks campaign against him, adding that it was "especially important to overcome mutual mistrust and unite efforts to ensure international stability and security".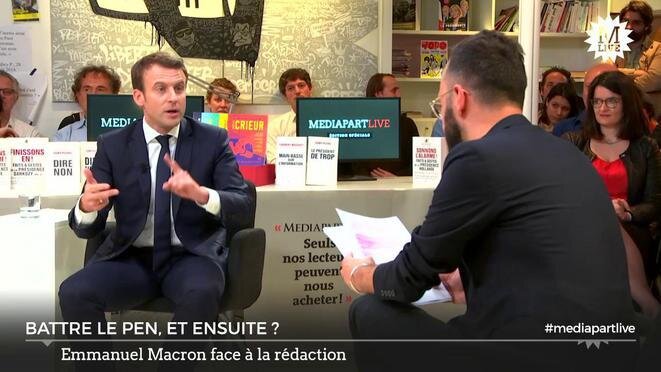 © Mediapart
Emmanuel Macron, who was elected as France's new president on Sunday, gave his last interview before his landslide victory to Mediapart, in which he detailed the measures and policies he would adopt over his five-year term of office. During the two-hour interview on Friday evening, he detailed his approach to a number of foreign policy issues - which were little mentioned during his campaign - including French military intervention abroad, his views on Donald Trump and Vladimir Putin, the Israeli-Palestinian conflict, the Greek debt crisis, and US reluctance to implement the Paris COP 21 measures to combat climate change.
French forein minister Jean-Marc Ayrault has said his country's intelligence services will present proof that the Syrian regime launched a chemical weapons attack on the town of Khan Sheikhun on April 4th which claimed 86 lives, which both Damascus and its allies, Russia and Iran, have denied.
The cash-strapped far-right Front National has been forced to turn to Russian banks to help fund it.
French foreign minister Jean-Marc Ayrault gave the warning after complaints by the party of centrist presidential election candidate Emmanuel Macron that his campaign was the target of 'fake news' put out by Russian media, including rumours about his private life, as well ascyber attacks on its databases.
The 32-year-old self-styled rebel political artist, who made headlines by nailing his scrotum to the ground in Red Square, says he and his partner fled to France to escape arrest in Russia for the alleged sexual assault of an actress, which he said was a trumped-up charge. 
Far-right Front National leader urged pact to fight Islamist fundamentalism as she took aim at her chief domestic rival, François Fillon.
For the first time since the end of the Cold War, argues Foreign Affairs magazine, Russia is a hot topic in the French presidential campaign.
Diplomatic sources said Paris and London have also raised the prospect of sanctions on 12 Russians involved in the Syrian conflict, adding them to the EU's list of some 200 people that also includes three Iranians, with similar sanctions against Syrian individuals.
French foreign minister Jean-Marc Ayrault said bombing of rebel-held parts of Syrian town of Aleppo by Russia and Damascus regime are war crimes over which Paris is to ask the International Criminal Court to launch an investigation.