Related keywords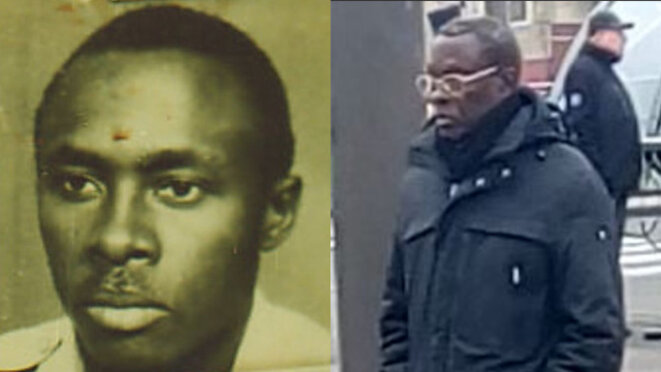 Left to right: an undated photo of Aloys Ntiwiragabo, and pictured on his way to church in February 2020 in Orléans. © DR
The Rwandan authorities have issued an international warrant for the arrest and extradition of Aloys Ntiwiragabo, a former head of the country's military intelligence who is accused of playing a key role in the 1994 genocide in which an estimated 800,000 people were slaughtered, after an investigation by Mediapart revealed that he had settled with his wife in the French town of Orléans.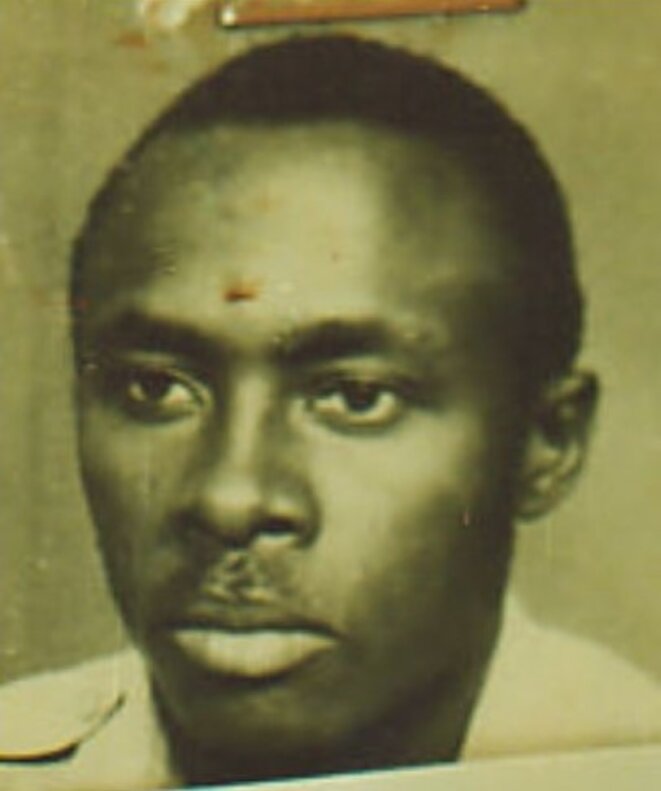 An undated photo of Aloys Ntiwiragabo from a report by NGO African Rights.
In July Mediapart revealed that Rwandan colonel Aloys Ntiwiragabo, who is suspected of playing an important role in the 1994 genocide against the Tutsis, was now living in Orléans in France. Now we can reveal that the former head of Rwandan military intelligence has been living here for at least 14 years. Yet, curiously, paperwork acknowledging his request for political asylum in France was only sent to him in February 2020. The fact that his asylum application has only been made recently raises questions about what Aloys Ntiwiragabo's status had been in the meantime - and whether he had received discreet support. Théo Englebert reports.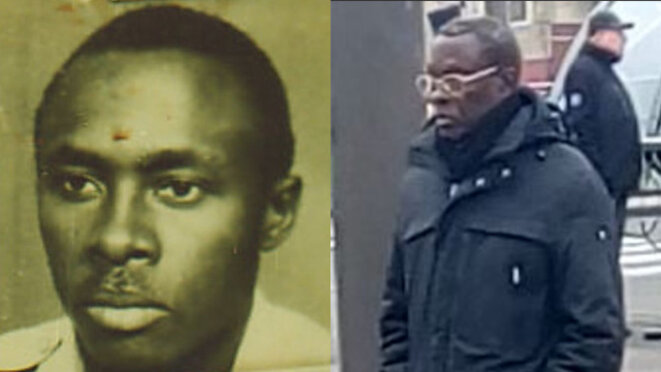 On the left, an undated photo of Aloys Ntiwiragabo ; on the right, photographed in February 2020. © DR
France's anti-terrorism prosecution authorities have opened a preliminary investigation for 'crimes against humanity' into Aloys Ntiwiragabo after Mediapart revealed that he was living in a quiet suburb of Orléans, a city 75 miles south-west of Paris. There had been an international search for the former head of military intelligence over his suspected role in the massacre of the Tutsis in Rwanda in 1994. Aloys Ntiwiragabo, now 72, also founded and led a criminal armed group, the Democratic Forces for the Liberation of Rwanda, which has been blamed for attacks in central Africa. But the Rwandan fugitive disappeared off the radar until Mediapart tracked him down. There are now questions over how France could have allowed him to enter the country and live here undetected. Théo Englebert reports.
Mediapart tracced former Rwandan spy chief Aloys Ntiwiragabo to city of Orleans, about 100km south-west of Paris.
Félicien Kabuga, 84, who is accused of funding and encouraging the genocide of 800,000 people, mostly Tutsis in Rwanda in 1994, and who was was indicted by the UN international criminal tribunal for Rwanda in 1997 for genocide and six other counts, was arrested on Saturday in the Paris suburb of Asnières where he had been living under a false identity.
Rwanda accuses France of complicity in mass killings - a charge denied by Paris  - and experts will now consult archives to analyse France's role.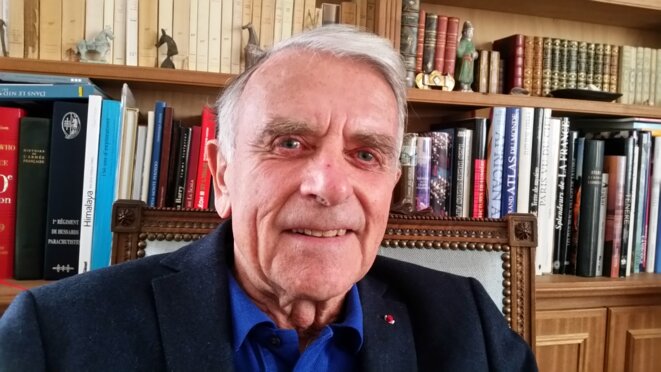 'A fault that led to genocide': former French general Jean Varret. © Benît Collombat, de la cellule investigation de Radio France
Former army corps general Jean Varret is the most senior French officer yet to criticise France's actions in the East African state of Rwanda in the years immediately preceding the 1994 genocide in the country. Interviewed as part of a joint investigation by Mediapart and Radio France into the events 25 years ago, Varret denounced the role and "faults" of a "military lobby" directing French policy, and how the warnings of the horror to come were ignored by his military and political masters.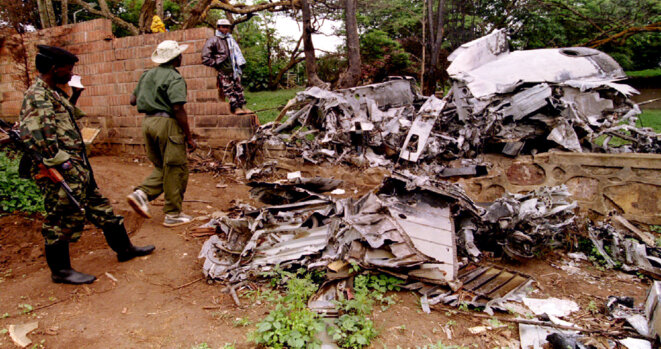 The wreckage of Rwandan president Juvénal Habyarimana's aicraft, shot down on April 6th 1994. © Reuters
In a joint investigation, Mediapart and Radio France have revealed the contents of previously unseen documents relating to aspects of the 1994 genocide in Rwanda, from the assassination of President Juvénal Habyarimana which sparked the massacres to illegal arms sales to the genocidal regime. The documents include a key report by France's overseas intelligence agency, the DGSE, on the genocide, which left close to one million people dead. Mediapart's Fabrice Arfi and Benoît Collombat of Radio France report.
French magistrates have closed an investigation into the missile attack in 1994 on a plane carrying then-Rwandan president Juvenal Habyarimana, which sparked the genocide in the East African country in which more than 800,000 people died, citing insufficient evidence against seven named suspects.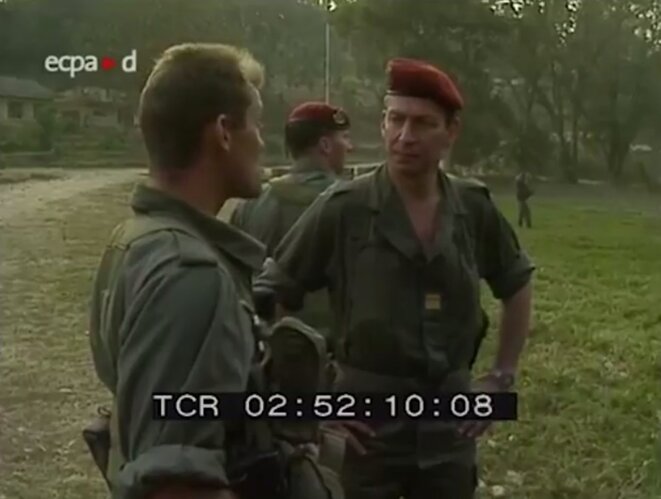 On the right, Colonel Jacques Rosier, head of French special forces in Rwanda. © DR
Mediapart has published a video filmed in the summer of 1994 by French soldiers in Rwanda. It exposes the passivity of the army during one of the most embarrassing episodes for France during the genocide in that country: the massacre at Bisesero. The revelation comes as French judges complete their long investigation into the claims that the French military was "complicit" in genocide and crimes against humanity. Meanwhile human rights groups say they fear that the victims of the atrocities will be denied justice.  Fabrice Arfi reports.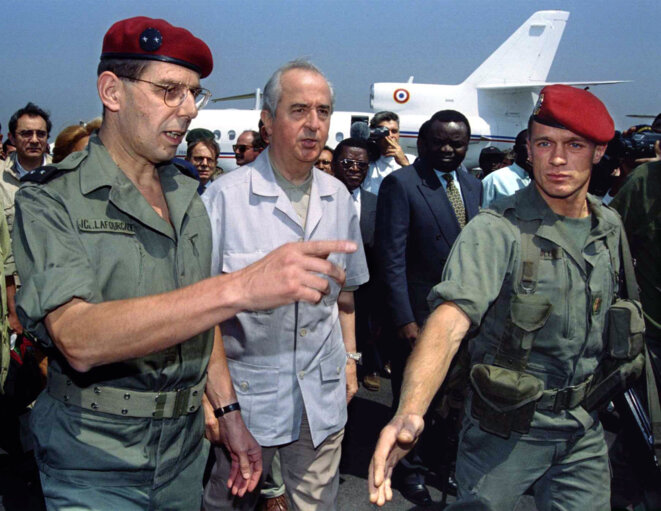 General Jean-Claude Lafourcade, leaft, head of Opération Turquoise forces in Rwanda, with prime minister Édouard Balladur, July 21st, 1994, at Goma. © Reuters
Investigating magistrates in France have been probing the actions of a group of senior French military officers in relation to a massacre at Bisesero in Rwanda, one of the grim episodes in the genocide committed against the Tutsi people in 1994. For 13 years the judges have investigated the potential responsibility of the French military over that massacre amid claims that senior officers were slow to react to warnings that Tutsis were in mortal danger at that site. But Mediapart understands that the magistrates have now finished their probe with no individuals being placed under formal investigation, paving the way for the case to be dismissed with no trial. Fabrice Arfi reports.
An investigation into the deadly missile attack in 1994 on the aircraft carrying Rwandan president Juvenal Habyarimana, after which followed 100 days of slaughter of the Tutsi ethnic minority by members of Habyarimana's Hutu ethnic group, leaving an estimated 800,000 people dead, has been closed by French magistrates.
Officials claim French officers were involved both as perpetrators and accomplices in 1994 genocide in which more than 800,000 were killed.
French investigators want to question a dissident general who has accused the country's current head of state of orchestrating the 1994 killing.