President will address France's role in 1994 genocide during a visit aimed at normalising ties between the two countries.
However, when asked if an apology would be a further important gesture Kagamé, who was in Paris for a summit on post-pandemic financing for African nations hosted by President Emmanuel Macron, responded: 'I think so.'
The Paris prosecution services have advised that a judicial investigation into the alleged complicity of French troops in the 1994 genocide in Rwanda of Tutsis by Hutu extremists be dropped for lack of evidence.  
A report by a US law firm that was commissioned by the authorities in Kigali says France bears 'significant responsibility' for deaths.
The report also said Paris bore "heavy and overwhelming responsibilities" over the 1994 Rwanda genocide, but it found no evidence of French complicity.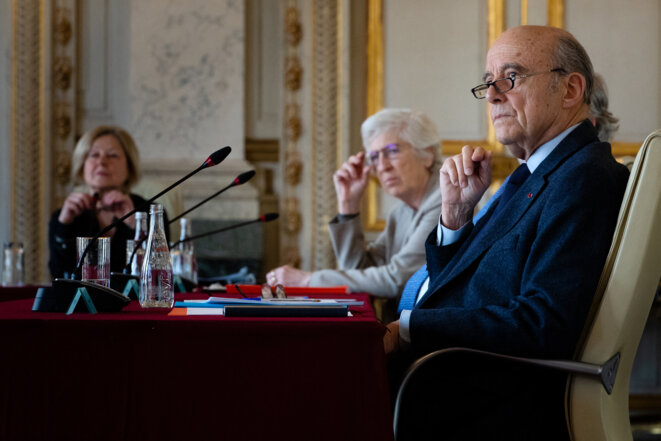 Alain Juppé, French foreign affairs minister in 1994, seen here in May 2020 at France's Constitutional Council where he now sits. © JOEL SAGET / AFP
In July 1994 in Rwanda, immediately after the fall of the murderous Hutu regime that had led the genocide of hundreds of thousands of the minority ethnic Tutsi population, a group of regime officials, including its president, had fled into a "safe zone" controlled by the French army. A document now discovered in official archives in Paris proves that the French government knew of the presence of the regime officials, but instead of detaining them it organised their escape out of Rwanda. The document, a cable sent from the office of then French foreign minister Alain Juppé, was signed by the current head of the French foreign intelligence agency, the DGSE. Fabrice Arfi reports.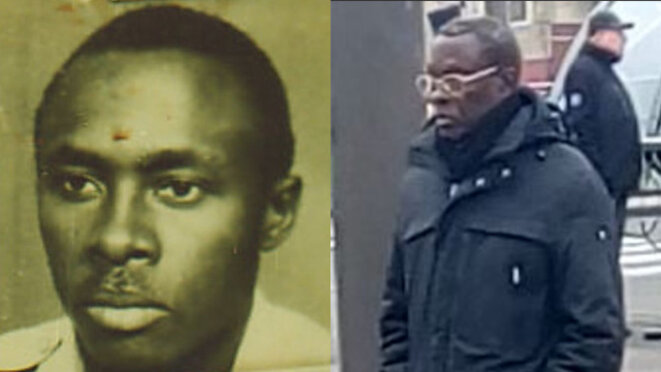 Left to right: an undated photo of Aloys Ntiwiragabo, and pictured on his way to church in February 2020 in Orléans. © DR
The Rwandan authorities have issued an international warrant for the arrest and extradition of Aloys Ntiwiragabo, a former head of the country's military intelligence who is accused of playing a key role in the 1994 genocide in which an estimated 800,000 people were slaughtered, after an investigation by Mediapart revealed that he had settled with his wife in the French town of Orléans.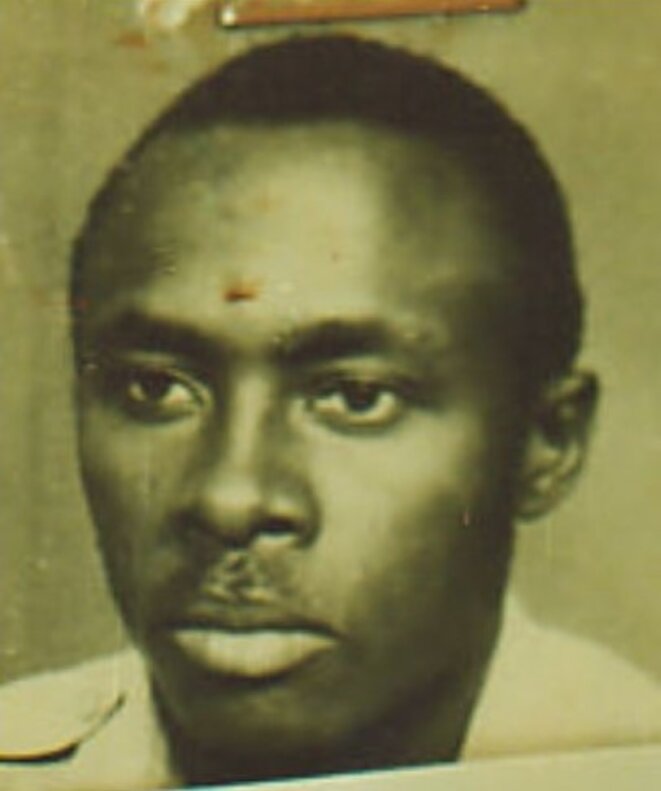 An undated photo of Aloys Ntiwiragabo from a report by NGO African Rights.
In July Mediapart revealed that Rwandan colonel Aloys Ntiwiragabo, who is suspected of playing an important role in the 1994 genocide against the Tutsis, was now living in Orléans in France. Now we can reveal that the former head of Rwandan military intelligence has been living here for at least 14 years. Yet, curiously, paperwork acknowledging his request for political asylum in France was only sent to him in February 2020. The fact that his asylum application has only been made recently raises questions about what Aloys Ntiwiragabo's status had been in the meantime - and whether he had received discreet support. Théo Englebert reports.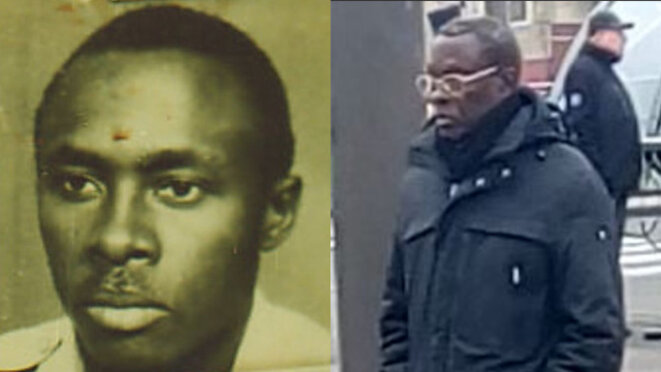 On the left, an undated photo of Aloys Ntiwiragabo ; on the right, photographed in February 2020. © DR
France's anti-terrorism prosecution authorities have opened a preliminary investigation for 'crimes against humanity' into Aloys Ntiwiragabo after Mediapart revealed that he was living in a quiet suburb of Orléans, a city 75 miles south-west of Paris. There had been an international search for the former head of military intelligence over his suspected role in the massacre of the Tutsis in Rwanda in 1994. Aloys Ntiwiragabo, now 72, also founded and led a criminal armed group, the Democratic Forces for the Liberation of Rwanda, which has been blamed for attacks in central Africa. But the Rwandan fugitive disappeared off the radar until Mediapart tracked him down. There are now questions over how France could have allowed him to enter the country and live here undetected. Théo Englebert reports.
Mediapart tracced former Rwandan spy chief Aloys Ntiwiragabo to city of Orleans, about 100km south-west of Paris.
Félicien Kabuga, 84, who is accused of funding and encouraging the genocide of 800,000 people, mostly Tutsis in Rwanda in 1994, and who was was indicted by the UN international criminal tribunal for Rwanda in 1997 for genocide and six other counts, was arrested on Saturday in the Paris suburb of Asnières where he had been living under a false identity.
Rwanda accuses France of complicity in mass killings - a charge denied by Paris  - and experts will now consult archives to analyse France's role.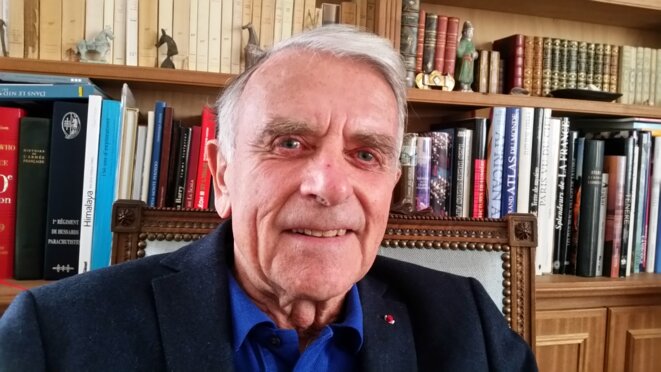 'A fault that led to genocide': former French general Jean Varret. © Benît Collombat, de la cellule investigation de Radio France
Former army corps general Jean Varret is the most senior French officer yet to criticise France's actions in the East African state of Rwanda in the years immediately preceding the 1994 genocide in the country. Interviewed as part of a joint investigation by Mediapart and Radio France into the events 25 years ago, Varret denounced the role and "faults" of a "military lobby" directing French policy, and how the warnings of the horror to come were ignored by his military and political masters.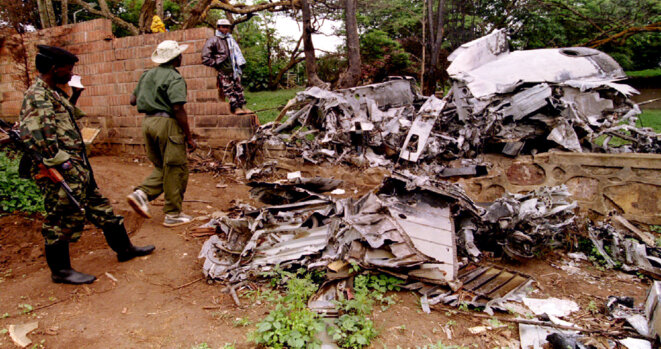 The wreckage of Rwandan president Juvénal Habyarimana's aicraft, shot down on April 6th 1994. © Reuters
In a joint investigation, Mediapart and Radio France have revealed the contents of previously unseen documents relating to aspects of the 1994 genocide in Rwanda, from the assassination of President Juvénal Habyarimana which sparked the massacres to illegal arms sales to the genocidal regime. The documents include a key report by France's overseas intelligence agency, the DGSE, on the genocide, which left close to one million people dead. Mediapart's Fabrice Arfi and Benoît Collombat of Radio France report.