France's nuclear saftey regulator, the ASN, has ordered utilities giant EDF to repair faulty welding at its EPR reactor under construction at Flamanville, northern France, initially due to enter service in 2012 but which has been dogged by a series of safety issues while also running well over its initial budget.
A group of eight Greenpeace militants broke into a nuclear plant at Cattenom in north-east France early on Thursday, where they let off fireworks in a filmed protest to highlight what the organisation says are inadequate security measures to prevent malicious attacks.
A recently-published study of health risks at the workplace in France demonstrates the grave dangers millions of employees are exposed to and the immense difficulties in attaining official recognition of these and the illnesses that they create. The study is presented in a book entitled Les Risques du travail, co-authored by experts on occupational health and safety, and which is an updated version of a similar study published under the same title in 1985. In this interview with Mathilde Goanec and Rachida El Azzouzi, two of the new book's co-author's, Annie Thébaud-Mony and Laurent Vogel, detail their findings and explain why the evolution of the economy and industry over the past 30 years have made occupational risks more diversified and the health consequences harder to legally prove.
French utility giant EDF ignored warnings issued to it by France's supreme nuclear safety watchdog, the ASN, of dangerous faults in the machinery being used for the construction of a reactor in what will become one of the world's largest nuclear power plants, Mediapart can reveal. Alerted to the problem, the Ministry of Labour has now ordered EDF to halt use of the machinery until the flaws are corrected. As Pascale Pascariello reports, the problem is just one of a series that have blighted the building of the European Pressurized Reactor at Flamanville, in northern France, with its completion already delayed by four years amid spiralling costs.
The French nuclear industry has been ordered to implement urgent safety improvements costing several billion euros after a nationwide stress test of the country's major nuclear sites found they were vulnerable to major natural disasters such as that which struck the Japanese plant at Fukushima last March. "We are not asking for these investments, we are imposing them," said André-Paul Lacoste, head of the French Nuclear Safety Authority, adding that the significant cost of his watchdog's demands could force plant closures. Jade Lindgaard reports.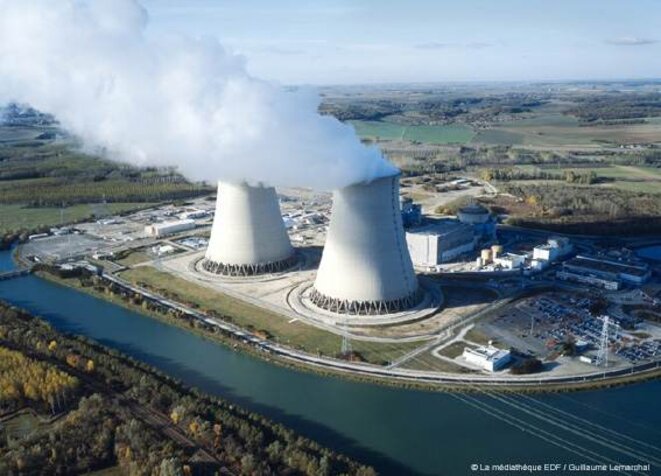 © EDF
Last month, the French nuclear safety authority published a report in which it recognised that the existence of a leukaemia cluster around the nuclear waste reprocessing plant of La Hague, in Normandy, is "possible". While radioprotection experts in France and abroad have long regarded the dangers of low-level radiation as negligible, the study by the Autorité de Sûreté Nucléaire (ASN) was highly significant especially because it rings an alarm bell for populations close to every type of nuclear plant. Patricia Brett reports.