Related keywords
Meanwhile West African leaders ended a day-long summit in Bamako without a consensus on how to alleviate Mali's political troubles. 
French defence minister Florence Parly has announced an operation led by French forces this week killed Abdelmalek Droukdel, leader of al-Qaeda in North Africa, and that last month a senior Islamic State group commander in Mali had also been captured.
French officials have announced that Foreign Legion member Kévin Clement, 21, was killed in a firefight combat against armed groups in Mali's Menaka region, bringing the total of fatalities among French forces engaged against jihadist forces in the north-west African country since 2013 to 43.
French President Emmanuel Macron has held a summit in Pau, south-west France, with leaders of five West African states engaged alongside France in fighting jihadist forces in the Sahel when he announced a further 220 French troops would be sent to the region to join their 4,500 colleagues already on the ground and the creation of a joint command structure with regional states.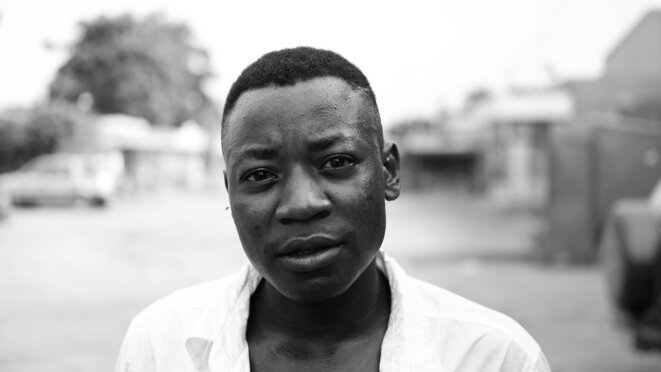 Mohamed, originally from the north of Burkina Faso, wanted to join the army but changed his mind after his family disagreed. © OM
In a country beset with spiralling jihadist violence, young people from Burkina Faso's Fula community are the ideal recruits for armed groups keen to capitalise on the discontent stemming from extreme poverty and the frequent abuses committed by government troops in this part of Africa. And as François Hume and Olivia Macadré report, if they reject the jihadists' call to arms, they are widely seen as guilty by association.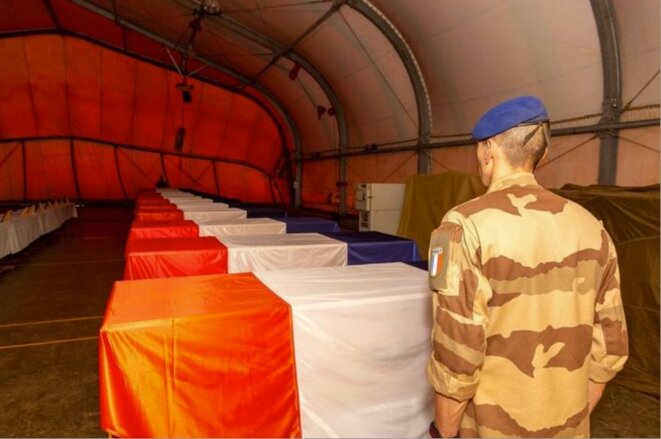 A French soldier at Gao in Mali deep in reflection in front of the coffins of the 13 French troops killed in the country on November 25th 2019. © Reuters
On Monday November 25th 13 members of the French military were killed when two helicopters crashed in Mali during France's ongoing military operations there. The grim news sparked debates back in France about the country's military involvement in the Sahel region of Africa. But as Mediapart's René Backmann writes, the legacy of France's colonial past and the remnants of its post-colonial approach to the continent known as 'Françafrique' suggest that President Emmanuel Macron's government will be unable to see that military combat against jihadism is not the only response that is needed to tackle the region's instability.
During a visit on Sunday to the Mali HQ of French military operations against jihadist insurgents in the Sahel, French Prime Minister Édouard Philippe said 'durable stabilisation' in the region could not be assured without 'the backing of others'.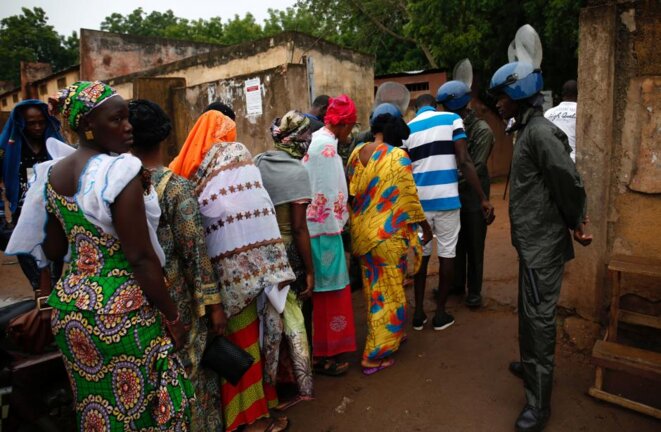 Security checks as voters line up in Mali's capital Bamako on Sunday. © Reuters
The first round of presidential elections was held last Sunday in Mali, the former French colony in West Africa which has become a key centre of the battle, led by France, against jihadist groups operating in the Sahel. Outgoing president Ibrahim Boubacar Keita, 73, hoping for re-election, is roundly attacked by his rivals for having failed to bring security to the country, despite France's military intervention against jihadists in 2013 and the continued presence of thousands of UN peacekeepers. In this analysis of the enduring instability in Mali, Rémi Carayol details how it was fuelled by the toppling of the Gaddafi regime in Libya.
Move came as Emmanuel Macron vowed to 'eradicate' kidnappers of French citizen Sophie Pétronin, who has appeared in hostage video.
One of the men killed was named as Amada Ag Hama, who has been linked to the murder of two French journalists in 2013.
BBC News joined a French military base just south of Libya, where troops are attempting to cut off supply routes on which jihadist groups rely.
Since the retreat of jihadist forces from northern Mali, and the winding down this year of the French military campaign that forced them out of the area, drugs trafficking has regained its lucrative path across the Sahel region, en route to Europe. Thomas Cantaloube reports from Mali on how the drugs trade has become a major cause of corruption in both the former French colony and the wider region of West Africa, where the transit of drugs is now joined by a dangerous and growing new phenomena, that of drug consumption.
French defence minister Jean-Yves Le Drian says some important leaders are among those killed or captured, mostly in Mali and Niger.
The new operation, codenamed Barkhan, will start soon in the largely lawless Sahel in partnership with five countries from the African region.