Related keywords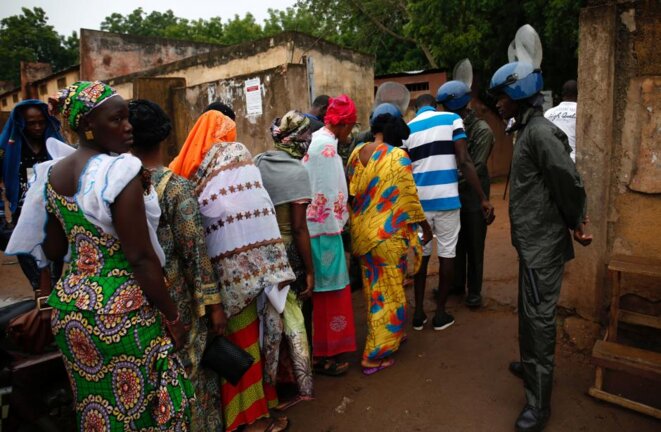 Security checks as voters line up in Mali's capital Bamako on Sunday. © Reuters
The first round of presidential elections was held last Sunday in Mali, the former French colony in West Africa which has become a key centre of the battle, led by France, against jihadist groups operating in the Sahel. Outgoing president Ibrahim Boubacar Keita, 73, hoping for re-election, is roundly attacked by his rivals for having failed to bring security to the country, despite France's military intervention against jihadists in 2013 and the continued presence of thousands of UN peacekeepers. In this analysis of the enduring instability in Mali, Rémi Carayol details how it was fuelled by the toppling of the Gaddafi regime in Libya.
Move came as Emmanuel Macron vowed to 'eradicate' kidnappers of French citizen Sophie Pétronin, who has appeared in hostage video.
One of the men killed was named as Amada Ag Hama, who has been linked to the murder of two French journalists in 2013.
BBC News joined a French military base just south of Libya, where troops are attempting to cut off supply routes on which jihadist groups rely.
Since the retreat of jihadist forces from northern Mali, and the winding down this year of the French military campaign that forced them out of the area, drugs trafficking has regained its lucrative path across the Sahel region, en route to Europe. Thomas Cantaloube reports from Mali on how the drugs trade has become a major cause of corruption in both the former French colony and the wider region of West Africa, where the transit of drugs is now joined by a dangerous and growing new phenomena, that of drug consumption.
French defence minister Jean-Yves Le Drian says some important leaders are among those killed or captured, mostly in Mali and Niger.
The new operation, codenamed Barkhan, will start soon in the largely lawless Sahel in partnership with five countries from the African region.
Defence minister says the mission of the soldiers will be to fight Islamist militias and other armed groups in north Mali, northern Niger and Chad.
Foreign ministry says images of seven hostages, including four French, being held by an al-Qaeda affiliate in the Sahel is fresh proof they are alive.
President François Hollande has just become involved in a large-scale war in Mali. Already some 800 French troops are on the ground in the African country, with the number expected to increase to 2,500 in the coming days and weeks. Meanwhile French aircraft have been carrying out strikes across the country. President Hollande sent in the troops last Friday, January 11th, after Mali's interim president made an urgent plea for help as Islamic rebels headed towards the country's capital. However, argues Mediapart's editor François Bonnet, the intervention has taken place in an impromptu manner, with shifting objectives, an unclear timetable and after having deliberately ignored the complex processes of political negotiations. As a result, he says, France finds itself alone without its European allies in a country that has completely fallen apart.