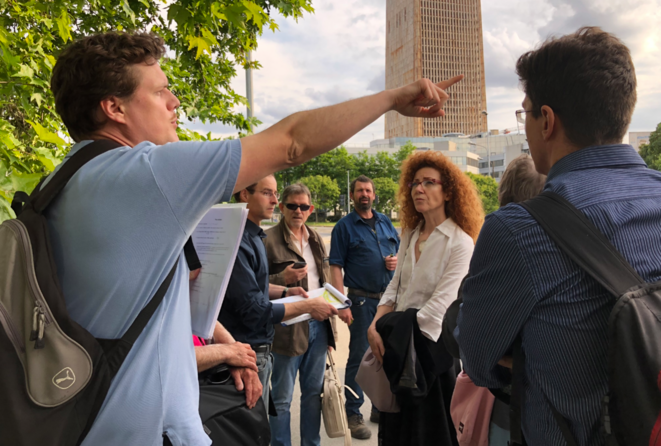 The Pleyel à Venir collective, who are opposed to the new works, took part in the public inquiry in Paris in June 2019. © JL
In readiness for the 2024 Olympic Games in Paris the authorities are building a new motorway junction to service the Olympic Village for athletes. However, this busy junction at Saint-Denis, north of Paris, is close to a school complex for 700 pupils. French administrative courts have just approved the project, despite the fact that, as documents seen by Mediapart show, the junction is likely to worsen air pollution in the area. Opponents meanwhile point to anti-pollution measures taken outside schools in the centre of the capital and claim that pupils in the city's rundown suburbs are being discriminated against. Jade Lindgaard reports.
President Emmanuel Macron with the delegration from the Paris 2024 bid at Lausanne in Switzerland on July 11th, 2017. © Reuters
An agreement struck between Los Angeles and the International Olympic Committee (IOC) over 2028 has left the way open for Paris to be the host nation for the 2024 Games. While rival cities have pulled out of the race for budgetary reasons, officials behind the French bid insist they will keep to their budget of 6.6 billion euros. But as Antton Rouget reports, there are nonetheless real risks of an overspend, especially on security.
For a long time French overseas territories have been spared armed jihadism and the phenomenon of young people heading off for the war zones of Syria and Iraq. But the recent trial in Paris of a young man from La Réunion in the Indian Ocean for a conspiracy to carry out a terrorist act has changed that. The conviction of Naïl Varatchia also challenges the widely-perceived idea that the Muslim community on the island is an example of tolerance. Julien Sartre reports.
Locals in Paris suburb camp out in front of a building used by drug dealers in an initiative that has been likened to 'Nuit Debout' sit-in protest.
In the early hours of November 18th, 2015 officers from the French police's elite antiterrorism unit RAID staged an assault on a flat at Saint-Denis, just north of Paris. The operation led to the death of two terrorists who had carried out the attacks in Paris on November 13th. Mediapart has discovered that though the police claim they came under "sustained" fire during the assault, in fact the terrorists in the flat only fired eleven rounds, against more than 1,500 from police officers. Most of the shots sustained by the police came from their own officers. Matthieu Suc reports.
Paruis prosecutor says Abdelhamid Abaaoud aimed to target La Défense area in Paris with accomplice just days after the November 13 carnage.
Experts sifting through debris at flat raided by French police now believe Hasna Ait Boulahcen was not the person wearing a suicide belt.
Third body found at police raid in Saint-Denis is still being identified as government announces that death toll in Paris attacks is now 130.
Confirmation that Abaaoud was in Paris will now prompt questions about how the 26-year old had been able to travel to France from Syria.
Official says Abdelhamid Abaaoud not among 8 people arrested but that not all those who died in police raid had yet been identified.
Sources say suspected Islamist militants raided in a Paris suburb were planning attack on French capital's La Defense business district.
One of dead was female suicide bomber who blew herself up as French police searched for alleged mastermind Abdelhamid Abaaoud.
Female suicide bomber blows herself up as police target alleged ringleader Abdelhamid Abaaoud, Salah Abdeslam and a 'ninth' attacker.

Le tronçon "viaduc" de la future route du littoral, à 100 mètres du rivage réunionnais © Région Réunion
Plans to build a new road on viaducts and massive seawalls around the coast of the French Indian Ocean island of Réunion have caused a major controversy. The 1.6-billion-euro project faces a preliminary legal investigation for possible corruption and favouritism and is under fire for its impact on the environment, while financial watchdogs also warn the scheme risks facing a significant funding shortfall. Julien Sartre reports.