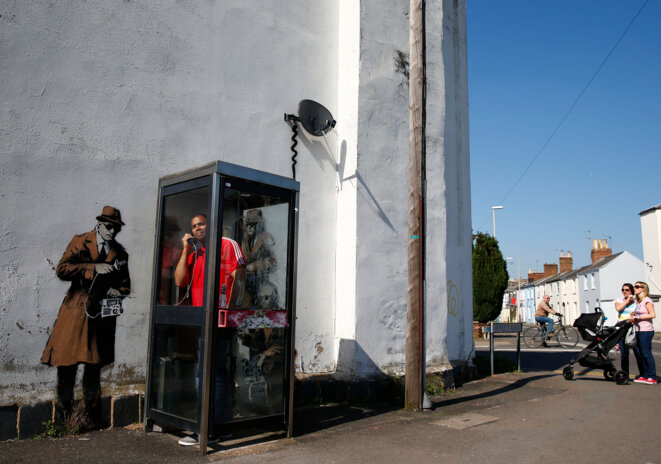 A mural by street artist Banksy close to Britain's signals intelligence agency GCHQ,in Cheltenham, England. © Reuters/Eddie Keogh
The British and French intelligence agencies are deeply concerned that their close bilateral cooperation, notably on counter-terrorism activity, remains intact after the UK leaves the European Union. But they are fearful of the consequences, especially in the case of a hard Brexit, when, the EU warns, "The UK will be disconnected from all EU networks, information systems and databases" concerned with police and judicial cooperation. Matthieu Suc reports.
Armed police to guard court for trial of Salah Abdeslam over March 2016 shootout; he is due to face trial in France for 2015 attacks at later date.
Salah Abdeslam, detained in France for his suspected role in the November 13th 2015 Paris terrorist attacks which left 130 people dead and hundreds more wounded, was due to stand trial this week in Brussels in a separate case in whicjh he is charged with the attempted murder of Belgian police officers.
Belgian prosecutors said Friday they have asked France to hand over Salah Abdeslam, a suspect in the November 2015 terrorist attacks in and around Paris, so that he can stand trial in Brussels in December over his alleged involvement in a March 2016 shooting attack on police in the Belgian capital. 
French national Salah Abdeslam, 27, currently in preventive detention in a prison near Paris over his alleged role in the gun and suicide bombing attacks in and around Paris on November 13th 2015 which left 130 people dead, has been ordered to stand trial in Belgium over the wounding of police officers in a raid on his hideout in Brussels in March 2016.
The French and Belgian lawyers defending Salah Abdeslam said they have dropped the case because the last surviving suspect of the attacks that left 130 people dead continues to refuse to answer questions in a protest at his detention conditions.
A French court dismisses Salah Abdeslam's request that 24/24 video surveillance of his cell is halted on grounds of invasion of privacy.
Salah Abdeslam invoked right to silence before investigating magistrates as lawyer says his client 'can't tolerate' 24-hour surveillance in cell.
Hours after extradition to France the 26-year-old was placed under formal investigation for murder and attempted murder of a terrorist nature.
Transfer of Salah Abdeslam from Belgium to France was carried out without advance notice and in secrecy and came as a 'surprise' to his lawyer.
Salah Abdeslam, arrested in Brussels and wanted by France for his role in November Paris terror attacks, held documents from centre near Belgium-Germany border.
Belgian prosecutors say Mohamed Abrini, who has admitted being third Brussels airport bomber, said the group changed target after arrest of Salah Abdeslam.
Lawyer for suspect in Paris attacks, who was arrested in Brussels on March 18th, says he wants to be handed over to French authorities.
The attacks in Brussels on Tuesday March 22nd highlight once again how Belgium has become a nerve centre of jihadist terrorism in Europe, as well as being a target itself. The Belgian network led by Abdelhamid Abaaoud, who led the November 13th bombings in Paris, was very active while the logistical 'expert' for the Paris attacks, Salah Abdeslam, who was arrested just last week, is suspected of having been involved in planning the latest attacks in the Belgian capital. Earlier this year, meanwhile, Europol warned of the risk of more attacks. As Belgian authorities identified three men with links to the Paris attacks as the Brussels suicide bombers, Matthieu Suc and Yann Philippin consider how Belgium has become a terrorist hub.