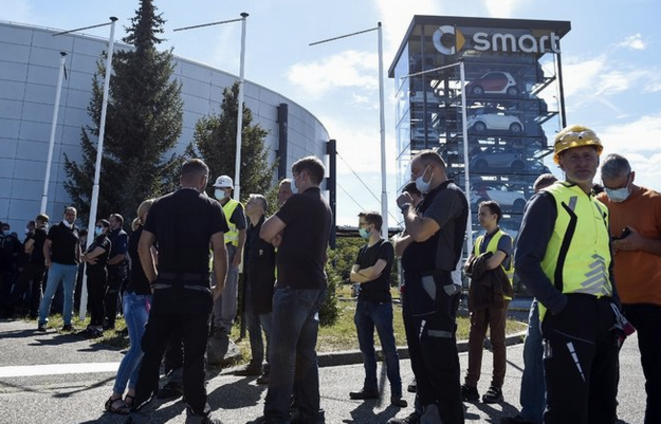 Staff gathered at the entrance of the Smart factory in Hambach, north-east France, July 9th. © J-C. Verhaegen / AFP
German carmaking giant Daimler, owner of Mercedes-Benz, announced last month that it was to sell off its factory in Hambach, north-east France, where the Smart city car, another of the group's marques, has been produced since 1997. Five years ago, staff at the plant accepted a management plan to abandon the legal 35-hour week, working a 39-hour week (excluding overtime) in return for job security. But now the 1,600 jobs at the site, turned over to making electric versions of the city car, are at risk, with just one potential purchaser in view: British company Ineos, which plans to produce a diesel-guzzling offroader. Dan Israel reports.
The French government has threatened to veto the sale of  British Steel to Chinese firm Jingye in norder to protect the functioning of the collapsed steelmaker's plant in Hayange, north-east France, which is considered a strategic national asset.
The French government aims to sell down its stake in the Francaise des Jeux (FDJ) lottery operator from 72% currently to 20% when the shares are due to begin trading on November 21st, hoping raise up to 1.7 billion euros for state funds.
A deal for the supply by France to India of a further 36 Rafale fighter jets is to be discussed at a meeting between President Emmanuel Macron and Indian Prime Minister Narendra Modi ahead of this weekend's G7 summit in Biarritz, according to Indian media reports quoting unnamed sources. 
French aerospace and defence group Dassault Aviation has issued a statement insisting it 'freely' chose India's Reliance Group, run by a businessman close to Indian Prime Minister Narendra Modi, as its local industrial partner as part of the sale to New Delhi of 36 Rafale fighter planes, following the revelation by Mediapart of a document in which one of its senior executives is cited as saying the choice of Reliance was  'imperative and obligatory' in securing the contract. 
Speaking at a press briefing in Paris on Thurday, Indian defence minister Nirmala Sitharaman reiterated her government's claim that did not impose an Indian company run by a businessman close to Prime Minister Narendra Modi as local industrial partner for Dassault Aviation in the sale to New Delhi of 36 Rafale fighter planes, despite new evidence published by Mediapart suggesting that was the case.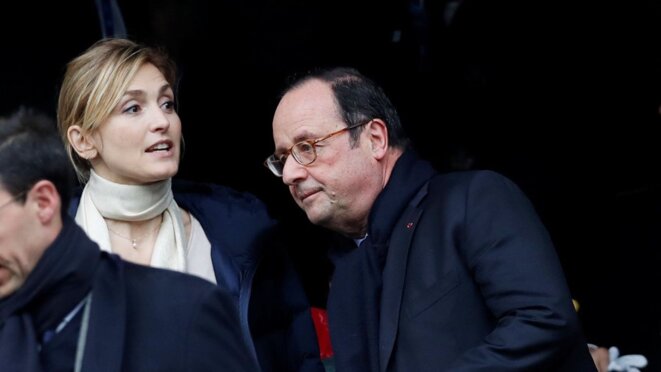 Julie Gayet and François Hollande. © Reuters
The sale to India by France of 36 Dassault Rafale jet fighters, signed during the presidency of François Hollande, is at the centre of a growing scandal in India where opposition parliamentarians have demanded a detailed investigation of the deal, alleging favouritism, mismanagement of public funds, and the endangering of national security. They are notably suspicious of the circumstances by which India's Reliance Group was assigned as Dassault's industrial partner in the jets deal. As Karl Laske and Antton Rouget report here, at the very time the deal was struck, Reliance provided funding for a film produced by Hollande's personal partner, the actress Julie Gayet.
Greek media reports say Athens is to begin negotiating the purchase from France of two French-Italian-designed FFREM-class multimission frigates, and is eyeing a further deal for two French Gowind-class corvettes. 
The giant skeleton of a male, which was discovered in permafrost in Siberia ten years ago and is believed to be the largest in private ownership, was sold at an auction in Lyon. 
The financial crime branch of France's public prosecution services has widened the remit of a judicial investigation into suspected corruption in a sale of French helicopters to Kazakhstan to include the suspected involvement of France's intelligence services in a plan to protect a businessman close to the Kazakh president from prosecution in Belgium. The move follows revelations by Mediapart and Belgian daily Le Soir of evidence suggesting the intelligence services were manipulated by officials of the French presidency under Nicolas Sarkozy in order to seal the deal worth a total of 2 billion euros. Yann Philippin reports in collaboration with Mediapart's Belgian press partners in this investigation, Alain Lallemand (Le Soir), Thierry Denoël (Le Vif) and Mark Eeckhaut (De Standaard).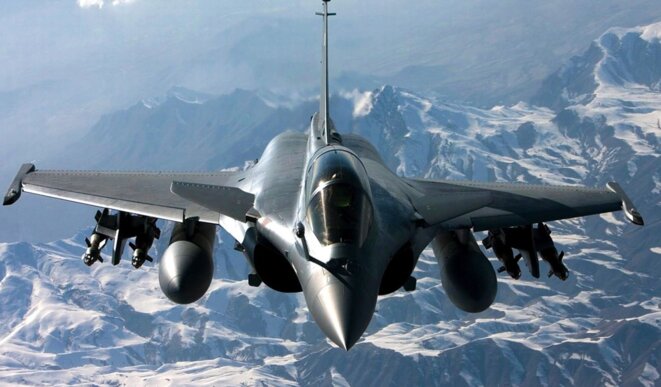 The Rafale fighter jet. © Dassault Aviation
The 8-billion-euro contract signed in New Delhi on Friday for the supply of 36 French-built Rafale fighter jets has been hailed by Paris as a major coup that underlines the technological prowess of the French aeronautical industry. But, Mediapart's India correspondent Guillaume Delacroix reports, the deal was struck after France agreed to massive discounts which virtually halve the total cost. But it also marks a new defence strategy by India, which now regards China as the principal threat to its security, and no longer Pakistan.
The defence ministers of the two countries will sign the deal in New delhi on Friday for Indias' purchase of 36 Dassault-built Rafale jets, reportedly at a cost of around 7.9 billion euros.
France's president said an agreement was under discussion for India's purchase of 36 Rafale jets, along with a deal for six Areva-built reactors.
The Mistral-class helicopter carriers built for deal with Russia that was annulled by embargo over Crimea conflict, could now go to Egypt and India.