Keyword: same-sex marriage
Related keywords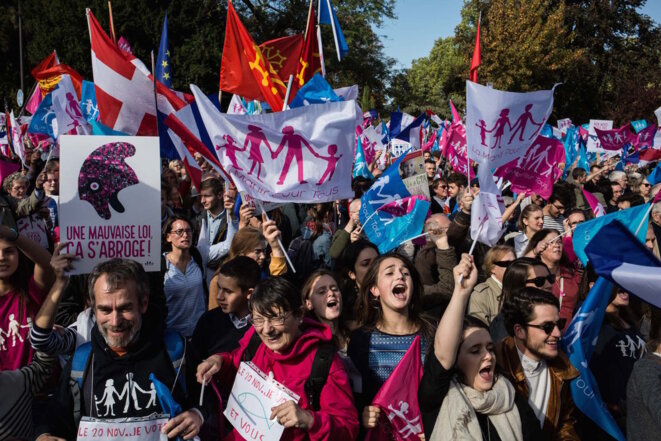 Anti-gay marriage demonstrators on the streets of Paris, Sunday October 16th. © Nicolas Serve
The movement that led opposition to France's law allowing for same-sex marriages, which was introduced in May 2013, called its supporters back on the streets of Paris on Sunday, in a test of its strength to influence conservative candidates in next year's presidential and parliamentary elections. While calling for a repeal of the law, it more realistically also targets, among other issues, adoption rights for gay couples and their access to artificial reproduction methods and surrogate pregnancy. As Lucie Delaporte reports, the largely right-wing and Catholic movement called 'La Manif Pour Tous' is, a fact unknown to many in France, part of a broad alliance of similarly-minded campaigning groups across Europe, the United States and Russia.
Demonstrators want guarantee that surrogacy and medically-assisted reproduction for lesbian couples will never be allowed in France.
Militant's torso carried the message 'May fascism rest in hell' in the stunt one day after a far-right historian shot himself dead at the cathedral's altar.
Dominique Venner, 78, shot himself through the mouth at the altar after calling for more radical action in opposition to same-sex marriage.
The French president has signed into law a bill contested by the opposition making France the 14th country worldwide to legalise gay marriage.
Russian president says adoption by gay couples goes against his country's values and will seek changes in an agreement regulating adoptions.
The attack in Lille was the latest in a series of homophobic incidents amid nationwide tensions over the introduction of a same-sex marriage law.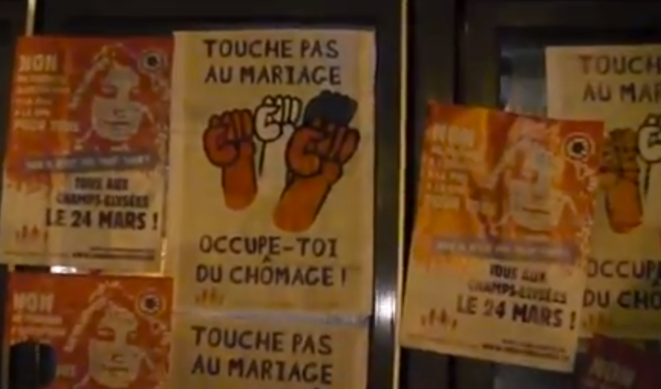 Anti same-sex marriage protests have grown increasingly radical in France in recent weeks as the government's bill on the issue goes through Parliament. The organisation responsible for stoking up the political temperature – which has led to some violent attacks - is a small group known as 'Printemps français' or 'French Spring', whose name is a deliberate echo of the 'Arab Spring' revolutions of North Africa and the Middle East. And behind this group, Mediapart can reveal, is a 52-year-old former paratrooper. Karl Laske, Marine Turchi and Mathieu Magnaudeix report.
Senate paves way for new law after voting to redefine marriage as a union between "two individuals of different sex or of the same sex".
France's upper chamber of parliament has begun examining bill which gives homosexual couples the right to marry and adopt children.
MPs voted 249-97 in favour of redefining marriage as being an agreement between two people and not only between a man and a woman.
An estimated 250,000 people marched through Paris on Sunday in support of a same-sex marriage bill due to go before parliament on Tuesday.
Justice minister says the referendum on same-sex marriage demanded by many opponents would be unconstitutional and says bill will go ahead.
Justice minister says the referendum on same-sex marriage demanded by many opponents would be unconstitutional and says that bill will go ahead.