Related keywords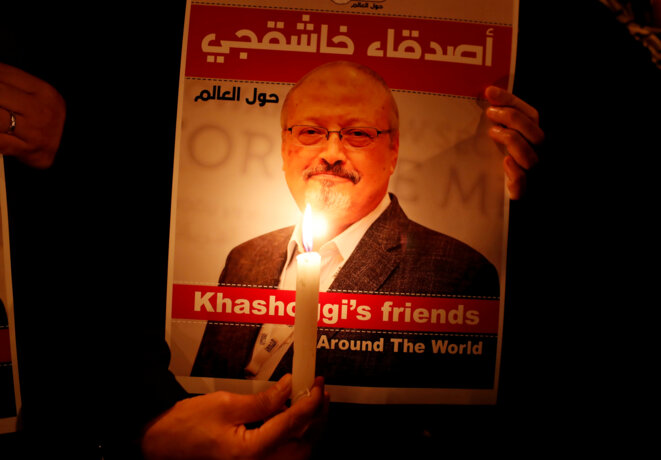 A scene at a homage to Jamal Khashoggi held outside the Saudi consulate in Istanbul, October 25th 2018. © Reuters
In a 100-page report published last week on her investigation into the murder of Saudi journalist Jamal Khashoggi, the United Nations Special Rapporteur on extrajudicial executions, Agnès Callamard, concluded that "Mr Khashoggi has been the victim of a deliberate, premeditated execution, an extrajudicial killing for which the state of Saudi Arabia is responsible under international human rights law", and recommended that Saudi Arabia's ruler, Crown Prince Mohammed bin Salman, should be investigated for his responsibility in the crime. In this interview with Mediapart, she details her investigation and its findings, and and calls on states to take a "serious" stand on press freedom.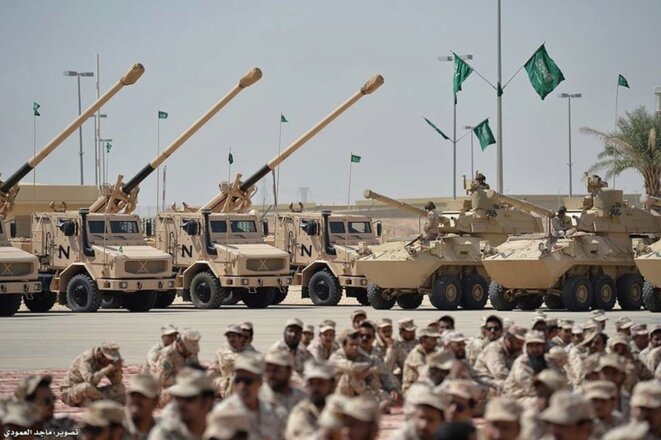 A Saudi army display of French-made CAESAR howitzers (left), one of the most lethal artillery weapons in existence. © DR
Two journalists from the French online collective Disclose, dedicated to investigative reporting, have been summoned for questioning this month by France's internal intelligence agency, the DGSI, following their revelations of the massive use of French-made weapons in the devastating war in Yemen. Together with a journalist from state broadcaster Radio France, they are officially suspected of "compromising national defence secrecy", an offence that can carry a five-year jail term. In reality, the journalists exercised their professional duty to inform the public of a confidential military report that demonstrates how the government has concealed the truth of the deployment of French-made arms in Yemen by a Saudi-led coalition accused of war crimes.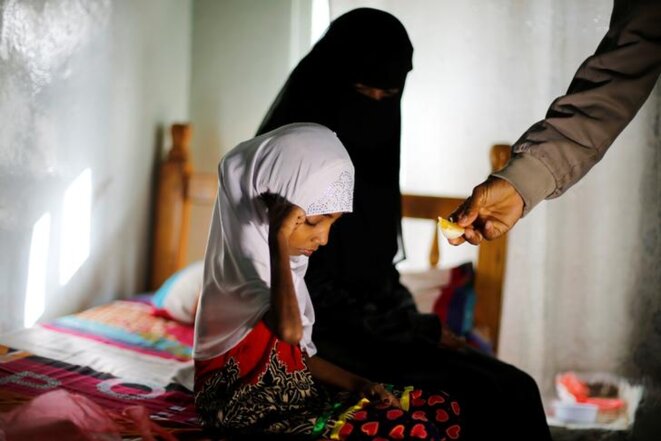 Relief organisations estimate that over the past four years around 85,000 Yemeni children have died from hunger or illness. © Reuters
Weapons sold by France to the Saudi-led coalition offensive against the Houthi rebellion in Yemen are being used to starve millions of the country's population, a strategy the United Nations has described as a method of warfare that "may constitute a war crime".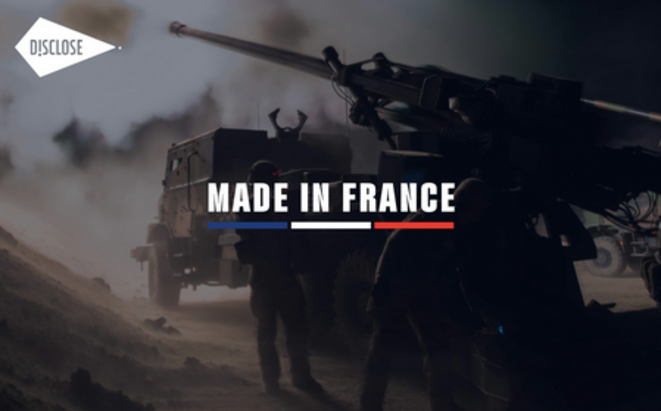 Amid the ongoing war in Yemen, France continued to supply weapons to, and also signed new contracts with, Saudi Arabia, all of it behind a veil of secrecy.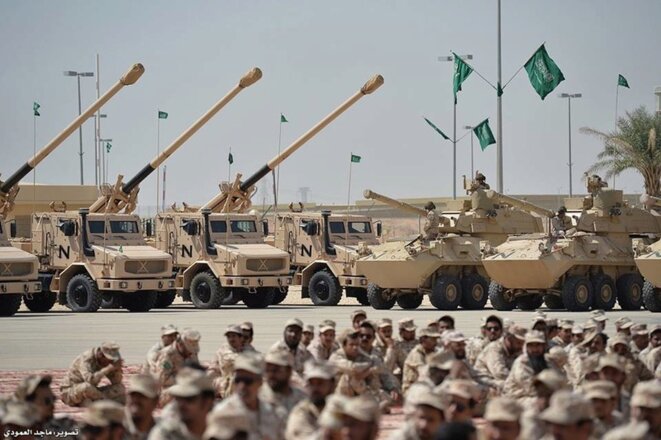 A Saudi army display of French-made CAESAR howitzers (left of picture), one of the most lethal artillery weapons in existence. © DR
An unprecedented leak of secret documents from France's military intelligence agency, the DRM, has revealed the massive use of French-made weapons, like those also of the US, the UK and Germany, in the ongoing civil war in Yemen. The contents of the leaked documents are detailed here in three exclusive reports published simultaneously by Mediapart and its partner Disclose, a newly founded independent, not-for-profit online magazine of investigative journalism, which reports how these weapons have been used against the civilian population in a war that has wreaked what the United Nations describe as "one of the worst humanitarian crises in the world".

A Mediapart investigation can reveal the extent to which the  publicly-owned French defence contractor Naval Group has been overseeing the renovation and modernisation of Saudi warships. This vital maintenance work has been taking place as the Saudi navy enforces a punishing blockade on Yemen as part of the ongoing conflict there. Meanwhile lawyers warn that any company that helps or supports the Arab coalition military effort in Yemen could potentially be seen as being complicit in possible war crimes. Eva Thiébaud and Thomas Clerget report.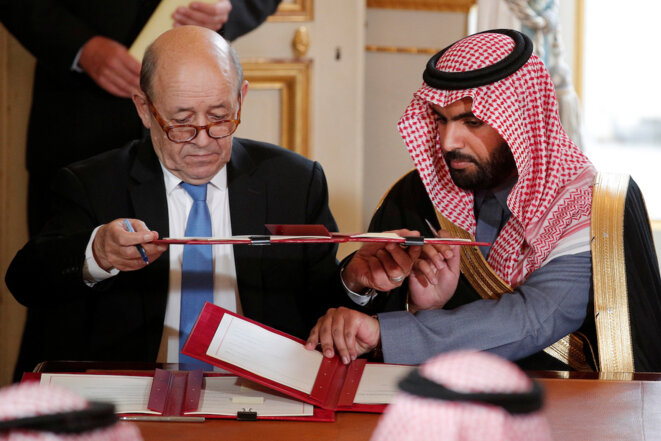 Yves Le Drian and Crown Prince Mohammed bin Salman in April 2018. © Reuters
On November 12th, 2018, Jean-Yves Le Drian insisted on French television that he was not aware of evidence supplied by Turkey regarding the murder of journalist Jamal Khashoggi by Saudi killers. Yet no fewer than seven French diplomats and intelligence agents have contradicted this claim by France's foreign minister. Thomas Cantaloube, Lucie Delaporte, René Backmann, Nicolas Cheviron, Matthieu Suc and Rachida El Azzouzi investigate.
French President Emmanuel Macron, speaking on Friday during a visit to Armenia, said he was still waiting for more facts about the fate of dissident Saudi journalist Jamal Khashoggi, who disappeared after entering Saudi Arabia's consulate in Istanbul earlier this month, before deciding on France's response.
While French President Emmanuel Macron visits Armenia is attending a summit of the world's French-speaking countries, grouped together under the 'Francophonie' cultural umbrella, Saudi Arabia, under the spotlight for human rights abuses, has withdrawn it application to join the club.
Saudi Arabia's Crown Prince Mohammed bin Salman concluded a three-day official vist to France on Tuesday, when a series of draft deals were signed with French companies for petro-chemical, agriciultural, waste treatment, healthcare, tourism and cultural projects worth a total of 14.58 billion euros, which are expected to be finalised during a visit to the Saudi kingdom later this year by President Emmanuel Macron.  
After tough talks with France last year over Iran, Prince Mohammed's regime is not expected to announce any new major trade deals with Paris.
Poll shows 75% of French people want President Emmanuel Macron to suspend arms exports to countries involved in the Yemeni war.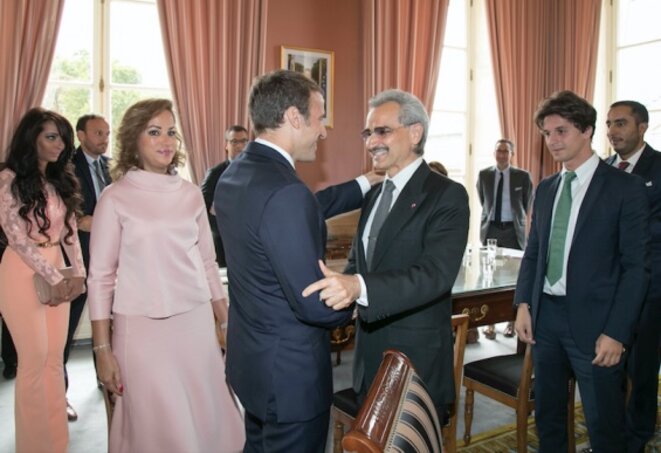 Prince Al-Waleed's visit to the Élysée in early September 2017. © DR
The ultra-wealthy Saudi prince Prince Al-Waleed Bin Talal, the owner of the George-V hotel in Paris, remains in detention in Riyad, one of a number of prominent people in the regime who faces claims of corruption. Prince Al-Waleed is an important figure in France and not just because he owns a prestigious hotel here. The billionaire is a key player in a partnership between the French public sector financial institution the Caisse des Dépôts et Consignations (CDC) and a Saudi investment fund. One of his advisers was also a supporter of President Emmanuel Macron's En Marche! party. As Karl Laske reports, this helps explain why the Élysée is keeping a close eye on what happens to the Saudi prince.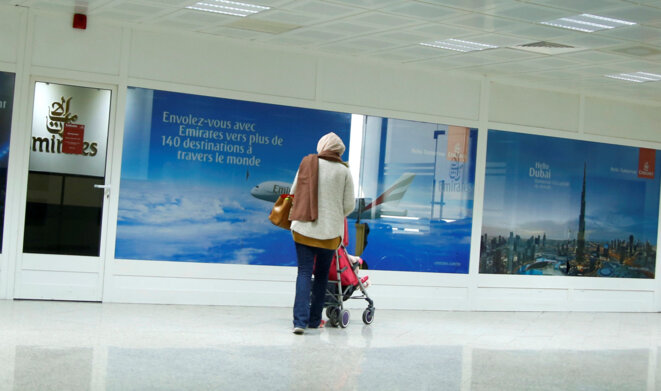 Grounded: Tunis-Carthage International Airport, December 25th. © Reuters
The United Arab Emirates (UAE) last Friday announced a ban on all women and girls travelling with Tunisian passports to the Gulf state on its national airline Emirates and sister carrier Etihad, citing fears of a terrorist attack. While the ban was lifted after just hours, following outrage in Tunisia and from passengers stranded worldwide, the Tunisian government responded at the weekend with a ban of all UAE flights to and from Tunis. But the events are far from an anecdotal spat, for behind the row is the far deeper conflict of a power battle in the Middle East. Lilia Blaise reports.