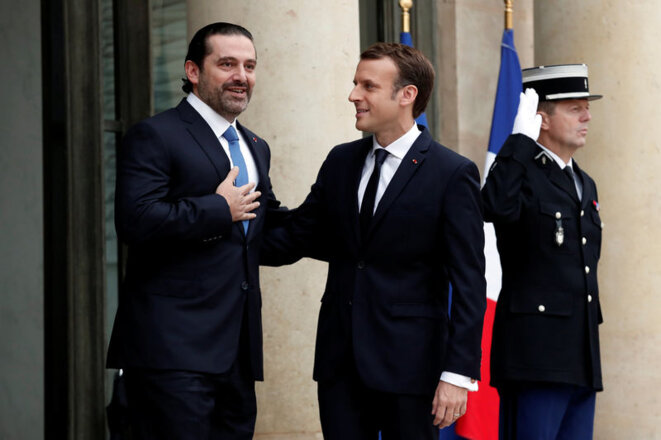 A friend in need: Saad Hariri with French President Emmanuel Macron at the Elsée Palace on November 18th. © Reuters
A degree of mystery continues to surround what appears to have been a forced sojourn of Lebanese Prime Minister Saad Hariri in Saudi Arabia last month, to the backdrop of heightened tensions in the Middle East centred on the Saudi kingdom's rivalry with Iran. French President Emmanuel Macron played what Hariri has called a "historic" role that secured his departure from Riyadh, but the financial difficulties of the Lebanese politician's extensive business interests may also be part of the complex plot leading up to the November events. Karl Laske reports.

Lebanese prime minister Saad al-Hariri, whose prolonged stay in Saudi Arabia since announcing his resignation on November 3rd was described as a hostage-taking by the Lebanese president, is expected to fly to France after intense diplomatic negotiations between Paris and Riyadh.
French Prime Minister Edouard Philippe on Tuesday said Lebanese Prime Minister Saad Hariri must be 'freely' allowed to leave Saudi Arabia, where he has been staying in mysterious circumstances since announcing from there earlier this month that he was stepping down from his post, so that he can 'clarify his situation in accordance with the Lebanese constitution'.
The Saudi financing ended last month over Shia military group Hezbollah's support of Syrian President Bashar Assad and its actions inside Lebanon.
Two months after Paris condemned Saudi mass executions, Prince Mohammed bin Naif is handed Légion d'honneur by President Hollande. 
The contracts involve military, energy, health, food, and aeropsace sectors said office of French PM who is currently on a visit Saudi Arabia.
The mayor of Vallauris has ordered a halt to 'illegal' fencing-off of a local beach by Saudi staff in preparation for a summer visit by King Salmon.
Deals under discussion during the French president's trip to Riyadh centre on nuclear energy, oil, arms, transportation and naval equipment.
Helicopters, warships, combat and transport vehicles and missiles are part of the Saudi-funded French weapons which start arriving on Monday.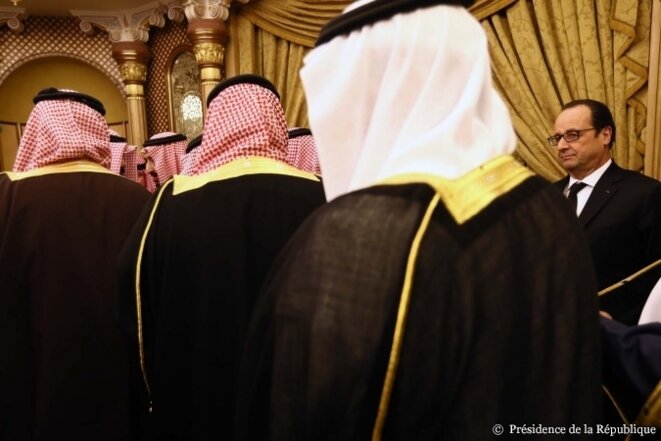 President Hollande at Riyadh in January 2015.
Both French president François Hollande and American head of state Barack Obama flew to Riyadh to pay their respects after the death of King Abdullah of Saudi Arabia on January 23rd. For the French leader it was yet another journey to the Arabian kingdom that he has already twice honoured with state visits. France and the United States - and other Western countries – have stayed close diplomatically to Saudi Arabia, seeing it as a source of oil, a massive market to buy their weapons and a pivotal place to exchange key intelligence. But the flipside of this approach, write Thomas Cantaloube and Pierre Puchot, is that these countries have been trapped into supporting Saudi's own regional political games, while also backing one of the most repressive regimes on earth. Moreover, at a time when France and other nations have made fighting terrorism their international priority, elements in the Saudi kingdom are still suspected of financial links with prominent terror groups.
The French president arrived in Ryadh on Saturday and will meet, along with dignitaries from several countries, the late Saudi king's successor.
Salman bin Abdul-Aziz and President François Hollande will discuss a Saudi-financed French weapons deal to help counter jihadist threat.
French president and King Abdullah discuss crisis in the Lebanon during an official visit that is also aimed at boosting Franco-Saudi trade ties.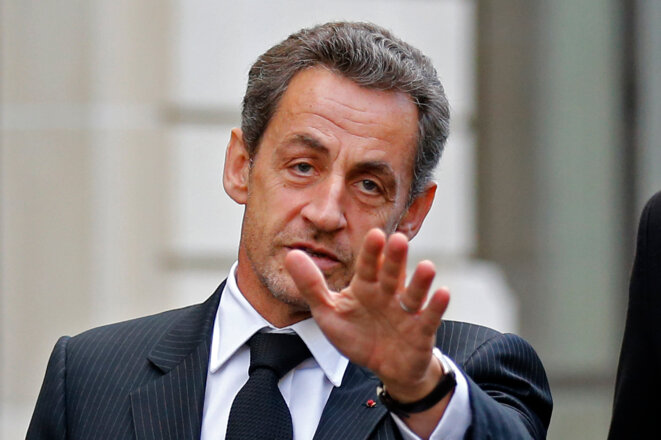 Par quels juges sera-t-il entendu ? © Reuters
Judges investigating suspicions that senior politicians, including Nicolas Sarkozy, were implicated in the use of kickbacks from defence deals to illegally fund a presidential campaign have uncovered a dramatic new piece of evidence. The document, published here by Mediapart, shows that as budget minister Sarkozy signed a letter backing the complex set-up that led to the illegal payments. The document, which dates from 1994, contradicts claims from the former president that he had no involvement in the affair. Its discovery coincides with moves to get Sarkozy and two other former ministers investigated by a special court that handles allegations of offences committed by ministers in the line of duty. Fabrice Arfi and Karl Laske report.
Three Saudi women who refused to remove their face veils at Paris' Charles de Gaulle airport were barred entry to France, a police union claims.