French President Emmanuel Macron, during a visit on Thursday to south-west France, said the political scandal in which he is mired after a close aide was caught wearing police insignia beating up a young man during May Day marches was 'a storm in a teacup', adding that 'it doesn't affect me much'.
France 24 presents a timeline of the crisis into which Emmanuel Macron's presidency has been thrown in a turbulent week following revelations of the extraordinary powers given to his personal security advisor, Alexandre Benalla, who was caught on video footage beating up a May Day demonstrator in Paris while passing himself off as a police officer.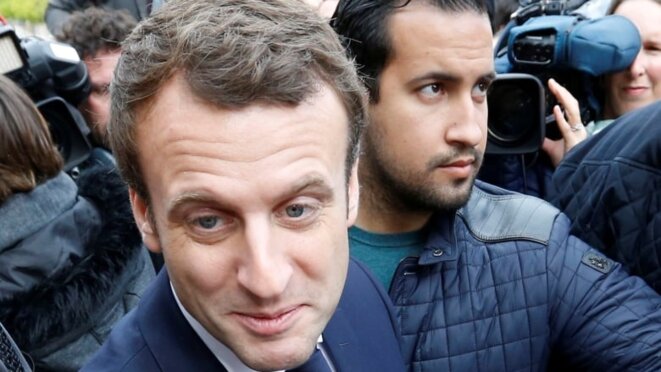 Emmanuel Macron (left) with his now disgraced security aide, Alexandre Benalla, during election campaigning in May 2017. © Régis Duvignau/Reuters
The scandal surrounding French president Emmanuel Macron's security advisor Alexandre Benalla, who beat up May Day demonstrators while passing himself off as a police officer, evokes a nauseating picture of a parallel police and a private security office within the heart of the French presidential office, writes Mediapart publishing editor Edwy Plenel in this opinion article on the fast-developing crisis engulfing Macron and his government. This privatisation of the president's security, with the ugly atmosphere of hatchet men with a law to themselves, reveals the dark side of Macron's monarchic style of leadership.
French President Emmanuel Macron's personal security aide Alexandre Benalla, who was revealed this week to have assaulted May Day demonstrators while wearing a police helmet and armband ID during what was supposed to be a mission of observation of crowd control police, has been fired and taken into custody for questioning as the scandal spread to allegations of a cover up involving France's interior minister and senior presidential staff. 
While support for the early favourite to win this spring's presidential election, conservative candidate François Fillon, has slumped over allegations of providing fake jobs for his family, a separate fake jobs scandal surrounding far-right frontrunner Marine Le Pen appears to have so far caused little damage to her campaign.
One of the greatest political-financial scandals of France's Fifth Republic has been reduced to the level of just another human interest story of money and greed. The verdicts handed down by the courts in the Bettencourt affair on Thursday – in particular the acquittals of former budget minister Éric Woerth – have stripped the scandal of its powerful political dimension. In doing so, argues Mediapart's editor François Bonnet, France's malfunctioning justice system, dependant as it is on its political masters, has shown yet again that it is suffering from a profound malaise.
A week after a drugs squad officer was accused of stealing 52 kilos of cocaine, the facts are proving stranger than fiction.
Press report says UMP leader Jean-François Copé handed lucrative PR contract to former aides who systematically overcharged his party.
Managers of former meat processing firm Spanghero detained for questioning as authorities continue inquiry into the mislabeling of beef as horse.
In an EU-wide survey using DNA tests, France found more cases of the presence of illegal horsemeat in beef products than any other country.
The prime minister Jean-Marc Ayrault says wealth declarations of all the members of government will be made public by April 15.
The rumpus in Europe over horsemeat sold as beef is bringing a bonanza for France's 700 surviving horse butchers.
The French meat processing company knowingly sold horsemeat labelled as beef, says French government, and its licence is being suspended.
French football braced for another possible child prostitution scandal after it emerged that an international player was under suspicion.