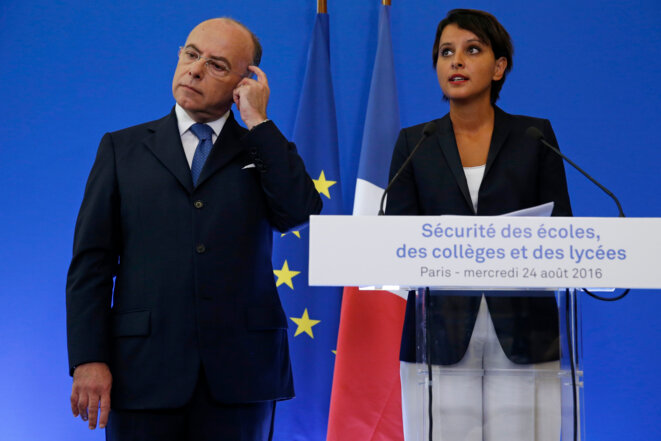 School security: interior minister Bernard Cazeneuve and education minister Najat Vallaud-Belkacem. © Reuters
Pupils in France go back to school this week amid ever-greater security and against the backdrop of a constant threat of terrorism. The education minister and the interior minister have held a joint press conference to outline the unprecedented measures that are being taken to ensure the safety of children at school. As Faïza Zerouala reports, the authorities have to strike a careful balance between ensuring educational establishments are prepared for a terrorist attack and avoiding causing anxiety among younger pupils.
A loose panel on a dumper truck sliced into a coach carrying 18 pupils near Rochefort, the second deadly school bus accident in France in 24 hours.
Three other children were injured in the crash in snowbound conditions when their coach carrying 33 pupils to school near Pontarlier left the road. 
The teacher, 45, at an infants' school in Paris suburb earlier claimed he was attacked Monday by a man shouting support for Islamic State group.
Headteacher reportedly felt long skirt 'conspicuously' showed religious affiliation, which is banned in French schools under strict secular laws.
But colleagues of teacher at Muslim faith school at Lille in north France signed a joint communiqué attacking his 'slanderous lies'.
Critics say quizzing of pupil who said he was 'with the terrorists'  after Charlie Hebdo murders is sign of 'collective hysteria' engulfing country.
French education ministry's Facebook page inundated with racist comments because most children in its 'back to school'  photo were black.
Families bring flowers and drawings, one reading 'Adieu to a great teacher', as pschologists counsel the children who witnessed attack in Albi.
No DNA from 539 male pupils and staff matched genetic material on the clothing of a teenage girl who said she was raped in a dark bathroom.
Anti-sexism initiative at school in west France, in which male pupils have been invited to wear skirts, leads to protests from conservative groups.
Police investigating rape at lycée in La Rochelle say the student, aged over 18, declined to give sample for personal reasons.
Ruling socialists accuse conservative opposition of exploiting teething problems in the government's reform of length of primary school day.
Business group welcomes plans for school for would-be entrepreneurs but says it is contradicted by tougher line on status of auto-entrepreneurs.