Related keywords
Paris City Hall's 'Project Oasis' is a programme to transform by 2040 all of about 800 concrete schoolyards of the capital into cool spots for respite in periods of extreme heat, and perhaps even bring down temperatures across a city with the lowest proportion of green spaces of any European city.
French parliament on Thursday voted in favour of the introduction of a law prohibiting the use of mobile phones by children at state schools, extending and reinforcing a ban on mobile phones already applied by about half of France's almost 60,000 educational establishments.
Union representing head teachers and senior staff says students massing on the street constitutes even higher risk than that posed by tobacco.
French education minister says Muslim pupils must be made aware that 'secularism is not something against them, it protects them'.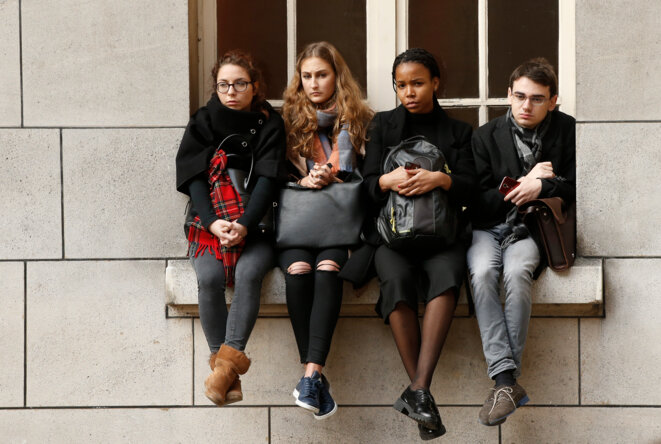 Les étudiants de la Sorbonne (Paris-V) observent une minute de silence, le lundi 16 novembre. © Reuters
The shootings and bombings in Paris on the evening of Friday November 13th targeted people – mainly young people – who had simply gone out to enjoy themselves. Two days after the killings Mediapart talked to pupils and students from the Paris region as they went back to school or university. Many spoke of their fear of being "in the wrong place at the wrong time" and are still struggling to make sense of the carnage. But they insist they are determined to carry on living their lives to the full. Mathilde Goanec, Dan Israel, Amélie Poinssot and Ellen Salvi report.
Education minister Vallaud-Belkacem has launched new plans to tackle bullying which affects up to 700,000 pupils and students a year.
The long summer holidays are over and on Tuesday this week French pupils went back to school. There are none of the major reforms and controversies that have greeted previous new academic years under President François Hollande. But there are still some changes for schoolchildren and teachers alike, notably new compulsory moral and civics lessons prompted by the terror attacks in Paris in January. Feriel Alouti and Lucie Delaporte report.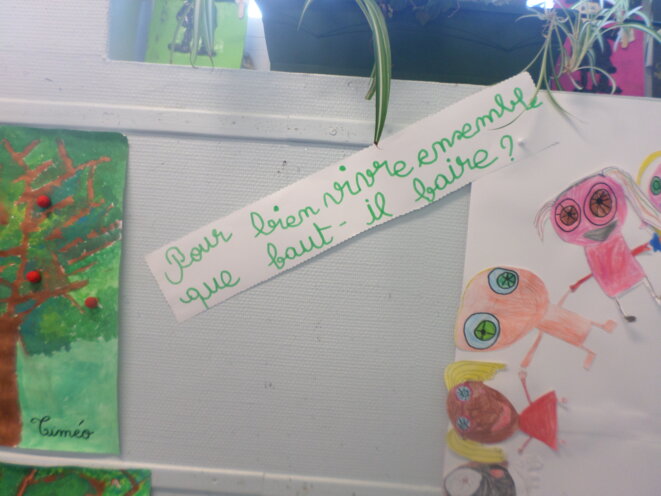 Dessin d'enfants à l'école maternelle © LD
In its response to the terror attacks in Paris in January the French government emphasised the importance of schools and the central role of secularism in fighting intolerance and extremism. Mediapart recently visited schools in the north of the French city of Amiens, an area which has recently seen riots and where the Moroccan-born education minister Najat Vallaud-Belkacem herself grew up and was educated. Here the issue of secularism divides teachers, parents and local help groups alike. "I have the impression that, faced with this debate, everyone is a bit lost," says one teacher. Mediapart's education correspondent Lucie Delaporte reports from the city.
The French education ministry on Friday published its latest detailed evaluation of school performance and the prospects of pupils leaving the academic system. Much of it is alarming reading; every year, about 140,000 young people leave the French educational system without any qualifications and there are now 900,000 people aged between 15 and 29 who are neither in education, nor training, nor actively seeking employment. The report concludes that French pupils from lower social categories are at a greater academic disadvantage than those in other similar European countries. Lucie Delaporte reports.
Around 15 communes refused to open their primary schools on Wednesday despite reform that extends school week to five days.
The Front National party, which since last weekend controls 12 French town halls, says no 'religious requirements' on menus will be tolerated.
Last week parents of pupils at around 100 French primary schools kept their children at home following unfounded rumours that they were being taught 'gender theory'. Education minister Vincent Peillon felt obliged to order parents to be summonsed to schools to explain that the claims being spread in a concerted text and email campaign were untrue. The woman behind the school boycott call – which exploits a favourite issue of the far-right and hard-line Catholics - is 55-year-old teacher Farida Belghoul. Yet Belghoul was not always involved with the far-right; in the early 1980s she was a high-profile left-wing campaigner on immigrant rights. Lucie Delaporte and Rachida El Azzouzi report on her political journey.
French education minister dismisses 'totally false' rumours that boys are 'being taught how to be girls' as thousands of children are kept at home.
President François Hollande says much-attacked report on new approach to integration is 'not at all' the position of the government.