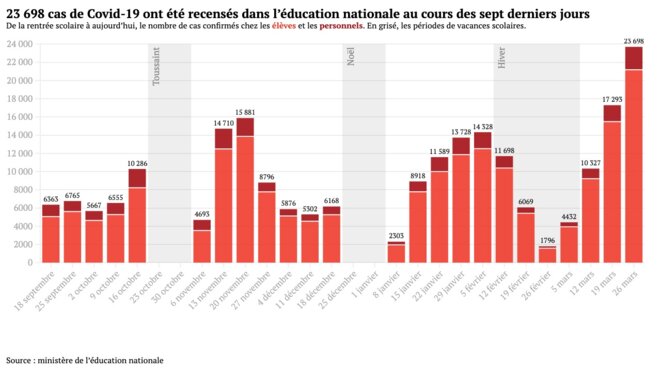 The number of Covid cases found in French schools, week by week.
There has been exponential growth in the number of Covid-19 cases in French schools, both among pupils and staff, and some teaching personnel have become seriously ill as a result. Though the education minister has just announced a further toughening of the health protocols to tackle the virus in schools, some teachers fear the ministry is still "in denial" over the scale of the problem they are facing. One teaching union is now calling on members to take strike action. Ismaël Bine and Caroline Coq-Chodorge report.
Pupils returned to schools across France on Tuesday at the start of the new academic year amid strict measures to contain transmission of the novel coronavirus, while teacher unions and medics have questioned the adequacy of the plans and recorded virus infections are showing a steep increase.
French education minister Jean-Michel Blanquer has announced that every adult in all types of French schools, which are due to reopen at the beginning of September, must wear a face mask to limit transmission of the coronavirus, overturning an earlier decision to exempt teachers at primary schools from the requirement.
The mayor of Paris and her colleagues from towns around the capital have called upon the French government to delay the re-opening of schools, planned to begin gradually with the lifting of lockdown measures planned for May 11th, because of the lack of practical and legal preparedness for the return of classes.
Pupils aged 11-15 will be expected to wear face masks and ttores will have the right to ask shoppers to wear masks, and should ensure they remain a metre apart.
PM Édouard Philippe stopped short during a press briefing of raising the emergency response to the virus to "Phase 3", the highest there is, but suggested it was only matter of time before the government would do so.
The move - effective from the start of the school year on Monday - was approved as part of educational reforms recently passed by Parliament.
Paris City Hall's 'Project Oasis' is a programme to transform by 2040 all of about 800 concrete schoolyards of the capital into cool spots for respite in periods of extreme heat, and perhaps even bring down temperatures across a city with the lowest proportion of green spaces of any European city.
French parliament on Thursday voted in favour of the introduction of a law prohibiting the use of mobile phones by children at state schools, extending and reinforcing a ban on mobile phones already applied by about half of France's almost 60,000 educational establishments.
Union representing head teachers and senior staff says students massing on the street constitutes even higher risk than that posed by tobacco.
French education minister says Muslim pupils must be made aware that 'secularism is not something against them, it protects them'.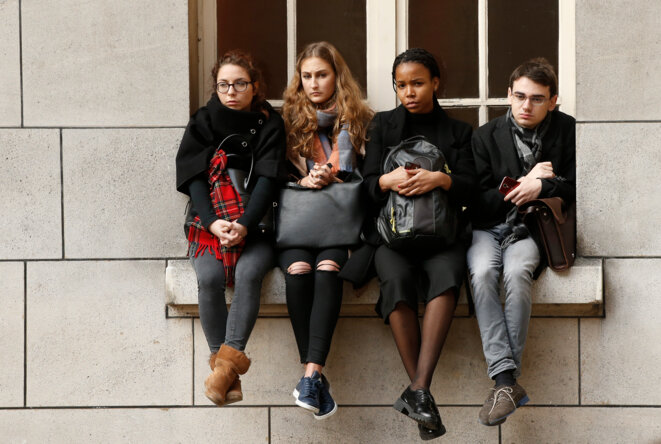 Les étudiants de la Sorbonne (Paris-V) observent une minute de silence, le lundi 16 novembre. © Reuters
The shootings and bombings in Paris on the evening of Friday November 13th targeted people – mainly young people – who had simply gone out to enjoy themselves. Two days after the killings Mediapart talked to pupils and students from the Paris region as they went back to school or university. Many spoke of their fear of being "in the wrong place at the wrong time" and are still struggling to make sense of the carnage. But they insist they are determined to carry on living their lives to the full. Mathilde Goanec, Dan Israel, Amélie Poinssot and Ellen Salvi report.
Education minister Vallaud-Belkacem has launched new plans to tackle bullying which affects up to 700,000 pupils and students a year.
The long summer holidays are over and on Tuesday this week French pupils went back to school. There are none of the major reforms and controversies that have greeted previous new academic years under President François Hollande. But there are still some changes for schoolchildren and teachers alike, notably new compulsory moral and civics lessons prompted by the terror attacks in Paris in January. Feriel Alouti and Lucie Delaporte report.