Related keywords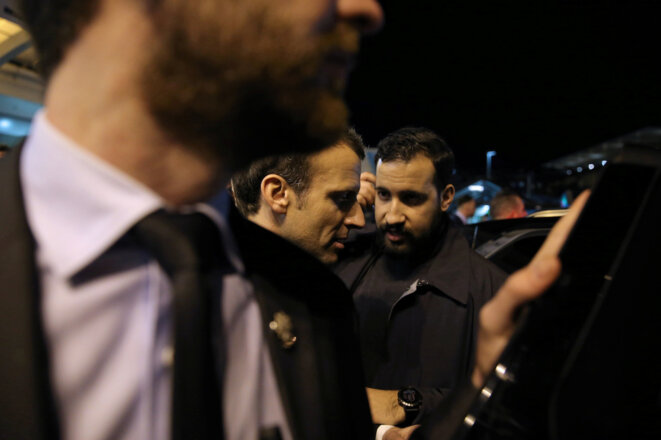 Emmanuel Macron and Alexandre Benalla. © Reuters
Mediapart refused a highly unusual attempt by prosecutors in Paris on Monday morning to search its editorial offices as part of an  investigation that notably cites a breach of the personal privacy of Alexandre Benalla, the disgraced controversial former security aide to President Emmanuel Macron. He was sacked and placed under formal investigation last summer after video footage emerged of him and ruling LREM party security manager Vincent Crase using violence on protestors during demonstrations in Paris on May 1st. The new prosecution services' probe follows Mediapart's revelations last week of extracts from a compromising conversation between Benalla and Crase, who met in violation of their conditional bail, which raise wider questions over Benalla's actions while employed by the presidency, and also his relationship with the president. Mediapart exercised its legal right to refuse the raid on the grounds of protecting the identity of its sources.
Rescuers on Thursday resumed a search of rubble in which six corpses have been found after the collapse on Monday of two dilapidated apartment blocks in the southern French port city of Marseille, following an overnight pause to demolish neighbouring buildings that threatened to tumble in turn.
Three people have been found dead in the rubble of two buildings which collapsed in the southern French port city of Marseille on Monday, while emergency services continued to search for possible survivors among up to eight people who are reported missing.
Police acting for France's financial crime prosecution services on Wednesday searched offices in the economy and finance ministry as part of an investigation into a complaint lodged against President Emmanuel Macron's chief of staff for suspected influence peddling and conflict of interest when he was one of the ministry's most senior civil servants.
Pictures taken by a French military satellite two weeks after the disappearance of Malaysia Airlines flight MH370 in March 2014 show a cluster of what the Australian Transport Safety Bureau, involved in the search for the Boeing 777, believe are 'probably' man-made objects that could be wreckage from the plane in a part of the Indian Ocean that was not searched.
About 100 officers swooped on US firm's offices in Paris to investigate charges of aggravated tax fraud and money-laundering.
A witness recorded the scene on a metro platform where the African migrant was searched and forced to remove his artificial legs and left in his underpants.
The far-right FN party founder, 87, is under investigation over revelations, as reported by Mediapart, that he holds a secret foreign bank account.
The largely fruitless search of waters off Indian Ocean island began after a wing section apparently from lost plane was found there last month.
The four French tourists left their submerged canoe on a lake after an argument, sparking a massive search involving sniffer dogs and a helicopter.