Related keywords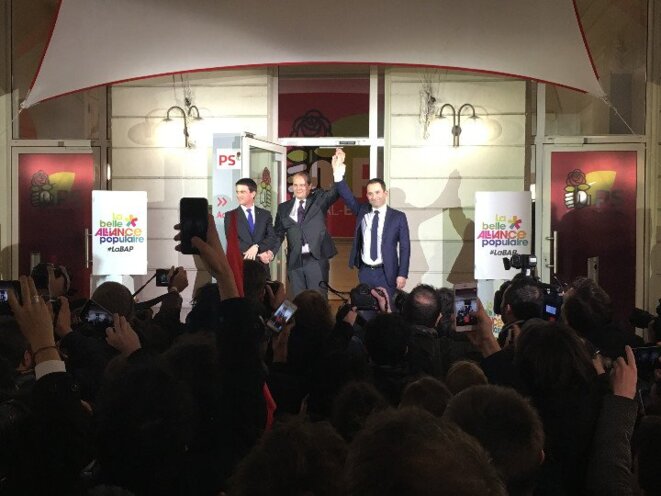 Benoît Hamon (right) with Socialist Party leader Jean-Christophe Cambadélis (centre) and Manuel Valls. © Christophe Gueugneau
Benoît Hamon, the leftist candidate bidding for the Socialist Party's nomination to run in France's presidential elections this spring, has won a resounding victory over his rival, the former prime minister Manuel Valls, in the final round of the primary contest on Sunday. Hamon, 49, who represents a clear break with the policies of the current socialist government and President François Hollande, will run on a manifesto that eats into that of the radical-left, with significant consequences for the spread of the vote in the presidential election, and also on the future cohesion of France's beleaguered Socialist Party. Follow the results and reactions as they happened throughout the evening in this live report.
France returned to the polling stations on Sunday for the second and final round of voting to decide the make-up of the councils that will govern the country's 13 new 'super' regions. Though in the first-round voting the far-right Front National drew massive support, arriving in first position in six regions, it failed to win control of a single region in the second round. Thus in many ways the outcome was a setback for Marine Le Pen's party, as many conservative and left-wing voters voted tactically to keep the far-right out of power. Yet the Front National showed that it is now firmly implanted in all of France apart from the Greater Paris region, and with more than 6.6 million French people voting for it the party beat its previous record set at the 2012 presidential elections. Meanwhile the ruling Socialist Party did better than many predicted, picking up five of the regions, though it lost control of Greater Paris. On the other hand Nicolas Sarkozy's conservative Les Républicains picked up only seven regions - some thanks to tactical voting from the Left - a mediocre performance for the leading mainstream opposition party that will raise question marks over the former president's leadership. Here is Mediapart's live coverage of the results, reaction and analysis in English.
French voters turned out for the decisive round of municipal elections on Sunday, with the ruling socialists braced for further losses.
The French Socialist Party has gained an absolute majority in the National Assembly, with between 312 and 326 seats out of a total 577, according to exit poll results of voting in the second and final round of nationwide parliamentary elections on Sunday.  The estimates, released after voting ended at 8p.m., also gave the far-right Front National up to four seats, and with two confirmed early Sunday evening it was the party's first return to parliament in almost 25 years. The conservative UMP Party and its centre-right allies were credited with between 212 and 234 seats, the Green EELV party between 18 and 24 and the radical-left Front de Gauche with between 9 and 11. The turnout rate was estimated at a record low, at 56%. Graham Tearse reports.