In an unprecedented speech to Catholic bishops this week in Paris, French President Emmanuel Macron said 'We share in a confused way that relations between the Church and State have been damaged and it is up to you, as much as us, to repair them', prompting a political uproar and accusations that he undermined the secular pillar of France's constitution.
The perceived threat of the 'Anglo-Saxon model' is the upcome of distinct communities based on ethnic identity, while France, said PM Manuel Valls, 'does not see itself as a juxtaposition of communities, each with their autonomous path'.
French education minister says Muslim pupils must be made aware that 'secularism is not something against them, it protects them'.
Many members of France's intelligentsia and political class are now at each other's throats in aftermath of January's terror attacks.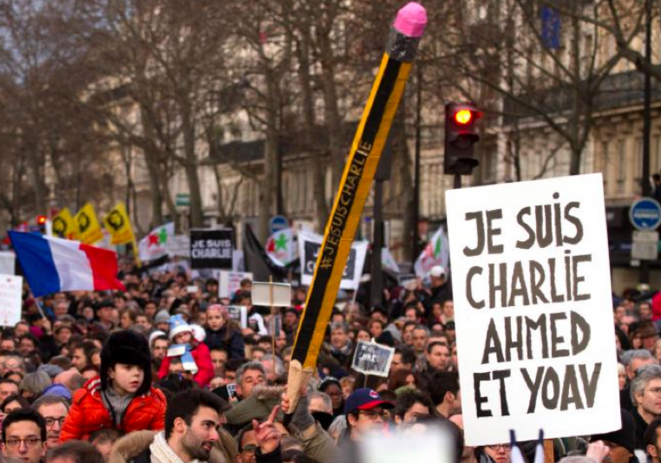 Manifestation du 11 janvier 2015 à Paris. © Thomas Haley
Following the January 2015 terror attacks in and around Paris which left 20 people dead, including the three gunmen, there were huge marches held across France to express public outrage over the events. On Sunday January 11th, an estimated four million people took to the streets of the country's major towns and cities, with an estimated two million in Paris alone. The French government, and in particular Prime Minister Manuel Valls, has since coined the phrase 'the spirit of January 11', using it repeatedly as a rallying call for national unity, notably as it drove through its recent law to introduce mass surveillance powers for the security services. But the recurrent references to what was a remarkable day have now turned sour, amid a heightening debate, as critics on the Right and Left accuse the government of attempting to invent a false conception for cynical political gain. One of them is Christian Salmon, a writer and researcher with the Paris-based Centre for Research in the Arts and Language. In this opinion article he argues that the 'spirit of January 11' has "evolved into a confusing scrum, a macabre dance with a cortege of grimacing masks, heroic posturing and denunciations".
Just like the Left in general, and indeed many political parties in France, the government is divided over the key issue of secularism and its precise scope in French society. An example of this confusion is the forthcoming Parliamentary bill on religious neutrality in privately-run crèches which will be considered by the National Assembly on May 13th. President François Hollande and most of his government are opposed to the measure, even if it appears prime minister Manuel Valls might be more favourable. Yet after a backroom deal with political allies, MPs from the ruling Socialist Party appear committed to voting through the measure despite their own divergent views on the subject. As Lénaïg Bredoux reports, the resulting lack of clarity is a prime example of François Hollande's style of government.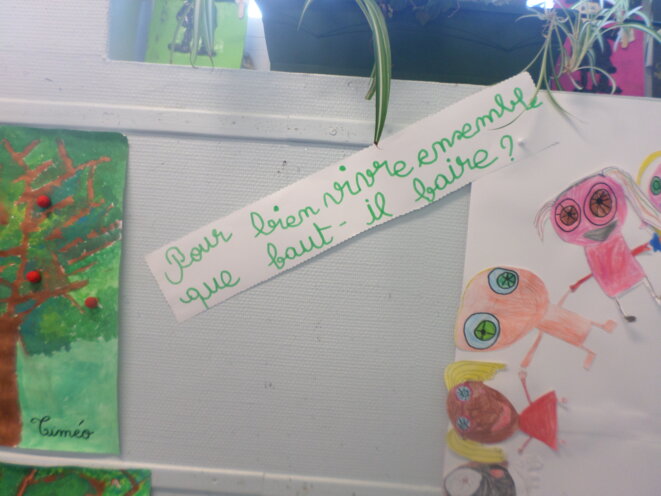 Dessin d'enfants à l'école maternelle © LD
In its response to the terror attacks in Paris in January the French government emphasised the importance of schools and the central role of secularism in fighting intolerance and extremism. Mediapart recently visited schools in the north of the French city of Amiens, an area which has recently seen riots and where the Moroccan-born education minister Najat Vallaud-Belkacem herself grew up and was educated. Here the issue of secularism divides teachers, parents and local help groups alike. "I have the impression that, faced with this debate, everyone is a bit lost," says one teacher. Mediapart's education correspondent Lucie Delaporte reports from the city.
The charter, to be posted in all French schools, underlines that pupils cannot object to lessons and curriculum for religious reasons.