Related keywords
The town of Biarritz in south-west France is already the scene of unprecedented security measures ahead of the G7 summit to be held there next weekend, with some locals complaining that its summer season economy is being hit, while the authorities, fearing violent protests, have ordered that a counter-summit organsied by leftwing groups should be held 30 kilometres away in Hendaye, on the Spanish border. 
Ahead of what are forecast to be a major demonstrations on Saturday by a grass-roots movement of often violent protest over the living standards of middle-income earners, France's interior minister has announced 'large-scale security measures' in Paris, including the deployment of armoured vehicles, in face of what he said has become a 'monster' that has escaped the control of those who initiated the nationwide contestation.
French president held talks at the 31st African Union summit taking place in Mauritania's capital Nouakchott.
Under deal signed by prime minister Narendra Modi and President Macron, each country will open its naval bases to warships from the other.
Violent clashes between prison guards and riot police erupted on Friday outside the vast Fleury-Mérogis prison near Paris on the fifth day of national industrial action by jail staff across France protesting at undermanning and security, as news emerged that inmates had attacked and wounded staff in a prison in Corsica.
A total of 97,000 security personnel from the police and armed forces are being deployed across France over the Christmas period in what the interior ministry described as "the context of a still-elevated terrorist threat".
Meeting in New Delhi on Friday, Indian defence minister Nirmala Sitharaman and he French counterpart Florence Parly agreed to increase anti-terrorism cooperation defence ties, including greater industrial and research involvement by India in French weapons sales to the country, notably in an expected second order of Dassault Rafale fighter jets.
A group of eight Greenpeace militants broke into a nuclear plant at Cattenom in north-east France early on Thursday, where they let off fireworks in a filmed protest to highlight what the organisation says are inadequate security measures to prevent malicious attacks.
As voting in the first of a two-round presidential election begins in France on Sunday, the shootings in central Paris on Thursday which left one police officer dead and two others wounded, in an attack claimed by the Islamic State group, terrorism has led the agenda of the closing campaigns, notably among rightwing candidates.  
Following a similar programme in The Netherlands, the French army has successfully trained Golden eagles to bring down small drones after multiple security alerts involving flights of the radio controlled miniature aircraft over sensitive locations, including the Elysée Palace and nuclear power stations. 
The barriers costing some 20 million euros will be erected this autumn at the northern and southern ends of the monument area.
Some 10,000 police officers to be deployed in Paris region alone with 600,000 revellers expected to gather on the Avenue des Champs-Elysées.
The European Heritage Days operation, when numerous sites normally restricted or closed to the public open their doors, including the Elysée Palace, is this year under tight security because of the heightened terrorist threat.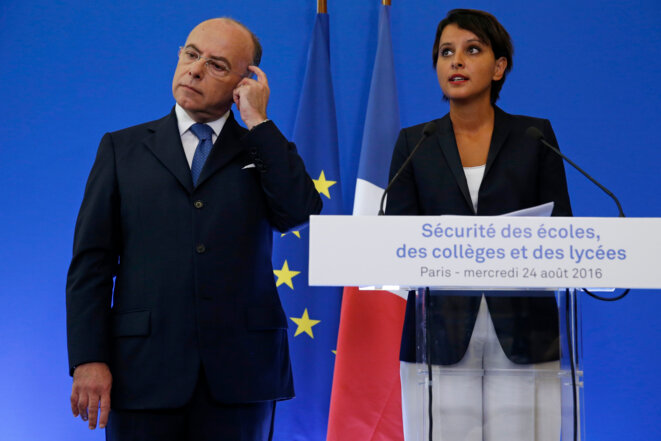 School security: interior minister Bernard Cazeneuve and education minister Najat Vallaud-Belkacem. © Reuters
Pupils in France go back to school this week amid ever-greater security and against the backdrop of a constant threat of terrorism. The education minister and the interior minister have held a joint press conference to outline the unprecedented measures that are being taken to ensure the safety of children at school. As Faïza Zerouala reports, the authorities have to strike a careful balance between ensuring educational establishments are prepared for a terrorist attack and avoiding causing anxiety among younger pupils.