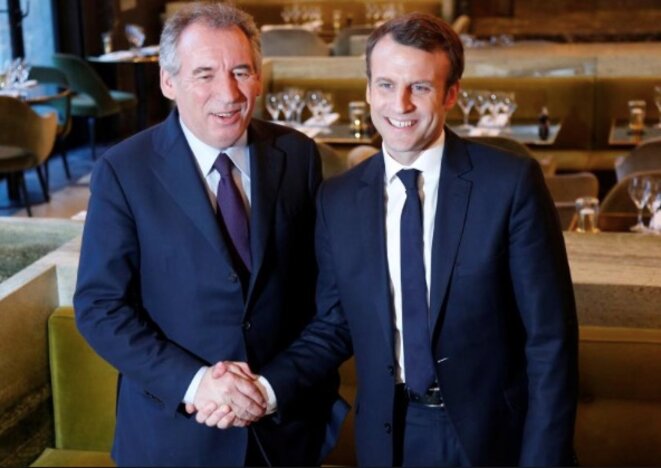 Veteran politician François Bayrou with Emmanuel Macron.
History has a long memory. The upheaval caused by the first-round vote in the French presidential election is the third act in a drama that began in 2007. The fourth act will be the likely success of Emmanuel Macron in the second round and his election as French president on May 7th. Hubert Huertas says Macron's triumph would also represent a final victory for centrist politician François Bayrou who tried but failed to break the two-party stranglehold on French politics a decade ago.
Ségolène Royal says government intends to issue a decree ordering the closure of the Fessenheim nuclear power plant by next month.
Vehicles failing to display stickers showing age, engine size and cleanliness will be banned from low-emission zones in Paris and other cities.
French press report, citing sources, said the unilateral carbon tax, announced by environment minister Ségolène Royal in May as a spur for other countries to do the same, was now considered too complicated to introduce and might be unconstitutional.
Environment ministry says investigation shows a large number of diesel cars emit much higher levels of pollution than manufacturers claim.
The late British prime minister Margaret Thatcher famously said: "There is no alternative". This phrase, abbreviated to TINA, became a symbol of her liberal economic approach to government. Now, faced with potential rivals from the Left ahead of the 2017 presidential election, the French president François Hollande has coined his own version of TINA by declaring: "There is no alternative on the Left outside the line that I represent". Hubert Huertas examines Hollande's high-risk strategy.
Energy minister Ségolène Royal says she is ready to raise the limit on existing reactors to 50 years from 40 years.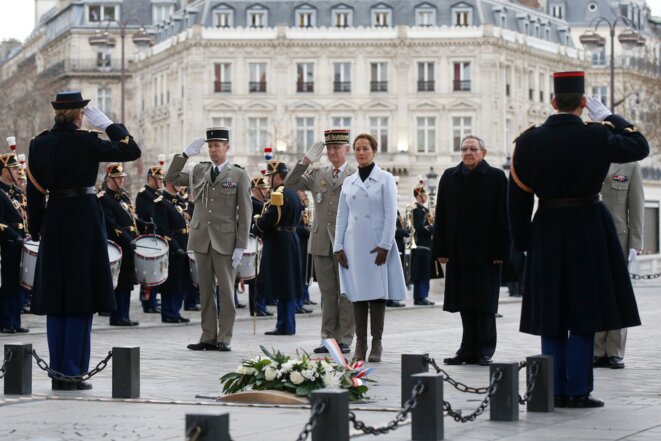 Ségolène Royal with Cuban President Raul Castro at a ceremony in front of the Arc de Triomphe in Paris, February 1st. © Reuters
Ségolène Royal has led an up and down political career over three decades. After serving three ministerial posts and three terms as an MP, she lost, as socialist candidate, the 2007 presidential elections to Nicolas Sarkozy, narrowly lost her 2008 bid to become Socialist Party leader, was humiliated in the 2011 socialist primaries, and lost in legislative elections in 2012. But, retaining a power base as a local council leader in mid-west France, the 63-year-old former wife of President François Hollande is now back in the stable of power. Made environment minister in 2014, her ministry emerged from this month's government reshuffle with added powers, including her role as president of post-COP 21 UN climate talks. But she is also regarded as a key figure for Hollande's hopes of re-election in 2017. Mathieu Magnaudeix reports.
President Hollande said the Paris visit by Cuban president Raul Castro marked 'new stage' in strengthening of ties between the two countries.
French scientists played a key role in discovering radioactivity and atomic energy is broadly accepted by all major political parties except the greens.
Environment minister Ségolène Royal told TV interview: 'It's obvious that it's necessary to prepare the end of diesel.'
The tragedy in Brittany in west France, which occurred after a late-night party, came as a senior minister called for lower speed limits.
French environment minister's climbdown came after protests from Italy where the popular chocolate and nut spread is produced.
Italy's environment minister plans to eat Nutella for dinner after French counterpart urged people to avoid product over deforestation fears.