Former French conservative prime minister François Fillon was on Monday handed a five-year prison sentence, with three years suspended, and his British wife Penelope was given a three-year suspended jail sentence, after a Paris court found the pair guilty of a scam in which Fillon paid his wife more than 800,000 euros as his parliamentary assistant for work she never did. 
Two Franco-Israeli men were given jail sentences and heavy fines by a Paris court for masterminding a multi-million-euro fraud using the identity of Jean-Yves Le Drian, who at the time was France's defence minister and is now the foreign minister, to raise money from wealthy political, business and religious figures.
Popular French rappers Booba and Kaaris were each handed 18-month suspended prison sentences and a fine of 30,000 euros by a Paris court for their part in a fight, together with their respective entourages, at Paris Orly airport in August when they exchanged punches and kicks and threw perfume bottles at each other amid panicking passengers.
A court in Nice found Patricia Dagorn, 57, guilty of killing two elderly men found dead on the Cote d'Azur in 2011 and of drugging two others, crimes which prosecutors said the 'psycopathic' divorcee carried out for enrichment.
A Paris court on Friday sentenced Christine Rivière, 51, nicknamed 'Jihadi Granny', to a maximum ten years in jail for 'association with criminals preparing a terrorist attack' after she encouraged her son's activities within the ranks of the Islamic State group in Syria, where she later joined him on several occasions.
Two executive jet pilots and two other men were found guilty of trying to fly from the Caribbean resort of Punta Cana with 680 kilos of cocaine.
Gilles Le Guen, arrested in Mali by French troops, is the first to be convicted under a 2012 law allowing prosecution for waging Jihad abroad.
Alfred Catino was among 16 people arrested in Connecticut in 2012 in a conspiracy to distribute marijuana, cocaine and oxycodone.
Marcel Guillot was given a ten-year prison sentence for battering to death an 82 year-old woman who refused his amorous advances.
A Franco-Algerian nuclear physicist who worked at CERN has been sentenced to five years in jail, for plotting terror attacks in France.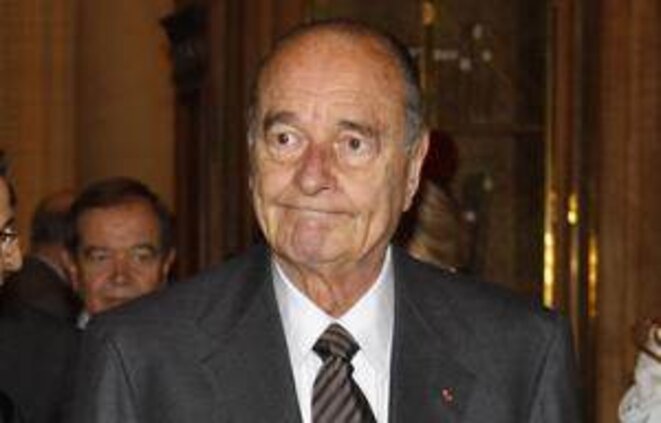 © Reuters
Former French President Jacques Chirac (
pictured
) was on Thursday given a two-year suspended prison sentence for embezzling public funds when he was mayor of Paris to finance his political party and advisors for his presidential election campaign strategy. Chirac, 79, is the second French head of state to be tried by a court of justice, after the country's wartime collaborationist Vichy government leader, Marshal Philippe Pétain, in 1945.
Michel Deléan
reports.