Related keywords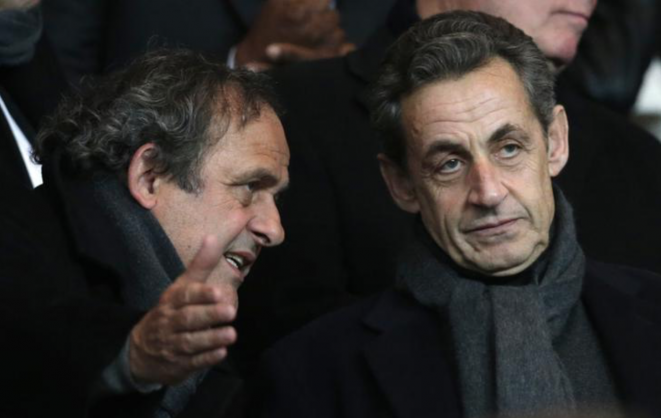 Michel Platini and Nicolas Sarkozy at the Parc des Princes football stadium in Paris for a PSG match on February 17th 2015. © Reuters
In June 2019 Michel Platini, the former head of European football's governing body UEFA, was interviewed by police as a witness over the circumstances of the award of the 2022 football World Cup to Qatar. Two former colleagues of Nicolas Sarkozy were also questioned about a lunch hosted for Qatar's crown prince by the French president in 2010, attended by Platini, just days before the controversial vote to give the tournament to the oil and gas-rich state. Now the French financial crimes prosecution unit has launched a judicial investigation into the affair over alleged "corruption", Mediapart has learnt. Former French football star Platini has strongly denied any wrongdoing. Yann Philippin and Antton Rouget report.
Ex-France football team star and until now European football tsar lost his appeal and is banned from football activity over suspect payment from FIFA chief.
French police searched the FFF's Paris HQ on behalf of a Swiss investigation into ex-FIFA head's payment of 2m Swiss francs to UEFA chief. 
Pair were found guilty of breaches in a 2mln Swiss franc 'disloyal payment' made to Uefa boss and ex-France captain by Fifa chief Blatter in 2011.
Fifa ethics unit calls for the ban on former French player and Uefa chief over suspicions about payment he received from Fifa boss Sepp Blatter.
Blatter claims that French government under President Nicolas Sarkozy helped turn the vote in favour of Qatar.
Ethics committee of world football organisation Fifa suspended its president and vice president as a result of its ongonig corruption investigation.
Michel Platini © Reuters
Sepp Blatter, the head of football's ruling body FIFA, and former French star Michel Platini are now in the sights of the Swiss judicial authorities. Blatter is being investigated for "criminal mismanagement", while questions have been raised over an allegedly "underhand" payment the Frenchman received from the FIFA boss. Football writer Antoine Grynbaum describes how the once-close relationship between the two men turned sour and what it means for Platini's own bid for football's top job.  
Uefa boss Platini insists that 2 million Swiss franc 'underhand' payment from Sepp Blatter was simply fee for Fifa contract work.
Current UEFA president has written to member federations in Europe saying he will take part in election to replace Sepp Blatter in February.
Sepp Blatter says both French president Nicolas Sarkozy and German president intervened, leading to World Cup being staged in Qatar.
Sepp Blatter, who is to run for a second term of office as head of FIFA, told French radio 'we cannot play the World Cup in summer' in Qatar.