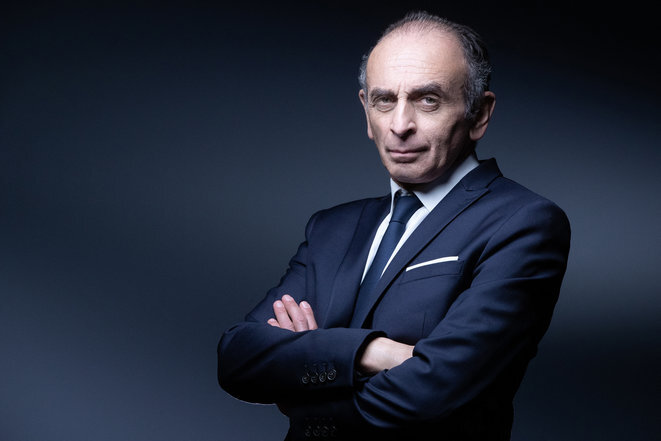 Journalist and polemicist Éric Zemmour. © JOEL SAGET / AFP
On April 24th 2021 a female councillor publicly accused French journalist and polemicist Éric Zemmour of having forcibly kissed her. Mediapart has gathered the accounts of several other women who have also condemned the actions and behaviour of the journalist from Le Figaro newspaper and CNews news channel, whom some on the far-right want to be a candidate in next year's presidential election in France. When approached by Mediapart, Zemmour declined to respond to the allegations. Lénaïg Bredoux, David Perrotin and Marine Turchi report.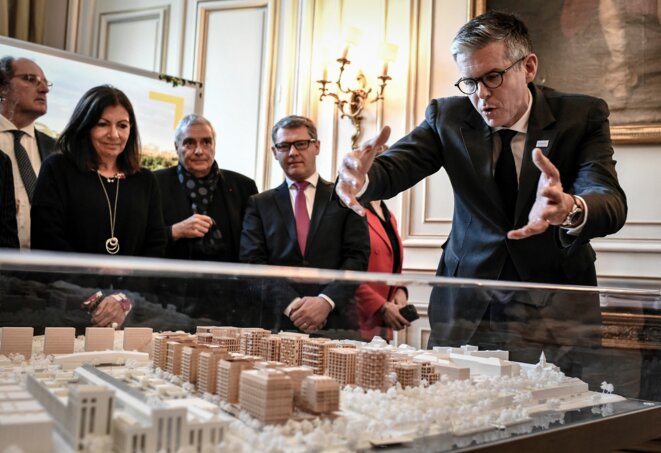 Nicolas Ferrand, CEO of SOLIDEO, during a presentation of a model of the Olympic village in November 2019, watched by Paris mayor Anne Hidalgo. © Stéphane DE SAKUTIN / AFP
An investigation by Mediapart has revealed a pattern of anti-Roma insults, sexist behaviour and prejudice towards residents of a high-immigration area among certain staff at an organisation helping to deliver the 2024 Paris Olympic Games. After Mediapart raised the issue with management three employees at SOLIDEO – the body overseeing construction of the Games infrastructure - have been suspended and an internal inquiry has been established. Previous attempts to raise the issue internally, including the referral of complaints to the office of Paris mayor Anne Hidalgo,  apparently had little effect. Jade Lindgaard and Antton Rouget report.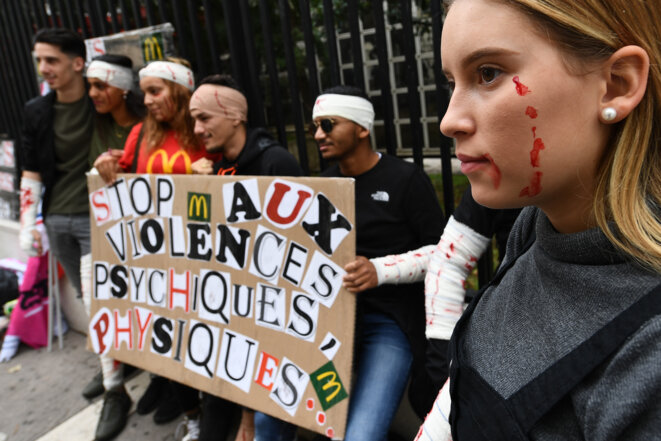 The Saint-Barthélémy McDonald's branch at Marseille in southern France was the scene of an industrial struggle by staff against the giant multinational. On October 18th 2018 workers were protesting in front of the restaurant and were already complaining about the violence of the 'McDo' system. BORIS HORVAT / AFP
Mediapart and the website StreetPress have spent several months investigating the management of McDonald's branches in France. We have compiled a total of 78 testimonies from staff who describe a workplace in which sexist, racist and homophobic comments often feature, and even in some cases sexual assaults. The restaurant chain has been accused of turning a blind eye to the problem. It says that non-discrimination is a "cornerstone" of the chain's values. Khedidja Zerouali reports.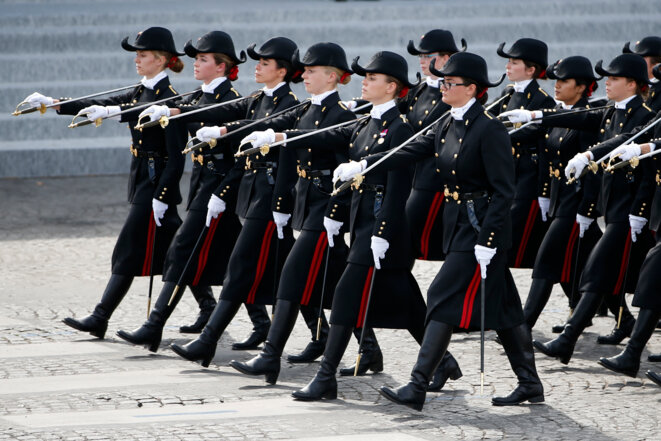 Students from the École Polytechnique during a Bastille Day parade. © Reuters
The École Polytechnique, one of France's most prestigious higher education institutions, faced calls to tackle issues of sexual violence and sexism among students and staff well before the Harvey Weinstein scandal broke. Some women students have complained of sexist comments and others of sexual assaults. There has been one allegation of rape. Faïza Zerouala reports on attempts to fight sexist behaviour at the elite engineering school where military training is compulsory and which has a "macho" atmosphere.
Public channel France 3 was slammed over video of home chaos and abandoned domestic chores because women became presenters. 
Caroline De Haas, 34, says macholand.fr was created to mobilize France against 'rampant' sexism in the media, by politicians and advertisers.
A collective of French female journalists have launched a campaign against what they call the "invisibility" of women in the media and the often sexist stereotypes of women presented by the media. Their manifesto, published earlier this week with signatures of support from more than 400 media professionals, calls for tough new measures to guarantee gender parity in the journalistic profession and among pundits invited by the media, as already required by law. Here, Mediapart political correspondent Lénaïg Bredoux, a member of the newly-formed collective, explains why she and her colleagues have had enough of the macho media.  
A group of French feminists has found a new way to fight inequality, with sarcastic humour and fake beards - only rarely is there a violent response.
French school teaching books offer a stereotyped, partial, sexist and always minimal record of the place of women in History, according to a study published this month and which confirms the conclusions of various official reports carried out over the past decade. The study, by the Hubertine Auclert Centre, a semi-public institution for the promotion of gender equality, was so damning that none of the 11 books examined were considered worthy of a prize of excellence. Lucie Delaporte reports on its findings.