Keyword: Sexual harassment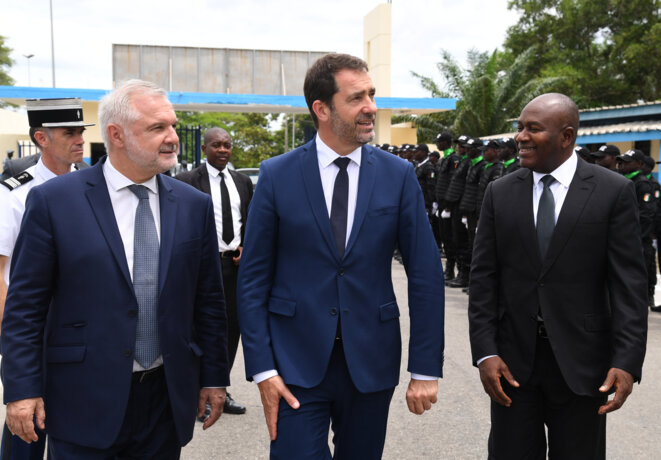 Ambassador Gilles Huberson, left, with the French and Ivory Coast ministers of the interior at Abidjan in May 2019. © ISSOUF SANOGO / AFP
France's Ministry of Foreign Affairs has launched an internal inquiry into Gilles Huberson, ambassador to Ivory Coast, after several women accused him of sexist and sexual violence, Mediapart has learnt. Huberson, who occupies one of France's most prestigious diplomatic postings in Africa, is reported to have returned to Paris, even though Ivory Coast faces an important and potentially tense election in less than two months. Michel Pauron reports.
In the male-dominated world of French restaurant kitchens, women struggle to find a place amid widespread sexual harassment and assaults and a culture of bullying, according to gender equality campaigners.
The French friend and business associate of the late, disgraced US billionaire Jeffrey Epstein, French model agency manager Jean-Luc Brunel, who is accused in American court documents of rape and of obtaining young women for Epstein, is cited in a new complaint in France for sexual harassment.
The Paris public prosecutor's office has opened an investigation after CCTV footage from a café was published on social media showing a young woman being assaulted by a man she had objected to after he made lewd comments and gestures while pasing her in the street. 
An official body in charge of overseeing sexual equality in France has criticised the way that many people are harassing women online "with impunity". This is despite the many laws that are available to combat such harassment. The Haut Conseil à l'Égalité entre les Femmes et les Hommes (HCE) points to a trial it carried out in 2017 in which less than 8% of sexist content flagged to Twitter, Facebook and YouTube was taken down. Louise Fessard reports.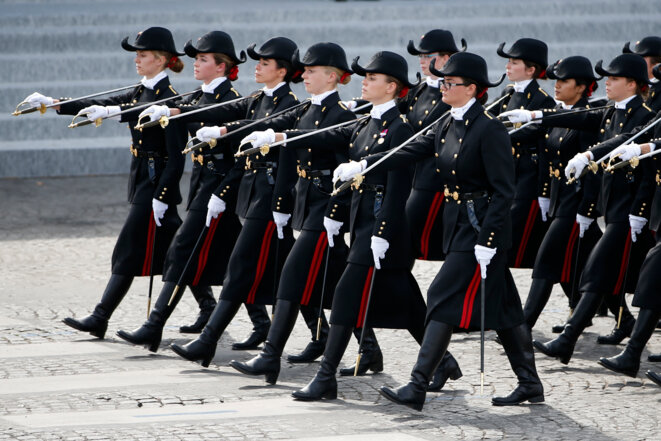 Students from the École Polytechnique during a Bastille Day parade. © Reuters
The École Polytechnique, one of France's most prestigious higher education institutions, faced calls to tackle issues of sexual violence and sexism among students and staff well before the Harvey Weinstein scandal broke. Some women students have complained of sexist comments and others of sexual assaults. There has been one allegation of rape. Faïza Zerouala reports on attempts to fight sexist behaviour at the elite engineering school where military training is compulsory and which has a "macho" atmosphere.
A phone number launched in France as a tool for women being pestered by over-insistent men has to close after intimidation and death threat.
Police say around 2,500 mostly demonstrators gathered at place de la République, some waving placards bearing the '#Metoo' hashtag.
Move came after a comedian publicly accused Canadian producer Gilbert Rozon of being an 'aggressor' after allegations from number of women.
French MPs to debate measures including a clear age of consent after court dropped rape charge in case involving an 11-year-old girl.
Following the Harvey Weinstein affair, a French journalist has urged women to publish names of men who had sexually harassed them at work.
Suggested laws would also stop men repeatedly asking for their numbers but lawyers fear the offences could be difficult to prove legally.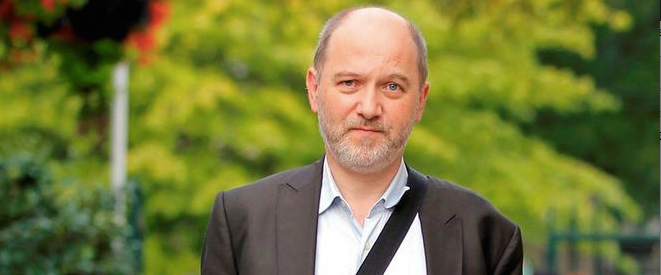 Denis Baupin. © Reuters
Mediapart and French radio station France Inter have received five new accounts of lewd behaviour, including sexual assault and harassment, allegedly perpetrated by French MP Denis Baupin, husband of French housing minister Emmanuelle Cosse. Baupin was forced to stand down as speaker of the French parliament earlier this month after Mediapart published interviews with eight women, including an MP and Green party spokeswomen, who said they had suffered assault and harassment by him. The new accounts given here cover a 16-year period during which Baupin was deputy-mayor of Paris and a leading official with the French green party. Lénaïg Bredoux reports.
The 17 women published a tribune slamming existence of sexual assaults and harassment in politics and calling for parties to shame culprits and help victims.