The three young men, two of whom are servicemen, restrained the gunman who had begun shooting in a carriage of the train carrying 554 passengers.
The victim was shot after he surprised two men who had broken into an interior ministry complex at Pantin, a suburb north of the French capital.
Police opened fire on a vehicle after the driver sped through early morning barricades set up for the Tour de France final stage in Paris.
Laurent Rambaud, 37, increasingly frustrated with a spate of thefts, shot dead a man he thought was a truffle thief and armed.
Drug consumption facilities with clean needles and staffed with counsellors and health workers to open at Lariboisière hospital in Paris.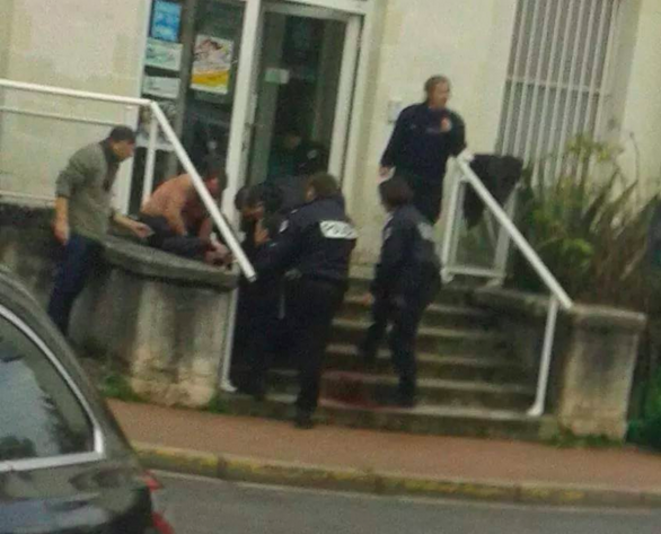 © DR
On December 20th, 20-year-old Bertrand Nzohabonayo was shot dead by police in Joué-lès-Tours, west-central France, after he reportedly attacked a police station wielding a knife with which he wounded three officers while shouting the phrase 'god is great' in Arabic "up until his last breath", according to some media. The French interior minister hailed the "professionalism" and "level-headedness" of the officers involved, and an investigation into the events was immediately handed to anti-terrorist police. Burundian-born Nzohabonayo, a Muslim convert who had recently posted a photo of the flag of Islamic State on his Facebook page, has been widely presented as acting for the cause of Islamic extremism. But one week after his death, a quite different version of events has emerged. According to several witnesses, he was shot while using a knife to resist arrest outside the police station, where he was being brought for questioning over a fight involving one of the station's officers and two black youths. Yannick Sanchez reports.
Eric Maillaud says that two years after shooting of British family in French Alps it will take a 'stroke of luck' to solve the case.
Move comes amid claims murdered British woman Iqbal Al-Hilli's 'secret' first husband may have been poisoned on same day as Alps shooting.
The 49 year-old man, who was working on the modernisation of a hospital in Benghazi, was shot three times by unidentified assailants.
The 48-year-old is said to be a quiet 'mountain man' and a gun enthusiast but authorities stress he has no direct link with any of the victims.
The young couple were shot at close range as they sat at a café terrace in a southern district of the capital, the gunman escaping.
President Hollande drawn into high-profile case which has seen many suporters backing actions of a man who could face life in prison for murder.
A million people on Facebook have backed Nice jeweller who is now under investigation for murder after shooting dead teenager who robbed him.
Officers release image of dark-coloured 4x4 they want to trace in connection with murder last September of engineer Saad al-Hilli and three others.
Officers release image of dark-coloured 4x4 they want to trace in connection with murder of engineer Saad al-Hilli and three others in September.