Related keywords
The death toll from the shooting spree in and around the town of Carcassonne on Friday has risen to four after gendarmerie officer Lt Col Arnaud Beltrame, who was described as 'a hero' by President Emmanuel Macron, volunteered to swap places with a woman taken hostage by the lone gunman before being shot several times, died overnight from his wounds.
Gendarmerie Lt-Col Arnaud Beltrame, 45, who voluntered to swap places with a woman taken hostage as a human shield by a Moroccan-French national  Redouane Lakdim who, acting in the name of the Islamic State group had taken over a supermarket in south-west France after killing three people in separate attacks, was on Friday in hospital in a critical condition after being shot several times by the 25-year-old gunman before a special-forces police unit stormed the store.
The 31-year-old shot dead his girlfriend's father and two passers by, and shot and wounded his girlfriend, her mother and sister before fatally shooting himself in a residential road in Paris suburb Sarcelles. 
An off-duty police officer shot dead his wife and two of his children, aged three and five, before turning the gun on himself on the platform of a train station in Noyon, about 100 kilometres north of Paris, local public prosecutor Virginie Girard told reporters.
French investigators admit that time is running out in their efforts to explain the murders on September 5th 2012 of British-Iraqi family members Saad al-Hilli, 50, his wife Iqbal, 47, and her 74-year-old mother, who were shot dead in a layby near the French Alps village of Chevaline along with French cyclist Sylvain Mollier.
Several questions remain unexplained surrounding the attack that left a police officer dead and two others wounded on the Champs-Elysées on Thursday evening, notably whether the assailant who was shot dead, 39-year-old French national Karim Cheurfi, was in relation with Islamic State group, as it has claimed.
At least one police officer was killed and two others wounded when a gunman, who was subsequently shot dead in return fire, attacked a police vehicle on the popular Champs-Elysées avenue in central Paris using what the interior ministry described as an 'automatic weapon'.
Following the death of the suspect who was due to stand trial this month for the fatal shootings of three women in the Paris Kurdish Information Centre four years ago, all court proceedings have now been closed.
Veillée en hommage à Yoav Hattab, Tunis, samedi 17 janvier. © Reuters
One of the victims of the kosher supermarket shootings during the Paris attacks in January was Yoav Hattab, a 21-year-old Jew from Tunisia. His family are part of a Jewish community whose roots in the North African country go back many centuries but which has seen its numbers fall dramatically over the last 50 years. The dead man's elder brother, Avishay Hattab, has spoken at length to Mediapart's Pierre Puchot about how the family learnt of Yoav's death, at their dismay at the lack of official Tunisian government recognition of his murder, and of the difficulties in belonging to one of the last Jewish communities in the Arab world. Meanwhile an association that supports local minorities talks about the need to combat the "hatred" aimed at Jews in Tunisia. But Avishay Hattab says he is "proud" of being Tunisian and insists he has no intention of leaving a country his family has lived in for countless generations.
The man was arrested in Marseille in posession of a Kalashnikov rifle and a handgun similar to arms used in May 24 attack which left three dead.
French interior minister says Souad Merah, whose brother shot dead seven people in south-west France in 2012, is believed to be in Syria.
The man suspected of gun attacks on media organisations and a bank was arrested in a car park in a Paris suburb after a tip-off to police.
One year after a British family and a French cyclist were murdered near Annecy, British and French investyigators claim 'great advances' in the case.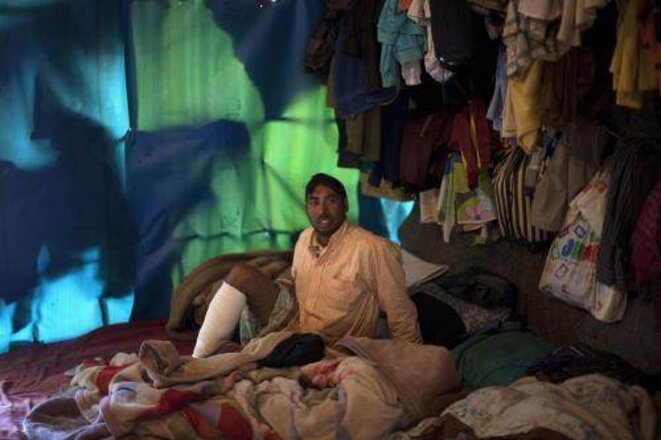 © Reuters
In April this year, the supervisors of a strawberry farm in Greece opened fire on a group of immigrant workers who had demanded to be paid their salaries which had been withheld for six months. The shooting left 33 Bangladeshi workers wounded (picture), eight of them seriously hurt. It also revealed the dire conditions in which thousands of immigrant workers live in Greece, underpaid and often undeclared, with little or no possibility of escaping their exploitation in intensive farming businesses. Charalambos Kassimis is a professor and research director of rural sociology with the Athens University of Agriculture. In this interview with Amélie Poinssot, he explains the rural evolution which created the need for foreign labour, and details how many migrants became trapped in an organised "state of slavery" made possible by a "law of silence" enforced by politicians.