Following the death of the suspect who was due to stand trial this month for the fatal shootings of three women in the Paris Kurdish Information Centre four years ago, all court proceedings have now been closed.
Veillée en hommage à Yoav Hattab, Tunis, samedi 17 janvier. © Reuters
One of the victims of the kosher supermarket shootings during the Paris attacks in January was Yoav Hattab, a 21-year-old Jew from Tunisia. His family are part of a Jewish community whose roots in the North African country go back many centuries but which has seen its numbers fall dramatically over the last 50 years. The dead man's elder brother, Avishay Hattab, has spoken at length to Mediapart's Pierre Puchot about how the family learnt of Yoav's death, at their dismay at the lack of official Tunisian government recognition of his murder, and of the difficulties in belonging to one of the last Jewish communities in the Arab world. Meanwhile an association that supports local minorities talks about the need to combat the "hatred" aimed at Jews in Tunisia. But Avishay Hattab says he is "proud" of being Tunisian and insists he has no intention of leaving a country his family has lived in for countless generations.
The man was arrested in Marseille in posession of a Kalashnikov rifle and a handgun similar to arms used in May 24 attack which left three dead.
French interior minister says Souad Merah, whose brother shot dead seven people in south-west France in 2012, is believed to be in Syria.
The man suspected of gun attacks on media organisations and a bank was arrested in a car park in a Paris suburb after a tip-off to police.
One year after a British family and a French cyclist were murdered near Annecy, British and French investyigators claim 'great advances' in the case.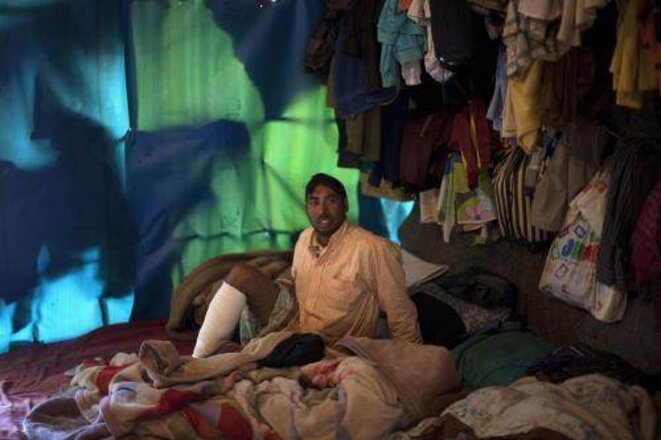 © Reuters
In April this year, the supervisors of a strawberry farm in Greece opened fire on a group of immigrant workers who had demanded to be paid their salaries which had been withheld for six months. The shooting left 33 Bangladeshi workers wounded (picture), eight of them seriously hurt. It also revealed the dire conditions in which thousands of immigrant workers live in Greece, underpaid and often undeclared, with little or no possibility of escaping their exploitation in intensive farming businesses. Charalambos Kassimis is a professor and research director of rural sociology with the Athens University of Agriculture. In this interview with Amélie Poinssot, he explains the rural evolution which created the need for foreign labour, and details how many migrants became trapped in an organised "state of slavery" made possible by a "law of silence" enforced by politicians.
A second person has been arrested in Paris in connection with the apparently random killings near Marseille by a 19 year-old gunman.
A man and a woman suspected of criminal links with Mohamed Merah, who shot dead seven people in and around Toulouse in March, have been arrested.
The French president made the pledge alongside Israeli Prime Minister Benjamin Netanyahu at a tribute to Jewish victims of gunman Mohammed Merah.
French interior minister Manuel Valls last week presented the findings of a damning official police internal investigation into the handling of the case of Toulouse gunman Mohammed Merah, a self-confessed jihadist who shot seven dead in a ten-day rampage in south-west France in March, and in which France's intelligence services have been accused of deliberately hiding their role. Louise Fessard examines the report's findings.  
The shooting last week of a prominent lawyer on Corsica, the 15th such assasination this year, prompts crackdown on organised crime on the island.
A French cyclist was first target of "disorderly" gunman's massacre of four in the French Alps, including three Britons, French press reports say.
Media reports on the shooting of four people in the French Alps have been questioned by owners of the campsite where the al-Hilli family stayed.
New eye-witness evidence emerges of family massacre that left four dead, including initial crime scene and strange behaviour of victim days earlier.