Related keywords
This spring's presidential elections in France, in which the far-right Front National candidate Marine Le Pen is tipped to reach the second-round playoff, has the potential to set in train the victories of other anti-EU parties in elections across Europe warned Spanish Prime Minister Mariano Rajoy and German Vice Chancellor Sigmar Gabriel.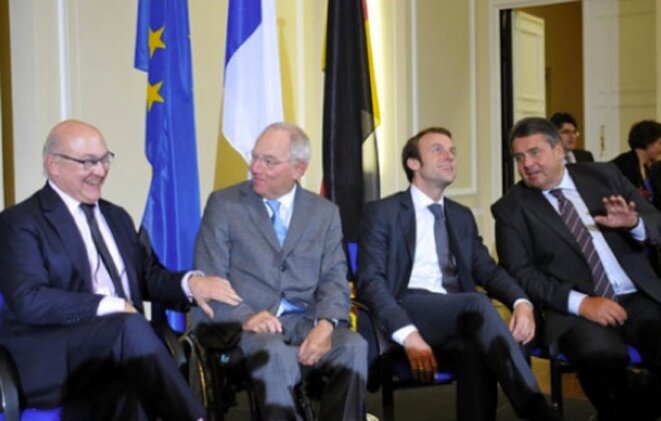 Crucial meeting? French and German finance and economy ministers meeting in Berlin, October 2014. © france-allemagne.fr
The French government's labour law reform bill, now being debated in the Senate, has prompted fierce opposition from several trades unions, massive demonstrations across the country, and a deep political and social crisis. Opinion polls show a majority of the population are opposed to the bill, which reduces current protection for employees with measures that include easing conditions for firing staff and placing a ceiling on compensation sums awarded by industrial tribunals. But the government is adamant it will not negotiate the bill's contents. Martine Orange investigates the reasons for its unusual intransigence, and discovers evidence that the most controversial texts of the bill were demanded by European Union economic liberals.
Emmanuel Macron and Sigmar Gabriel publish a joint op-ed calling for a common treasury for the eurozone with power to set taxation policies.