French railways operator SNCF has finally reopened Christmas chaperoned train services for unaccompanied minors which had been cancelled because of continuing strike action against proposed pension reforms, which was notably due to affect children from divorced couples living far apart.
French railways staff have massively used their legal right to 'withdraw' from their posts after an accident at a level crossing in north-east France, when 11 people were reported injured, claiming that it was unregulatory that only the driver was present to deal with the incident, provoking massive disrution just as mid-term school holidays began.
The French railways operator, the SNCF, has announced it will begin introducing fully automated driverless trains on long-distance passenger and freight services by 2023, although initially with a standby human presence in the command cabin.
In most recent two-day stoppage only 10% of SNCF workers downed tools, as participation waned after disputed reform's passage in parliament.
One of the several railway workers' unions that have held two-day rolling strikes since April against the French government's reforms of the state-run network, ahead of the introduction of private competition, has vowed to continue the disruption despite parliament's final approval of the reforms on Thursday.
In a fresh round of negotiations on Friday between the French government and rail union officials leading rolling strikes in protest at planned reforms to shakeup the publicly-owned SNCF railways company, including the introduction of private competition, Prime Minister Edouard Philippe has proposed that the state will absorb most of the company's debts of 47 billion euros in return for an end to the dispute.
French railways operator SNCF has warned that the latest in a series of rolling two-day strikes will cause severe disruption to services on Monday, as unions heighten protest action against planned government reforms to prepare for the introduction of private competition on the railways and an end to job contract protections.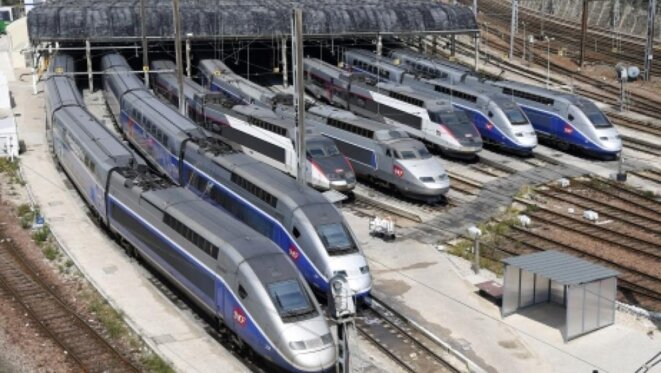 Trains at the gare du Nord in Paris. © Reuters/Charles Platiau
On April 17th this year, with the rail strike in full swing, a manager at the busiest railway station in Paris, the Gare du Nord, asked colleagues to create a database on workers who were most active on Facebook, Twitter and other social media. Unions have condemned the action, saying they fear the firm wants to muzzle staff involved in the industrial action, while lawyers say the move is completely illegal. The state rail company SNCF, meanwhile, dismisses it simply as a "clumsy" local initiative not connected with the strike. Dan Israel reports.
Unions are replenishing their financial resources to try and make industrial action last as long as possible as both SNCF and workers lose money.
Turnout in nationwide street protests in France on Thursday against the government's programme of economic reforms, notably in the public sector and of the state-run railway system in particular, was significantly lower than a similar day of demonstrations in March, with police estimating around 110,000 people took part, while unions claimed the figure was 300,000.   
Planned three months of nationwide rolling rail strikes is seen as biggest challenge yet to Macron's attempts to modernise the French economy.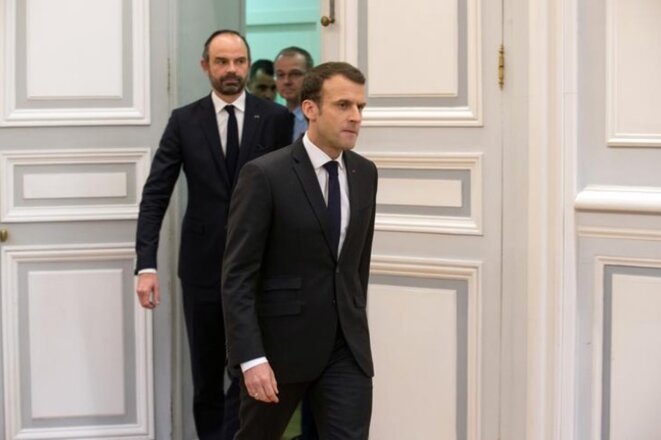 The Macron Method: union leaders says the government talks a lot but says nothing. © Reuters
On Monday April 9th France's National Assembly is due to begin examining the government's proposed legislation for a "new railway agreement". Yet the consultations with the unions about this new pact are still going on. Those unions - whose members began the latest round of two-day rail strikes on Sunday April 8th - are now dismissing the talks with the government as a "farce" and intend to step up their action. Their aim is to expose what they see as a deliberate method employed by President Emmanuel Macron's government: one of talking but not saying anything and of listening without hearing. Ellen Salvi examines the workings of the Macron Method.
Industrial action at France's flag carrier overlaps with nationwide rolling train strikes, as rail unions protest against President Macron's reforms.
Rail firm SNCF says some 86% of trains were cancelled nationwide on Wednesday in second day of industrial action by workers.