Marine Le Pen gave a brief speech after her party's poor showing in the regional elections on June 20th 2021. © Hans Lucas via AFP
The first round of France's regional and département or county elections took place on Sunday June 20th and one of the major stories of the day was the record level of abstention, with nearly two out of three voters staying home. A year before the presidential election another key outcome was the poor showing of the far-right Rassemblement National (RN), led by Marine Le Pen, which despite doing well in opinion polls only came top in one region. Elsewhere the biggest winners of the night were the conservative Right, while the vote for the Left and the Greens held up better than many had predicted.  Perhaps the biggest loser of the night was Emmanuel Macron's ruling La République en Marche party which failed even to come second in any region. The second and final round of voting takes place on Sunday June 27th. Mathilde Goanec, Ellen Salvi, Lucie Delaporte, Ilyes Ramdani and Pauline Graulle report.
.
Olivier Faure, 49, is to become the new leader of France's Socialist Party, which suffered a crushing defeat in last year's legislative elections, after comfortably winning the first of two rounds of voting and with the announcement on Friday that his only serious rival, former agriculture minister Stéphane Le Foll, will not stand for the final round on March 29th.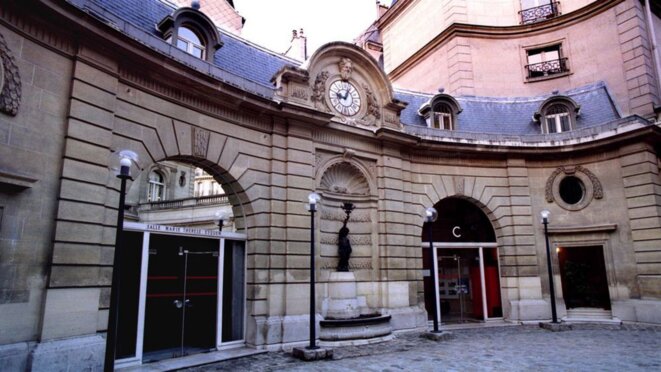 For sale: the Socialist Party's headquarters at rue de Solférino in Paris. © Reuters
The Socialist Party performed miserably in the French presidential elections and poorly in the subsequent Parliamentary elections, and is  so short of money it is selling off its party headquarters at rue de Solférino in Paris. It has now also just announced a redundancy plan which will see the number of staff it employs in Paris cut from 97 to just 38 by the spring of 2018. Employees, meanwhile, are complaining about the likely redundancy terms. Christophe Gueugneau reports.
Defeated presidential candidate Benoît Hamon announces plans to establish a new 'First of July movement' aimed at rebuilding ailing Left.
A source close to Manuel Valls said that the former premier would now be allied to President Emmanuel Macron's centrist group.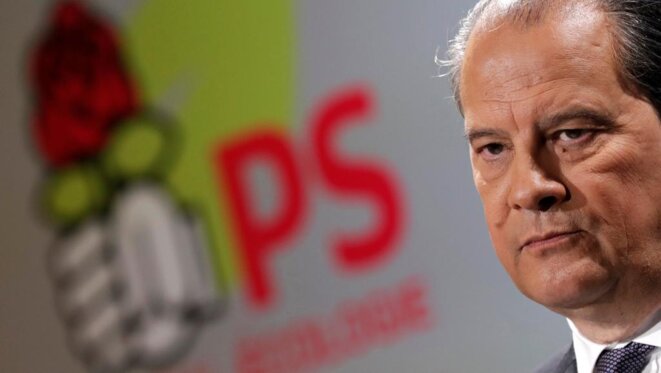 Staring at oblivion: Socialist Party leader Jean-Christophe Cambadélis. © Reuters
The French Socialist Party emerged from last Sunday's legislative election first round in tatters, dwarfed not only by the massive surge of president Emmanuel Macron's new centrist party, but also the conservatives, the far-right and, importantly, the radical-left. The results followed its disastrous score in the presidential elections, and it is forecast to be put to the sword in the final round this coming weekend. The party's debacle is more than a simple election defeat; it signals the end of the road for it as a party of government, argues Fabien Escalona, a specialist in European social democrat movements. In this analysis, he argues that the rare previous examples of parties of Western democracies that have similarly collapsed offer little hope it will ever recover.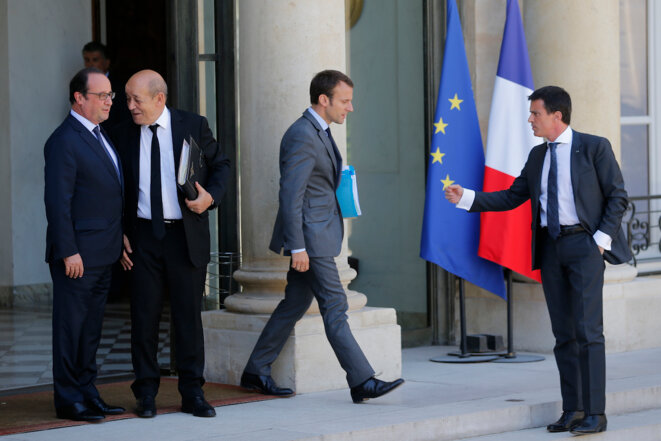 July 2015: (left to right) President François Hollande, defence minister Jean-Yves Le Drian, then-economy minister Emmanuel Macron and Prime Minister Manuel Valls at the Elysée Palace. © Reuters.
The French Socialist Party is closer than ever to implosion following the announcement by one of its veteran stalwarts, defence minister Jean-Yves Le Drian, that he was backing maverick centrist presidential candidate Emmanuel Macron, a former economy minister and advisor to President François Hollande, instead of the party's nominee Benoît Hamon. Lénaïg Bredoux reports.   
Maverick centrist Emmanuel Macron received a significant boost to his presidential election campaign when defence minister Jean-Yves Le Drian, a veteran Socialist Party figure, announced his support for Macron's candidature in an interview published Friday. 
Socialist presidential candidate Benoît Hamon, trailing centrist Emmanuel Macron and far-right leader Marine Le Pen in opinion surveys of voting intentions, held a major rally in Paris in which he described rightwing rivals as being candidates of 'the money party'. 
Former prime minister Manuel Valls has refused to publicly back Benoît Hamon, the French Socialist Party's presidential candidate who beat him in party primary elections earlier this year with a markedly a leftwing programme in contrast to that of Valls.
Benoît Hamon on the evening he won the socialist primary election in January 2017. © Reuters
The official Socialist Party candidate in the French presidential election, Benoît Hamon, has been deserted by a section of the right wing of his own party who are opting to support the independent centrist Emmanuel Macron. The latest high-profile figures to support Macron are former Paris mayor Bertrand Delanoë and defence minister Jean-Yves Le Drian, a close ally of President François Hollande. Some in Hamon's team say the defections make it easier for their candidate to make his pitch on the left. But as Stéphane Alliès and Lénaïg Bredoux report, his campaign is so far pretty much inaudible.
Presidential candidates Benoît Hamon and Jean-Luc Mélenchon complain that uproar is smothering discussion of the real campaign issues.
Benoît Hamon: seeking a path to party unity.
With just ten weeks to go before voting begins in the first round of France's presidential elections, newly-elected Socialist Party candidate Benoît Hamon has revealed a campaign team made up of fellow leftwingers but also of allies of President François Hollande and former prime minister Manuel Valls.  While Hamon's olive branch to the party's Right may dissipate its predicted desertion in favour of maverick centrist Emmanuel Macron, it suggests there can be little, if any, chance that he can reach an alliance with radical-left candidate Jean-Luc Mélenchon. Mediapart political analyst Hubert Huertas sketches here the fundamental divide between Mélenchon and Hamon and what is at stake for the future of the Socialist Party.
The list of victims of the recent presidential primary elections held by the Left and Right in France is remarkable. Two presidents, two prime ministers and a number of senior former ministers have been rejected after rebellious voters gave their verdicts. The primary process - which ended on Sunday with the unlikely election of Benoît Hamon as the official socialist candidate for the presidential contest – has proved something of an earthquake for the French political establishment, writes Hubert Huertas.