In all "several dozen" military personnel in France have contracted the Covid-19 coronavirus since the start of the outbreak. The Ministry of Defence in Paris insists that measures to stem the spread of the virus within the armed forces have been applied "very rigorously". But the accounts of some soldiers and defence staff on the ground tell a different story and paint a picture of a command structure unsure how to react to the growing health threat to their own personnel. Justine Brabant reports.
Members of the public joined with military personnel to pay homage in Paris on Monday to 13 French soldiers killed in Mali when their helicopters collided while on a night-time mission to track down Islamist fighters early last week. 
Corporal Ronan Pointeau died near Menaka in eastern Mali after his armoured vehicle was struck by a roadside bomb.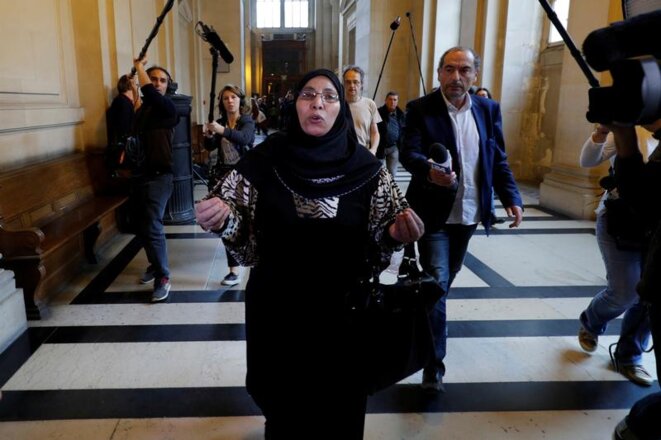 Zoulikha Aziri, the mother of Mohamed and Kader Merah, on the first day of the trial into the 2012 murders at Toulouse and Montauban. © REUTERS/Philippe Wojazer
On Thursday November 2nd, 2017, Abdelkader 'Kader' Merah was cleared of being an accomplice to his brother Mohamed's 2012 murder of three soldiers and four Jewish civilians, including three children, in south-west France, but found guilty of being part of a terrorist conspiracy. Mediapart examines what the trial in Paris revealed about the family from which both men came. As Matthieu Suc reports, it was a family characterised by casual, routine violence and hatred, against a backdrop of anti-Semitism and radical Islam.
Hamou Bachir Benlatreche, a 36-year-old Algerian national legally resident in France and who was shot five times during his arrest in northern France on suspicion of carrying out a car-ramming attack on six soldiers in a Paris suburb, is deemed unfit for questioning as he recovers in hospital.
French media reports said the 36-year-old, who was seriously wounded during his arrest by armed police in northern France hours after six soldiers were mowed down by a car in the Paris suburb of Levallois-Perret, is an Algerian national living close to the French capital who was unknown to French security services but who had a record of petty crime.
A man was arrested by police after a shootout on a motorway near Calais on Wednesday when the car he was driving matched the description of that which in the early morning had deliberately rammed six soldiers close to barracks in the Paris suburb of  Levallois-Perret, leaving three of them seriously injured.
Man who tried to run down soldiers guarding a French mosque wanted to 'appear like a martyr' but police rule out terrorism link.
An elderly local worshipper and a soldier guarding the mosque at Valence were slightly injured, as was driver after troops opened fire.
French military say they informed French judicial authorities and have begun moves to suspend the troops, who are serving in Ouagadougou.
Two soldiers were stabbed in the face, the other in the forearm as they patrolled outside centre in Nice; one man was arrested.
Defence minister Jean-Yves Le Drian presents 36-page report and says there will be 'zero tolerance' for assaults and harassment of women recruits.
President visits Central African Republic following killing of two soldiers in firefight near main airport during French troops' bid to restore calm.
The two soldiers, who were killed in the capital Bangui, are the first French deaths since President Hollande deployed 1,600 troops last week.