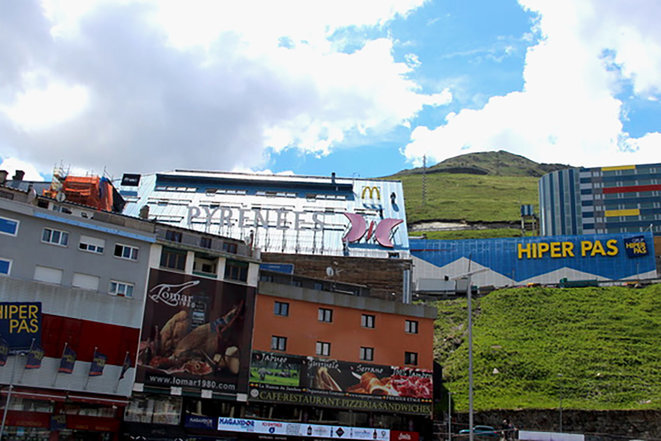 Shops in the Andorran town of El Pas de la Casa enjoy brisk year-round business with customers and smugglers attracted by its low VAT rates. © Photo Emmanuel Riondé pour Mediapart
The Pyrenees mountains separating France and Spain have long been a crossing route for smugglers of all kinds of wares, which today range from cigarettes to elvers. But the 623-kilometre-long border between the two countries, definitively traced in 1866, has also never been a barrier for the centuries-old exchanges, local alliances and regulations established between the communities living on either side. Emmanuel Riondé reports. 
French junior minister for European affairs Clément Beaune on Thursday advised against travel this summer to Spain and Portugal because of a surge in the two countries of the notably contagious Delta variant of the coronavirus, adding it was 'better to remain in France or go to other countries'.  
A Briton who is believed to have spread the deadly coronavirus to five others staying at a French Alps chalet which he visited on his way home from Singapore may also have also infected two other people who have been separately diagnosed as carrying the virus in Spain and the UK.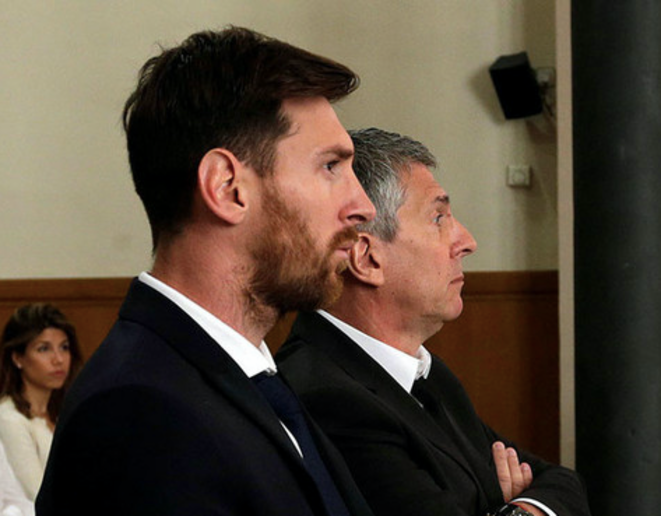 Lionel Messi beside his father Jorge during their trial on tax fraud charges in Barcelona in June 2016. © Reuters
Documents obtained from the whistleblowing platform Football Leaks reveal a financial structure that Spanish tax authorities suspect was used to hide part of the remunerations paid to FC Barcelona star player Lionel Messi, already convicted of tax fraud in 2016 along with his father Jorge Messi. The documents detail how the latter received 6.7 million euros from the Catalan club via a Luxembourg bank account belonging to a shell company registered in London.
Authorities in the French city of Bayonne are struggling to cope with the number of migrants coming from across the nearby Spanish border. Mediapart met Joseph and Moriba, 'blood  brothers' who are seeking France's protection after nearly dying at sea crossing to Europe from Morocco. After a legal battle, Joseph has now been recognised as a minor by the French courts while Moriba's request will be heard on appeal shortly. Mathilde Mathieu reports.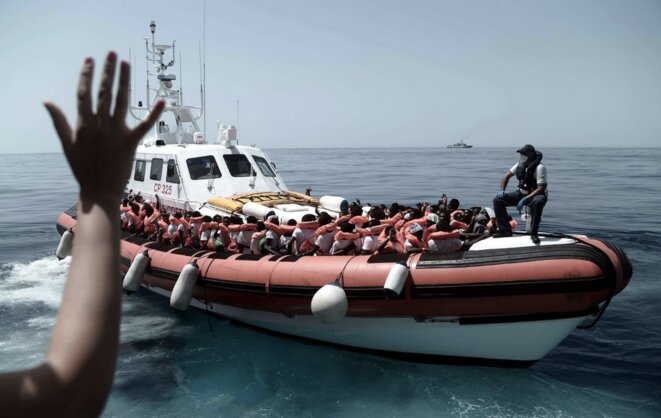 Some of the migrants rescued by the Aquarius were transferred to Italian coastguard ships in a convoy heading for Spain. © Karpov / SOS Méditerranée
The odyssey of the migrant rescue ship Aquarius offers a new example of the violence of Europe-wide immigration policies, and not only those of the far-right in power in Italy, writes  Mediapart co-editor Carine Fouteau. For the migrants onboard the Aquarius, who will eventually arrive in a state of exhaustion in Spain, the ship's long and deviated route for a safe haven is yet further confirmation that they and others like them are simply considered as a burden by European countries – if, that is, they manage to arrive alive on the continent's shores.  
Just hours after naming the conservative Edouard Philippe as his prime minister on Monday, France's new president Emmanuel Macron flew off to pay a visit to German Chancellor Angela Merkel. She, like European Commission president Jean-Claude Juncker, has hailed the election of pro-EU Macron, and notably his announced structural reforms of France's economy, which are at the heart of his political programme. Macron considers they represent a panacea for the ills in French society, but are they really appropriate to the country's economic situation? Romaric Godin weighs up the widely different views on the mantra that there is no alternative to "structural reforms".  
Activists say arrest of five people in French Basque Country was a political move to prevent the destruction of part of the organisation's arsenal.
Could 'NuitDebout' movement, which started in Paris as protest against labour law reforms, become French equivalent of Spain's Indignados?
Official figures also show that Spain has taken over as the world's top wine exporter - with France being its biggest customer.
Six students were reported seriously injured after the upper deck and roof of their Amsterdam-bound coach hit the base of a concrete bridge.
Mediapart's resident singer and songwriter La Parisienne Libérée regularly contributes a critical review of current affairs in music, images and text. Here she returns to the story of Adou Ouattara, an eight-year-old Ivorian boy who was discovered on May 7th hidden in a suitcase carried by a Moroccan woman crossing the border into Spain's North African enclave of Ceuta. Adou was found after the baggage was X-rayed, and the disturbing image of the scan was later published around the world. La Parisienne Libérée takes up the story from there.
Despite Britain and Germany grounding their A400M fleets after one crashed in Spain, defence ministry says no reason found yet to do the same.
Figures show China now has 799,000 hectares -1.97 million acres - of land devoted to wine growing, ahead of France but still behind Spain.