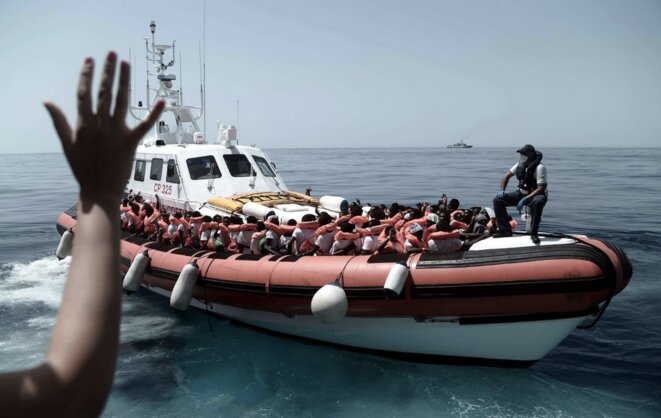 Some of the migrants rescued by the Aquarius were transferred to Italian coastguard ships in a convoy heading for Spain. © Karpov / SOS Méditerranée
The odyssey of the migrant rescue ship Aquarius offers a new example of the violence of Europe-wide immigration policies, and not only those of the far-right in power in Italy, writes  Mediapart co-editor Carine Fouteau. For the migrants onboard the Aquarius, who will eventually arrive in a state of exhaustion in Spain, the ship's long and deviated route for a safe haven is yet further confirmation that they and others like them are simply considered as a burden by European countries – if, that is, they manage to arrive alive on the continent's shores.  
Just hours after naming the conservative Edouard Philippe as his prime minister on Monday, France's new president Emmanuel Macron flew off to pay a visit to German Chancellor Angela Merkel. She, like European Commission president Jean-Claude Juncker, has hailed the election of pro-EU Macron, and notably his announced structural reforms of France's economy, which are at the heart of his political programme. Macron considers they represent a panacea for the ills in French society, but are they really appropriate to the country's economic situation? Romaric Godin weighs up the widely different views on the mantra that there is no alternative to "structural reforms".  
Activists say arrest of five people in French Basque Country was a political move to prevent the destruction of part of the organisation's arsenal.
Could 'NuitDebout' movement, which started in Paris as protest against labour law reforms, become French equivalent of Spain's Indignados?
Official figures also show that Spain has taken over as the world's top wine exporter - with France being its biggest customer.
Six students were reported seriously injured after the upper deck and roof of their Amsterdam-bound coach hit the base of a concrete bridge.
Mediapart's resident singer and songwriter La Parisienne Libérée regularly contributes a critical review of current affairs in music, images and text. Here she returns to the story of Adou Ouattara, an eight-year-old Ivorian boy who was discovered on May 7th hidden in a suitcase carried by a Moroccan woman crossing the border into Spain's North African enclave of Ceuta. Adou was found after the baggage was X-rayed, and the disturbing image of the scan was later published around the world. La Parisienne Libérée takes up the story from there.
Despite Britain and Germany grounding their A400M fleets after one crashed in Spain, defence ministry says no reason found yet to do the same.
Figures show China now has 799,000 hectares -1.97 million acres - of land devoted to wine growing, ahead of France but still behind Spain.
Just hours after arriving in Paris, his first trip abroad as monarch, Felipe VI said he was ending his three-day state visit because of jet tragedy.
The airman - the ninth member of the French Air Force to die in the tragedy - suffered serious burns and died at a Madrid hospital.
The Greek F-16 crashed during take-off at a NATO training centre at Albacete, southeast of Madrid, killing ten and injuring up to 19.
Manitas de Plata, who sold 93 million records during a long international career, died in the south of France at the age of 93.
Farmers fear that falling prices linked to Russia's import embargo and big harvests in the European Union this summer will cut incomes.