Related keywords
The trial began on Monday in Versailles of former executives of the French arm of Swedish retailer IKEA, as well as the corporate entity itself, on charges of spying on the private lives of hundreds of staff, in a scandal first revealed by Mediapart eight years ago.
France's defence minister Florence Parly has confirmed that a French army lieutenant-colonel, whose identity was not released, has been arrested for passing secret information to Russia, which reportedly happened as he prepared to leave France to return to his post with NATO's southern command headquarters in Naples.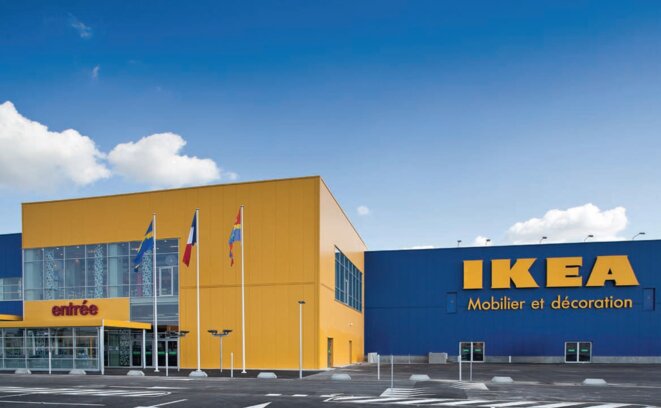 An IKEA store in France. © DR
The Swedish furniture retail giant IKEA is accused of having set up a system of spying to obtain confidential information on job applicants, staff - including trade union representatives - and customers in France. Now, after eight years of investigation, judges have ordered that IKEA France should stand trial on spying charges in its own right as a corporation. Fifteen people, including two former chief executives of the French corporation, Jean-Louis Baillot and Stefan Vanoverbeke, are also to face trial. The allegations include claims that data on individuals was illegally obtained from French police files via police officers. Mediapart's legal affairs correspondent Michel Deléan reports.
French prosecutors have recommended that the French subsidiary of Swedish home furnishings chain Ikea, several members of its former management and four French police officers should stand trial for their involvement in a system of espionnage targeting company staff and clients.
The French president said he expected Chancellor Angela Merkel to give 'exact details' over report that German intelligence spied on Laurent Fabius.
German radio report says BND targets included Laurent Fabius, the International Court of Justice, the FBI, UN bodies, NGOs and firms.
French officials said claims that Germany's BND agency had helped US spy on France were not new and that trust had since been 're-established'.
French IT firm Qosmos, specialised in mass-surveillance technology and which works on projects for France's intelligence services, is the subject of a judicial investigation launched in April into 'complicity in acts of torture'. The probe centres on the Paris-based company's involvement in a contract, led by an Italian company, to supply the Bashar al-Assad regime in war-torn Syria with a system to intercept, open and archive almost all email and other internet traffic flowing through the country.  Qosmos says it eventually withdrew from the project for ethical reasons, when the key technology it provided for the project was not yet operational. But, as detailed in this joint report by Mediapart and Reflets.info, the history of the case raises more questions than it provides answers.
Directors of the furniture store chain were questioned about allegations the company illegally used police files to spy on staff and customers.
Former US Secretary of State says she discovered the eavesdroppingon after French diplomat referred to confidential conversation.
François Hollande and Angela Merkel lead a push at the EU summit in Brussels to reshape transatlantic spying and agree a new code of conduct.
Bernard Squarcini, once boss of France's counter-espionage and counter-terrorism agency, said allied countries 'spy on each other all the time'.
The US National Security Agency spied on French diplomats in Washington and at the UN, according to latest claims by French daily Le Monde.
Spiegel says America's NSA tapped into computers used by French diplomats to communicate with each other and the foreign ministry in Paris.