Keyword: state of emergency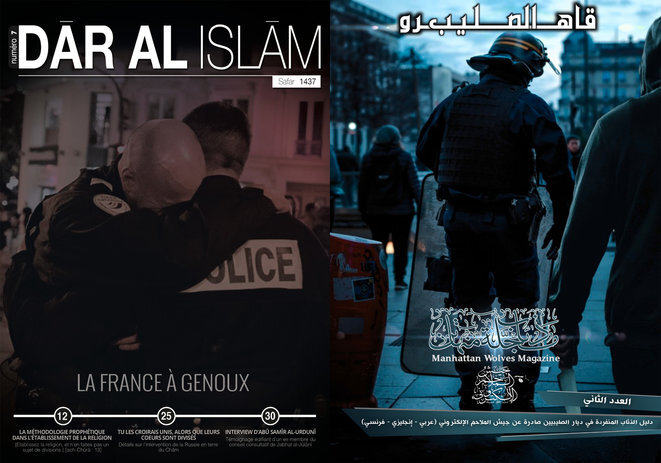 Jihadist propaganda publications often target the French police. © DR
The murder of a policewoman at Rambouillet, south west of Paris, on Friday April 23rd brought to 12 the number of members of the police and security forces who have been killed in terrorist attacks in France since 2015. Overall, attacks targeting police officers have grown in number over that period. This "French exception"  is a phenomenon which has become more prevalent since the collapse of Islamic State's self-styled 'Caliphate' in the Middle East. Matthieu Suc reports.
In addition to curfews in the nine Covid-19 hotspots, nighttime festivities have been banned across France.
Anti-terrorism law, which critics say undermines civil liberties, takes effect on Wednesday, in place of state of emergency imposed in November.
Proposed legislation by France's new government to enshrine into regular law certain far-reaching powers allowed under the current state of emergency has passed its first parliamentary test after the Senate approved the bill by a two-thirds majority, meaning it will now go before the lower house, the National Assembly, where the government has a large majority, in October.
French president used opulent palace to present a roadmap of his five-year presidency to lawmakers from both houses of parliament.
Activists, environmentalists, and labour rights campaigners have been unjustifiably banned from participating in protests, says group.
French Parliament has voted to extend the legislation until July 15th, after next year's presidential and parliamentary elections.
The fourth extension of state of emergency, first introduced after the November 13th terrorist attacks in Paris, prolongs the wide-ranging powers until January.
The fourth polongation of state of emergency likely to last until 2017, giving police sweeping powers for searches and facilitating house arrest orders.
It is the third time the state of emergency, which will also cover the Tour de France, has been extended since the November 13 attacks on Paris.
Democracy belongs to neither the Left nor the Right, and when it is flouted by governments of either political side every democrat worthy of the name must simply say "no", argues Mediapart editor-in-chief Edwy Plenel following the socialist government's decision to force through parliament, without a vote, its controversial labour law reforms which, he writes in this op-ed, represent a social regression for every employee in France.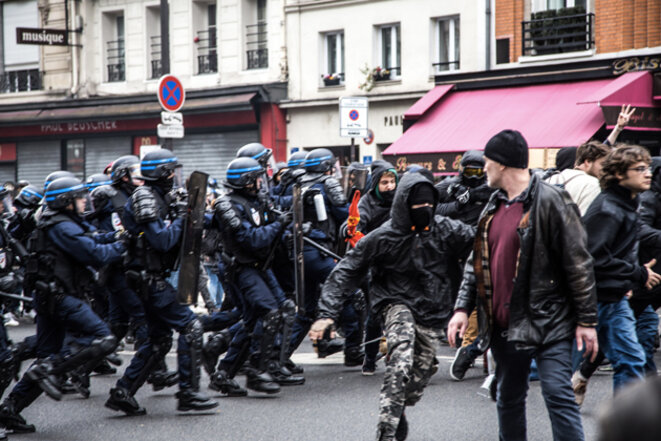 A clash during a protest in Paris on April 10th, 2016. © Jérôme Chobeaux
There have been claims of police brutality during some of the many protests that have taken place in France in recent weeks against labour law reforms. Yet the police have also been applauded by sections of the public for their role in dealing with terrorist attacks over the past year or so. Meanwhile police officers themselves increasingly resent being painted as defenders of unpopular policies such as the employment law proposals. Matthieu Suc reports on the evolving role of the forces of law and order.
Prime minister Manuel Valls said it was necessary to extend emergency powers for two months as France prepares to host football tournament.
The French Senate voted on Thursday in favour of inscribing into the constitution the stripping of French nationality from dual-nationals convicted of terrorist crimes. The text adopted by the Senate is fundamentally different to that adopted last month in the National Assembly, the lower house, which allows for the stripping of French nationality of anyone convicted of terrorism, effectively allowing for individuals to become stateless. As Christophe Gueugneau and Ellen Salvi report, the conflict now appears likely to definitively bury what was one of President François Hollande's two key and highly controversial constitutional reforms in reaction to the November 13th terrorist massacres in Paris.