Keyword: Stéphane Richard
Prosecutor has demanded jail time for ex-government minister Bernard Tapie and also Orange CEO Stéphane Richard over arbitration award.
A former top French civil servant told the judges in the trial of IMF boss Christine Lagarde how he had tried to meet the then-economy minister to stop her from agreeing to an arbitration process that eventually cost French taxpayers 403 million euros. Ex-Treasury official Bruno Bézard said not only was holding the arbitration in the first place a blunder, it had been a mistake not to have appealed against its 2008 ruling in favour of tycoon Bernard Tapie. Mediapart's legal affairs correspondent Michel Deléan says it was a tough day in court for Lagarde, who denies negligence in signing off on the arbitration process while a member of President Nicolas Sarkozy's government.
The managing director of the International Monetary Fund, Christine Lagarde, has appeared before a special court in Paris charged with negligence over her handling of a controversial arbitration process that paid out millions of euros of French taxpayers' money. Addressing a court reserved for government ministers, the former French economy minister denied wrongdoing but suggested she herself may have been "exploited" by others in relation to the 403 million euro award made to French tycoon Bernard Tapie in 2008. Mediapart's legal affairs correspondent Michel Deléan reports.
Stéphane Richard insisted his comment that Orange wanted to disengage from its Israeli partner was purely a business matter and not political.
It is Lagarde's third appearance before judges probing her role as French finance minister in huge mediation payout to tycoon Bernard Tycoon.
Labelling it a 'serious alert', an organisation that monitors work conditions said the majority of these suicides were 'explicitly related to work'.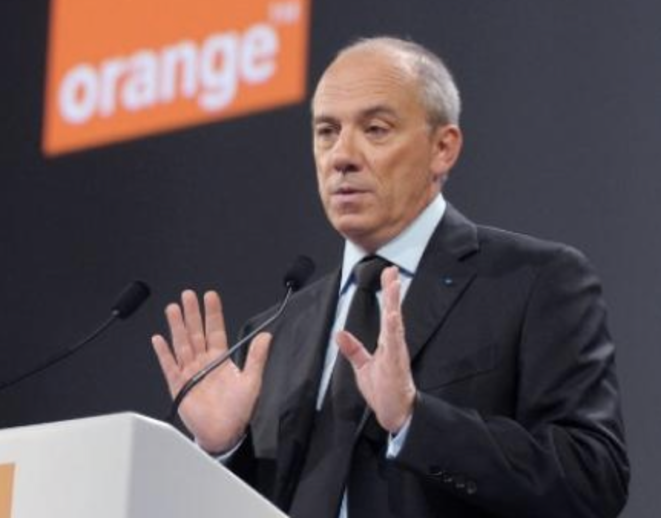 Stéphane Richard, le président d'Orange.
Frédérique Dumas, head of Orange Studio, the film production arm of French telecoms giant Orange and which has co-produced several major box office hits including The Artist, was called upon to abandon the funding of a biopic about the late fashion designer Yves Saint Laurent in order to protect the private interests of Orange CEO Stéphane Richard, according to documents obtained by Mediapart. The move was aimed as a favour for Pierre Bergé, a major shareholder of French daily Le Monde and president of its supervisory board, whose paper was at the time publishing an unflattering series of articles about Richard's implication in a high-profile judicial investigation into suspected fraud. Dumas, who refused to abandon the coproduction project, has since lost her job. Michaël Hajdenberg reports.  
Head of Orange says IMF boss knew all the facts before approving arbitration that saw tycoon Bernard Tapie awarded a huge payout in 2008.
France Telecom board vote to keep Stéphane Richard as CEO after he was formally placed under investigation in Bernard Tapie payout probe.
Judges suspect Stéphane Richard of conspiracy to commit fraud over his role in a 403-million-euro award in 2008 to tycoon Bernard Tapie.