Keyword: Steve Maia Caniço
Related keywords
There were violent clashes between demonstrators and police in Nantes, north-west France, on Saturday during a protest at the drowning of 24-year-old Steve Maia Caniço after a violent police charge against a techno party in the town in June, while other protests over his death were also held in Paris, Montpelier, Perpignan and Toulouse by supporters of the 'yellow vest' movement.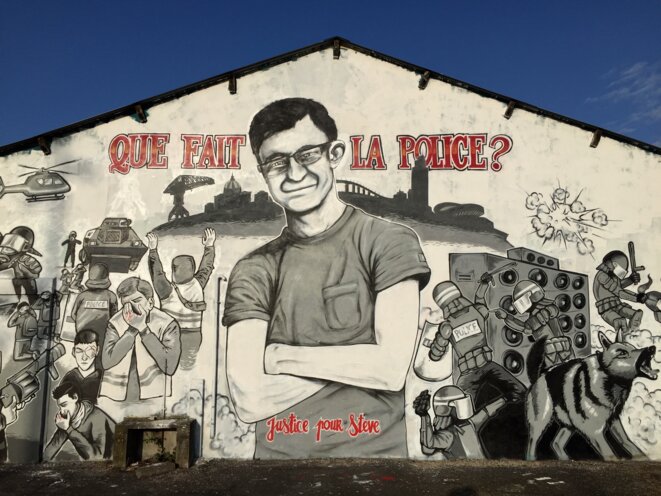 A mural depicting Steve Maia Caniço and the incidents of the night of June 21st, painted on the riverside quai in Nantes where he disppeared. © Elisa Perrigueur
The body of Steve Maia Caniço, 24, was finally found earlier this week in the River Loire in the town of Nantes, north-west France, close to where he apparently fell from a quayside amid a violent police charge on an overnight rave party on June 21st. The party was one of thousands held during the national Fête de la Musique street events, but turned sour after a confrontation with police who used stun and teargas grenades, Tasers and LBD rubber pellet guns to disperse the crowd. His confirmed death has further fuelled growing controversy over violent police tactics, which the government has defended, while an internal police report that found no link between Caniço's fatal fall and the police assault has caused outrage among those present that night. "The authorities have transformed anger into hate," said one of his friends, ahead of a demonstration planned for this weekend. Elisa Perrigueur reports from Nantes.
The body of a man found in the River Loire on Monday in the north-west town of Nantes has been confirmed as being that of Steve Maia Caniço who disappeared after falling into the waters from a quayside techno party after a police charge on revellers during France's national June 21st music festival celebrations, and which prompted a nationwide debate on policing methods.