Ryanair said it has scrapped 70 flights on Thursday and some easyJet flights are also affected by protest over labour law reforms.
Train operators SNCF say only half of high-speed TGV services set to run on Tuesday in latest all-day stoppage over pay and conditions.
The latest walk-out, which began on Wednesday, is expected to last 36 hours and cause cancellations and delays across Europe.
National SNCF services, including high-speed links, and some Parisian metro lines will be affected by the strike over pay and working conditions.
Members of the airline's CGT union, mostly groundstaff, are called on to strike on January 28th against the company's plans of layoffs and outsourcing.
For the past three weeks, a group of about fifty cleaning agents employed in the upkeep of publicly-run subsidised social housing projects in Paris and its nearby suburbs have led a strike over pay and working conditions. The movement, which has received no press coverage, reveals the poor and widely ignored professional environment of a vulnerable workforce paid less than the monthly minimum fulltime wage. Mathilde Goanec reports.
British premier David Cameron calls President Hollande to ask for assurances that ferry dispute will not drag on through the summer.
Eurotunnel, Eurostar and ferry services suspended as workers hold wildcat strike, prompting migrants to try to break into gridlocked vehicles.
The debt-ridden carrier said it will cut some routes to Spain, Italy, Norway and Malaysia, and sought 'to postpone delivery of long-haul aircraft.'
Thousands of teachers are expected to take to the streets on Tuesday over planned reform of France's middle schools or collèges.
Najat Vallaud Belkacem, the target of right-wing jibes, now faces testing teachers' strike this week against her plans for secondary school reform.
The strike at the public radio network, over job losses and spending cuts, ended on Thursday after unions agreed a compromise reform plan.
The strike, called by main controllers' union in protest over working conditions, is the first of three planned during April and early May.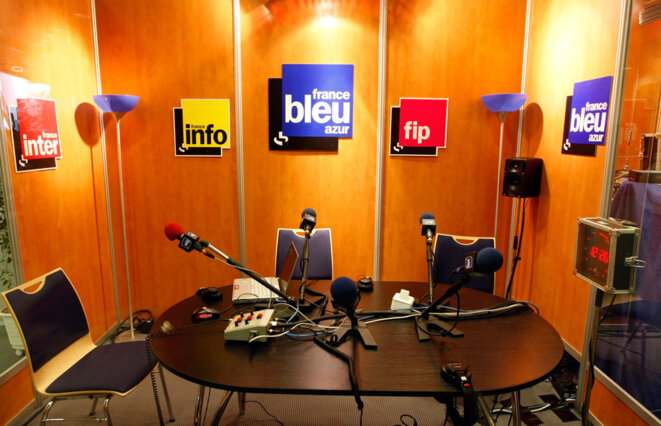 © Reuters
Several of France's favourite radio stations, listened to by a quarter of the country's population, have been disrupted by an almost three-week-long strike at Radio France, with many popular programmes taken off the air. The dispute centres on a plan of spending cuts and the shedding of more than 300 jobs, and has become the longest in the history of the public broadcaster, which runs flagship stations France Inter, France Info, France Culture, and France Musique. That prompted culture minister Fleur Pellerin to order management to resume talks with staff, but these ended in stalemate over the Easter weekend. While Radio France, which is 90% state-funded, faces a 21.3 million-euro deficit in 2015, and with the future of one of its two acclaimed orchestras under threat, its boss was forced to apologise for lavish spending on his office and consultants. Meanwhile, France's national audit court has advised that Radio France should save money by merging its four main editorial teams into just one. In this opinion article, Mediapart's Hubert Huertas, a former journalist with France Culture who was also head of the French national journalists' union (SNJ) branch at Radio France, gives his scathing analysis of how a budgetary issue has been turned into a political crisis.
Strike began on March 19 amid fears hundreds of jobs will be cut at public broadcaster which has projected 2015 budget deficit of 21.3 million euros.