Related keywords
One of the several railway workers' unions that have held two-day rolling strikes since April against the French government's reforms of the state-run network, ahead of the introduction of private competition, has vowed to continue the disruption despite parliament's final approval of the reforms on Thursday.
French railways operator SNCF has warned that the latest in a series of rolling two-day strikes will cause severe disruption to services on Monday, as unions heighten protest action against planned government reforms to prepare for the introduction of private competition on the railways and an end to job contract protections. 
After one year in office during which he has largely escaped any significant popular or political hostilities, French President Emmanuel Macron this month has seen a souring in public mood, his standing sliding in opinion polls amid a series of different social protests and strike action, all pointing to a new chapter of his five-year term in office.
One of three French navy frigates taking part with the US and Britain in last weekend's strikes against chemical weapons sites in Syria found itself unable to launch its cruise missiles, the first time France had employed them in action, requiring one of the other vessels to take over its role and fire its own missiles, this time successfully, against the designated targets.
Unions representing Air France staff, who have held seven days of strike action in support of a demand for a 6% pay increase have announced further stoppages this month, recommencing on Tuesday when the airline predicts 30 percent of flights will be cancelled overall. 
As student protests and sit-ins gather momentum, railway services are disrupted with rolling strike action, and unrest simmers among healthcare staff and the legal professions, the May 1968 revolt that paralysed France and caused General de Gaulle to flee to Ireland was, say some observers, very different because it was inspired by hope and not the ambient pessimism of 2018. 
French President Emmanuel Macron appeared in a lengthy interview on national television on Thursday, speaking from a school classroom in a village in north-west France, when he said that despite protests over his railways reforms, and also growing opposition to reforms of university selection procedures and the justice system, he and his government will stand firm with its policies 'because the world around us is speeding up, going through great changes, and because our country must be able to choose its destiny and live better'.
Planned three months of nationwide rolling rail strikes is seen as biggest challenge yet to Macron's attempts to modernise the French economy.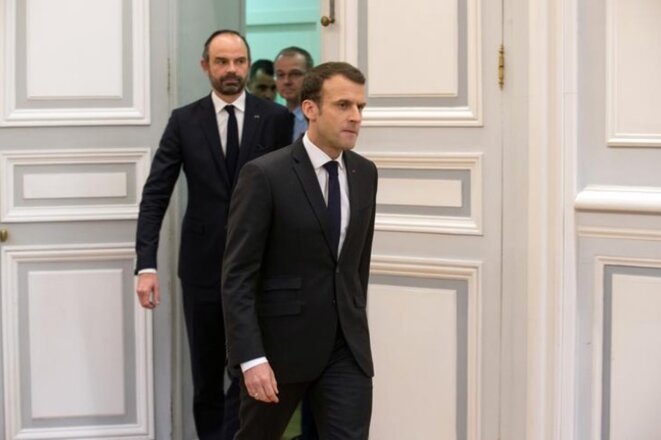 The Macron Method: union leaders says the government talks a lot but says nothing. © Reuters
On Monday April 9th France's National Assembly is due to begin examining the government's proposed legislation for a "new railway agreement". Yet the consultations with the unions about this new pact are still going on. Those unions - whose members began the latest round of two-day rail strikes on Sunday April 8th - are now dismissing the talks with the government as a "farce" and intend to step up their action. Their aim is to expose what they see as a deliberate method employed by President Emmanuel Macron's government: one of talking but not saying anything and of listening without hearing. Ellen Salvi examines the workings of the Macron Method.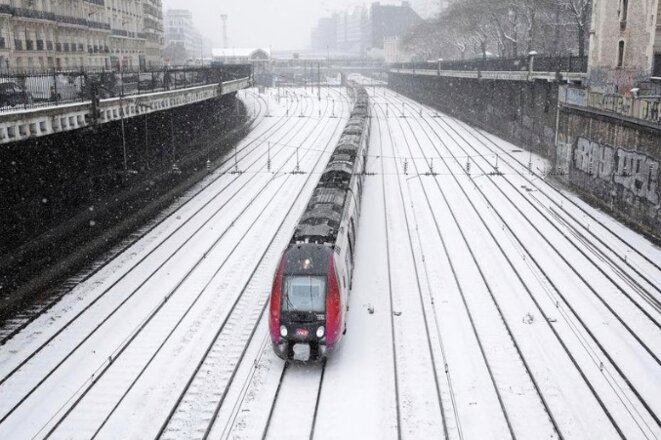 The rail strike will be a big test of Emmanuel Macron's presidency.
This week is the start of a critical period in Emmanuel Macron's presidency. Workers from the rail industry, Air France and the supermarket chain Carrefour have been taking industrial action while students have held sit-ins at a number of universities. The government says that these various actions with their different causes show an irrational fear of the "new world" that is dawning. In fact, argues Hubert Huertas, these protests stem from a weariness with years of talk about the need for austerity and reform - and they could yet threaten the presidency's power.
Just one in four trains were running in the Paris region as people made their way back to work on what French media dubbed 'Black Tuesday'.
Workers in transport and other public sectors plan strikes amid fears of protests in the run-up to the 50th anniversary of the May 1968 uprising.
Unions say the airline should share wealth with staff after strong results last year, but management higher salaries would put its growth at risk.
State sector employees, and notably railway workers, staged one-day strikes and demonstrations across France on Thursday in protest at planned government reforms that will see spending cuts and job reductions and which President Emmanuel Macron's government intends introducing by decree and without parliamentary debate.