Lawyers, students and feminist groups joined in the seventh day of national strike action and demonstrations against proposed pension reforms by mostly public sector employees on Friday, when unions claimed 350,000 turned out for a march across Paris – 31,000 according to independent estimates – timed when ministers met at a cabinet meeting to approve the substance and schedule for the reforms due to begin their passage through parliament next month, and which the government plans to set out in legislation before the summer recess.
The union-led opposition to the French government's planned pension reforms, which has notably seen transport services severely disrupted since early December, saw another day of widespread strike action and demonstrations on Thursday, although accoring to official figures turnout in the nationwide street protests was down on previous marches.  
After weeks of union-led strikes and protests against government plans to reform France's pension system, and which have severely disrupted transport services, notably in the Greater Paris Region, French President Emmanuel Macron is expected to finally relieve his prime minister on the political frontline by announcing measures to break the deadlock during the traditional presidential New Year's Eve TV address on Tuesday.
The rolling strikes of French transport workers, and notably railways staff, which began in early December as part of national union-led protests against the government's plans to reform the pension system, on Friday became the longest since the winter of 1986 – and threaten to become the longest ever as talks are not set to resume until January 7th.
President Emmanuel Macron, 42, has announced that he will forgo his future head-of-state pension in an effort to be 'exemplary and coherent' amid the standoff with unions which reject his proposed universal pension reforms that would put an end to some relatively advantageous retirement rights.
The strikes crippling French transport systems appeared set to continue through the end-of-year holiday period after talks between government and unions to find a compromise over President Emmanuel Macron's reforms to the pension system failed to reach a conclusion on Thursday.
Official estimates said estimated 150,000 homes, as well as businesses, suffered power cuts during Tuesday's union-led national strikes and protests called against President emmanuel Macron's proposed pensions reform, a strategy that the leader of one of the largest unions defended on Wednesday because 'spitting on the public service can make some of us angry', adding that 'we may amplify these kinds of methods'.
A day of strikes and demonstrations led by trades unions on Tuesday against the French government's planned overhaul of the pensions system mobilised strong support, with unions claiming a nationwide turnout in street marches of 1.8 million people, while interior ministry figures estimated the total numbers at 615,000. 
Unions regard the proposed measures unveiled by French government on Wednesday as raising standard retirement age.
Transport chaos continues as French government stands firm in face of nationwide protests over planned reforms.
With more strikes called for Tuesday by unions opposing his planned reform of France's pension system, President Emmanuel Macron met with ministers on Sunday to discuss details of the draft legislation to be unveiled by his prime minister on Wednesday.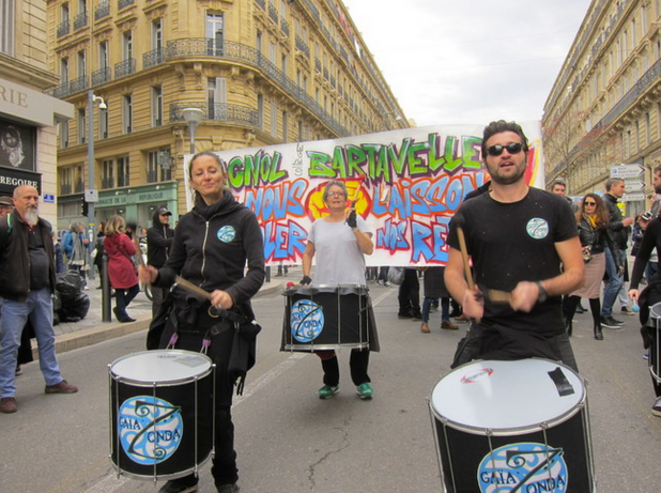 Demonstrators march in Marseille against planned pension reforms, December 5th. © LF
President Emmanuel Macron's planned reform of the French pension system has run into massive union-led opposition, with a crippling general strike of mostly public sector workers last Thursday, when transport systems were paralysed and an estimated one million people demonstrated nationwide. While some sectors, notably the railways, remained affected this weekend, another national day of action is called for Tuesday. Union officials have declared that nothing less than a total withdrawal of the reform plans can end the dispute, raising the possibility of rolling strikes throughout December. The showdown will depend in part on what support unions can maintain in the key sectors of transport, schools, energy and healthcare.
After a general strike on Thursday against planned pension reforms, which were accompanied by massive demonstrations across France, transport systems and education institutions were among the mostly public sectors that continued to be hit by walkouts on Friday, with more strike action called for the weekend and into next week.
Delays and cancellations were announced on Monday to Eurostar services at the Paris Gare du Nord terminal as French customs officers went on strike over what they said was poor planning for the demands of post-Brexit operations, a movement which also affected several airports around the country.