For the third day running, French university students continued to mount protests on Wednesday over poor living conditions, prompted by the self-immolation of a student in Lyon who had cited his financial problems as the reason for his act.
Case is latest legal battle in France over men of black and north African heritage being routinely pulled over and asked to show identity papers.
Despite the relatively low cost of tuition fees in French universities, practical costs to students' parents, such as housing, food and transport, amount to an average of more than 7,000 euros per year which is paid for using consumer credit deals by an estimated 14% of lower income families, according to a study by credit provider Cofidis. 
A Paris university student union leader involved in current protests against a reform of university entrance criteria has dismissed as 'pathetic' and 'quite comical' criticism by government ministers who accuse her of 'provocation' and promoting 'political Islam' by wearing a headscarf during media appearances. 
British Foreign Secretary Boris Johnson took to Twitter to counter French President Emmanuel Macron's attempts to attract Indian students to France where, he said, 'you gain access to Europe' in a thinly veiled comparison to the situation of post-Brexit Britain.
Government promises to offer more places on popular courses, cut drop-out rates and build more accommodation, in a bid to assuage students. 
Paris authorities have lodged a complaint that could lead to pimping charges over the agressive advertising outside university buildings by a website urging students to 'Go out with a Sugar Daddy or a Sugar Mama' for 'romance, passion and no student loans'.
A students' rally in Paris on Thursday to protest the recent alleged rape of a young black man by a police officer wielding a telescopic truncheon ended in violent clashes with anti-riot police, while pupils used rubbish bins to blockade about a dozen secondary schools in the capital.
The issue of whether students wanting to do master's degrees should be subject to a selection process is a controversial one in France, particularly with students themselves and on the political Left. Now, however, the socialist government has struck an agreement allowing French universities to limit numbers and "recruit" candidates for master's courses. In return, students turned down for the course of their choice will get a legal right to "continue their studies" and will have to be offered alternatives. Faïza Zerouala reports.
After outrage from student unions, Paris region higher education authorities back down from imposing cap on growing first-year student numbers.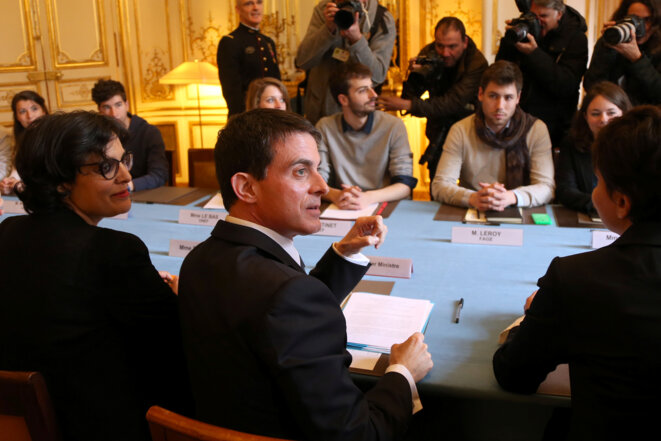 Manuel Valls, with labour minister Myriam El Khomri (l) and education minister Najat Vallaud-Belkacem, meeting with student representatives on Monday. © Reuters
François Hollande's expected bid for a new term of office in presidential elections next year is facing a serious threat from growing student anger over his government's proposed new labour law. A string of national protests have brought student and trades unions onto the streets in recent weeks against what they see as a pro-business, retrograde reform that heightens job insecurity at a time of record unemployment. The perspective of a spring revolt prompted the government to present a package of measures for the young on Monday, worth a yearly 500 million euros and aimed at easing access to the labour market and to provide financial aid for the worst off. But while the measures were broadly met with approval, the student unions vowed to continue the battle against the reform. Faïza Zerouala reports.
A package of financial measures for students and first-time job seekers, costing around 500 million euros, met with approval from main students' union.
Protests over planned employment law changes led by student groups and unions are yet another challenge for embattled President Hollande.
Students hurled bottles at riot police in Paris and Nantes in anger at planned employment law that has now been approved by ministers.