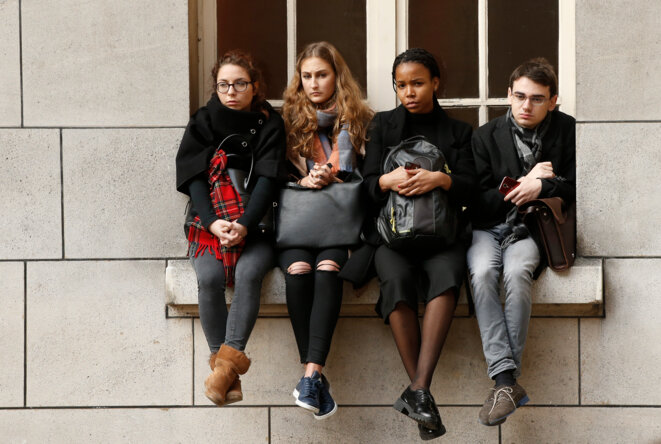 Les étudiants de la Sorbonne (Paris-V) observent une minute de silence, le lundi 16 novembre. © Reuters
The shootings and bombings in Paris on the evening of Friday November 13th targeted people – mainly young people – who had simply gone out to enjoy themselves. Two days after the killings Mediapart talked to pupils and students from the Paris region as they went back to school or university. Many spoke of their fear of being "in the wrong place at the wrong time" and are still struggling to make sense of the carnage. But they insist they are determined to carry on living their lives to the full. Mathilde Goanec, Dan Israel, Amélie Poinssot and Ellen Salvi report.
Three men and a woman were arrested after the dismembered body of a 23-year-old student was found in a plastic container filled with acid.
The reciprocal agreement between France and India will allow their nationals in either country a 24-month extension of visas post-studies.
Protesters held up placards with slogans such as 'Le Pen never again' as Front National president appeared at the Oxford Union debating society.
A new survey reveals that student living costs have risen four times faster than inflation over the past year in France.
The six oenology students were attacked at a hostel in a village near Bordeaux, leaving one of them seriously injured from glass cuts to her face.
Earlier this week the French Senate held the first of two parliamentary consultative debates to explore how to make France a more attractive destination for skilled foreign professionals and students, an issue that has long been neglected and submerged under the anti-immigration policies and political rhetoric of the government's predecessors. In a move to catch up with initiatives launched by other countries, the government plans to present a bill of law this summer to reform its immigration legislation to attempt to facilitate and encourage professional immigration. Carine Fouteau reports on how what was once a political taboo is now the subject of an open and aggressive competition for an ever-growing and increasingly-needed pool of talent worldwide.
Paris has come first in a ranking of the world's 50 best cities for students, head of "expensive" London in second spot.
A French government crackdown on numbers of work permits issued to foreign graduates has outraged North Africans, forced to return home.