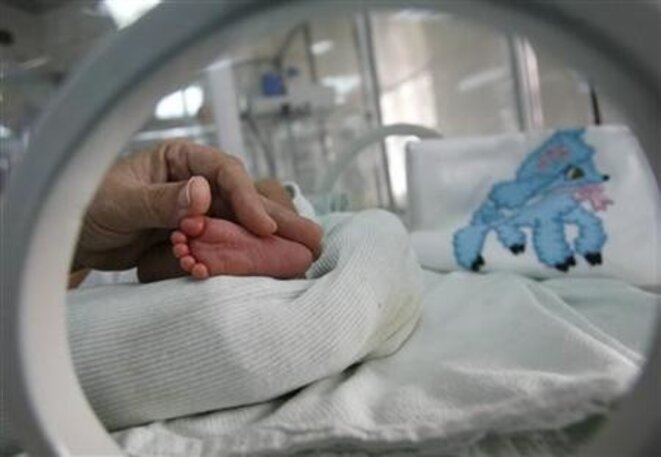 Expert panel member Dr. Alexandra Benachi: "We don't know what we're looking for". (File photo). © Reuters
A French health ministry experts' study into reported clusters of babies born with missing or malformed upper limbs in three separate regions of rural France has failed to establish the cause. "We don't know what we're looking for," said one of the panel of experts. The study has caused outrage among families of the malformed infants, born without arms or hands, after it decided one of the clusters did not meet the medical criteria of the term, and ruled out a number of proposed measures to further research into the problem at a national level. Amid speculation that environmental factors, such as pesticides, may have played a role, the experts said there was "currently insufficient" knowledge of the issue to draw a conclusion. François Bonnet reports.
Emmanuelle Amar, head of the independent body that raised the alarm over geographic clusters in France of babies born with malformations, and which was initially dismissed by health officials, has welcomed the turnaround of the government in deciding to launch a broad scientific review into the reasons behind the incidents.
Geologists from the University of Plymouth have found evidence in the rocks of south-west England suggesting the landmass of Armorica, which contains modern-day France, also played a part in creating Britain along with the ancient landmasses of Avalonia and Laurentia which merged over 400 million years ago.
A scientific study has identified the hitherto ignored and growing presence in France of several species of a giant 'hammerhead' flatworm normally native to Asia, which can typically measure almost 50 centimetres and which preys on smaller earthworms and slugs.
Paris Mayor Anne Hidalgo has commissioned an expert study into the financial viability of transforming public transport in the French capital into a free service as a measure to reduce chronic pollution by encouraging more people to abandon their use of private vehicles in the city.
A study by London-based human rights charity Refugee Rights Europe questioned almost 300 migrants about their conditions living rough on the streets of the French capital, with many respondents complaining of a climate of fear amid physical attacks, racial abuse and sexual assault.
A report published this month by France's national institute of demographic studies, INED, suggests that one woman in five in the country falls victim every year to incidents of sexual and sexist abuse in public spaces, ranging from assault to harassment, and the most vulnerable are women aged between 20 and 24 who live in the Paris region. Louise Fessard reports.

A report released this month by an independent research body on social exclusion calculates that up to one million more people in France fell below the poverty line between 2005 and 2015. While the financial and economic crisis is largely responsible, the slight recovery of growth has had little, if any, effect on easing the numbers of poor, one third of who are children. Laurent Mauduit analyses the data.
More than half of the murders of women in France in 2015, excluding victims of terrorist attacks, were committed by members of their domestic entourage, and of these the majority were carried out by current or former husbands and partners. The startling figures emerge from a study by an official French statistics agency, which found that women most at risk from their domestic environment are aged between 15 and 35 and live in rural areas. Louise Fessard reports.
A study published in the journal Pediatrics reports that emergency medical treatment of children after their accidental intoxication from marijuana has risen by 133% over the past 11 years in France, the country where consumption of the drug is the highest in Europe.
Pregnant women treated with valproate, prescribed worldwide for epilepsy and bi-polar disorders and introduced in France in 1967, is believed to have caused malformations, and notably spina bifida, in up to 4,100 children in France, according to a study by the French National Agency for the Safety of Medicines.
Earlier this month the OECD published its latest Programme for International Student Assessment (PISA) study, which attempts to measure the success of school education systems worldwide in an evaluation of the performance and knowledge of 15-year-old pupils in 72 countries. The study, which is produced every three years, found French schools to be amongst the most socially unequal, with pupils from poor backgrounds scoring significantly less than those from better-off families, a situation that the OECD desribed as a "two-tier" system that has resulted in "a human tragedy". Faïza Zerouala reports. 
The numbers of people leaving France to live abroad has risen dramatically over the past eight years in comparison to the numbers of those taking up residence in the country, according to a study published this week by the French National Institute of Statistics and Economic Studies. The institute also found that immigration now accounts for a relatively small proportion of the growth in the French population. Michel de Pracontal reports.
The poll found 53% of the party's sympathisers were against a Jewish president, and 22% would actively avoid living beside Jewish neighbours.