Related keywords
French culture minister Françoise Nyssen has announced that film productions with a minimum of four women in key professional roles will be eligible to greater financial subsidies than others, in a drive to reach greater gender parity in the industry.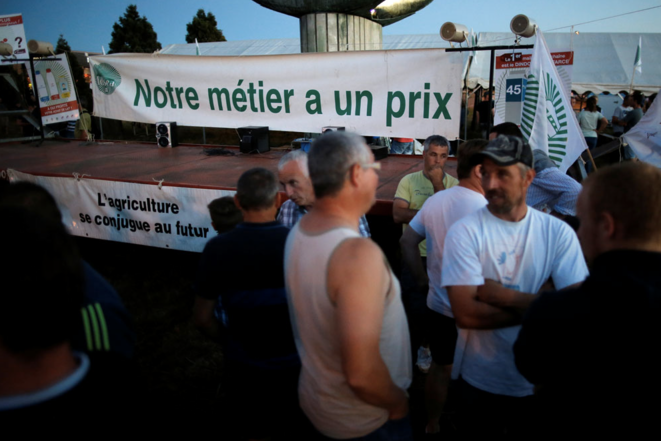 Farmers protesting outside the headquarters of dairy firm Lactalis, at Laval, central-west France, August 23rd. ©Reuters
As European farm ministers met earlier this month at a château in France's Loire Valley to reframe EU agricultural policy, a detailed study of European farm aid has revealed a major contradiction right at the heart of that policy; that the most polluting farms actually receive the most cash from subsidies. And amid French farmers' protests against falling prices and shrivelling incomes, the study also showed that in the current economic context, the usual strategy of continually boosting production is no longer an option. Jade Lindgaard reports.
France is sent before European Court of Justice over 10M-euros given to low-cost airlines Ryannair and Transavia to use regional airports.
The French cinema industry has some of the world's highest-paid stars and largest film budgets, but is losing money hand over fist. The paradox is explained by a system of public subsidies paid to make films whatever their box office appeal. Even for those which prove a popular success, the enormous production costs are hardly ever recovered. The subsidies paid to the French film industry are part of a complex system that its supporters say has allowed it, over many decades, to maintain a rich production while other national cinema industries in Europe have faded. Its critics argue it is a perverse and outdated economic model. In this interview with Joseph Confavreux, the sociologist Olivier Alexandre, a specialist in the history of modern French cinema, analyses how the system works and weighs up the arguments for and against.
Energy minister Delphine Batho announces plans to double production capacity target and offer more financial support to small photovoltaic farms.
Leading French film producer lambasts huge fees paid to the country's cinema stars whose demands are largely met via subsidies paid to the industry.
European Union proposals on future agricultural spending set to trigger year-long debate among the bloc's 27 member states over subsidies.
The French press industry receives a staggering one billion euros annually in State aid, amounting to a "fiasco" and a "scandal" according to a government-commissioned study. Now newspaper publishers are under pressure to restructure or die before the tap runs dry. But, as David Medioni and Vincent Truffy report here, time is fast running out on a business still unable to define its future.