Related keywords
The channel M6 broadcast footage of the moment Ibrahim Abdeslam blew himself up at the Comptoir Voltaire café in Paris on November 13th.
A jacket with explosives and bolts reportedly identical to those used during the November 13th Paris attacks was found in Montrouge litter bin.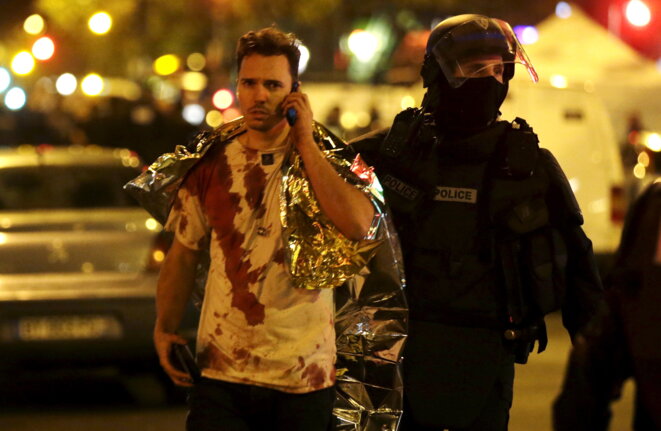 Un survivant du Bataclan, après l'assaut des forces de l'ordre © Reuters
French intelligence agencies knew as far back as 2009 that Ismaël Omar Mostefaï, one of the three suicide bombers who attacked the Batalcan concert hall in Paris, had been radicalised in a group in France led by a veteran jihadist with a history of planning terrorist attacks, Mediapart can reveal. Mostefaï had also been spotted with the group when it was under surveillance in April 2014, and the authorities were later informed that he had almost certainly gone to Syria, at the same time as another future Bataclan bomber. But by late 2014 the secret services no longer knew of his whereabouts. He did not resurface again until November 13th, 2015, when he was part of the coordinated attacks that killed 130 people in Paris. The French authorities, however, deny there was any intelligence blunder. Yann Philippin, Marine Turchi and Fabrice Arfi report.
Experts sifting through debris at flat raided by French police now believe Hasna Ait Boulahcen was not the person wearing a suicide belt.
A group has claimed that attacks near the city of Haditha in the west of Iraq were carried out by two Frenchmen.
Bomber blew himself up at a checkpoint near the Malian city of Gao in the first such attack since France's military campaign began.