In a landmark legal decision, Didier Lombard, the former chief executive of France Télécom, now renamed Orange, his second in command at the company, Louis-Pierre Wenès and its former human resources director, Olivier Barberot, were found guilty by Paris magistrates on Friday of "institutional moral harassment" which saw a series of staff suicides during a brutal cost-cutting and restructuring plan at the telecoms giant in 2007 and 2008.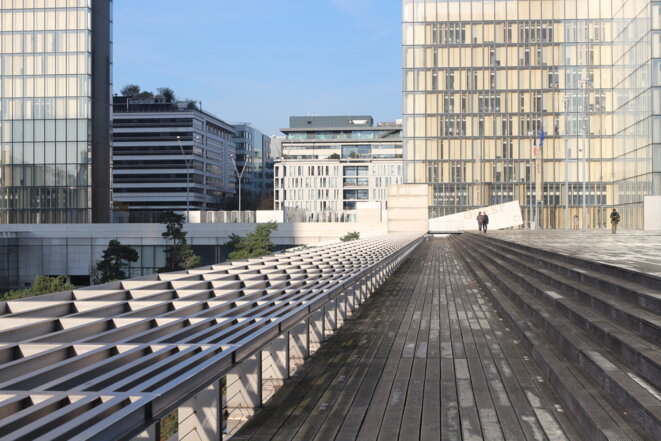 The iconic national library building in Paris.
In the last ten years at least seven people have killed themselves by jumping from the terraces or plaza of a site at France's national library, the Bibliothèque François-Mitterrand in Paris. Meanwhile on December 8th this year a girl fell from the iconic building and is now in a critical condition. Trade unions representing staff at the library say that not enough work has been done to make the site safe. Meanwhile management suggests such measures might be "ineffective" and say they also have to consider keeping the building's "architectural integrity". Mathilde Goanec reports.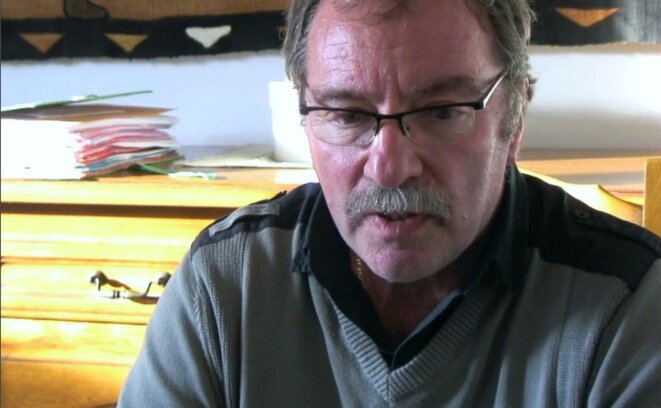 Yves Minguy: 'When you have nothing left anymore, you are ashamed'. © Mathieu Magnaudeix et Hugo Vitrani
In an ongoing trial in Paris, the former boss of France Télécom, the now renamed Orange telecommunications giant, along with six of his former top executives, stand accused of moral harassment of staff in a brutal four-year cost-cutting plan to axe 22,000 jobs, during which more than 30 employees took their own lives, including by immolation, hanging and defenestration. At least 13 others attempted suicide, and many more were diagnosed with depression. One of the latter is Yves Minguy, a highly skilled computing engineer who, after 35 years with the company, was humiliatingly posted to answer the telephone at a customer call centre. He took to the witness stand last week and afterwards told Mediapart of the duty he felt to speak "for those who are no longer here".
The trial has opened in Paris of Didier Lombard, the former head of France Télécom, the telecoms giant now renamed Orange, and six other former executives, including its Human Resources director, for their alleged responsibility through moral harassment in at least 19 suicides of employees during a restructuring of the company, which saw 22,000 jobs axed and another 14,000 posts reassigned.
Paris prosecution services have opened an investigation into reported jibes aimed at police by anti-government 'yellow vest' protestors in Paris on Saturday in which they allegedly shouted 'kill yourselves' in a reference to a police union revelation last week that 28 officers have committed suicide since January 1st.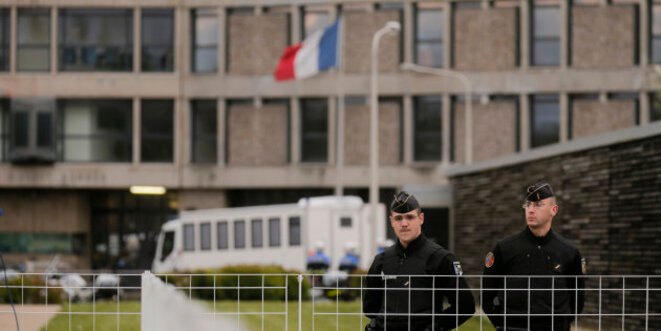 Police officers standing guard outside Fleury-Merogis prison south of Paris. © Reuters
The apparent suicide by hanging of a 48-year-old man found in his cell on August 7th at the Fleury-Mérogis prison south of Paris, the largest in Europe, brought the number of inmates reported to have taken their own lives there since the start of the year to 11 – more than the total number of suicides in the prison over the previous two years. The alarming figure highlights the recurrent problem of suicides among France's prison population, which are proportionally around six times more than among the general population according to prisoner rights associations which denounce the reluctance of successive governments to effectively tackle the problem.
Didier Lombard, the former CEO of France Telecom (now Orange) and six other company executives are to stand trial on charges of engaging in or assisting psychological harassment of their staff, which allegedly led to the suicides of more than 30 employees in the space of two years.
The most recent available statistics, made public in 2016 by France's public health institute, show that 985 farmers killed themselves from 2007 to 2011, a suicide rate 22 percent higher than that of the general population and to a backdrop of increasing economic hardship among rural populations, while the real numbers are feared to be greater still because of suicides not officially declared by doctors.
At least 19 staff took their lives in 2008 and 2009 and company and ex-boss are suspected of using policy of unsettling staff to hasten job losses.
Labelling it a 'serious alert', an organisation that monitors work conditions said the majority of these suicides were 'explicitly related to work'.
Former chief executive accused of advocating tough management practices amounting to psychological harassment, his lawyer said.
The recent suicide of a policewoman in southern France has highlighted alarm in the profession over the yearly number of officers, especially the young, who take their own lives. Unions claim that many of the around 50 suicides per year are 'workplace accidents', caused by increasing stress on the job and deteriorating professional conditions. The interior ministry thas recognised just one such case. But the tragic event in July may become a landmark case. Louise Fessard reports.