Related keywords
Welcome to the Republic of Le Saugeais, a little-known 'nation' that lies alongside France's border with Switzerland and which has its own president, anthem, flag and language, all unrecognised by the French state, and whose 'independence' began with a joke in a restaurant.
While wealth-managing firms in the Swiss city close to the French border say that it is to support the local economy that they encourage employees to live locally instead of in cheaper France, banking secrecy concerns are also behind the policy.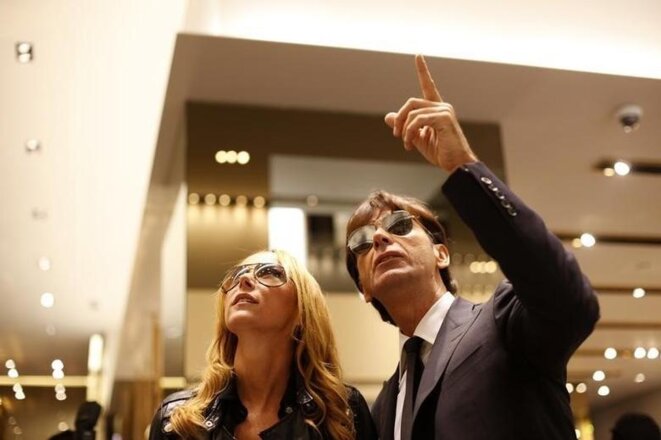 The former CEO of Gucci, Patrizio Di Marco, with his wife Frida Giannini. © Reuters
The leading French luxury goods company Kering, owned by the ultra wealthy Pinault family, saved 39 million euros in tax by paying the former boss of its subsidiary Gucci via a company in Panama, according to documents obtained by Mediapart and shared with the European Investigative Collaborations (EIC). The French company also lied about its tax avoidance schemes to two separate investigations carried out by the French Senate. Yann Philippin investigates.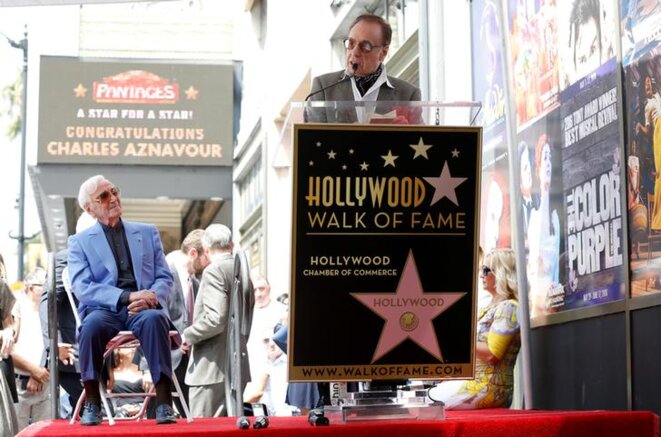 Charles Aznavour in Hollywood on August 24th, 2017, as his star is unveiled on the 'Walk of Fame'. © Reuters
In 2007 the famous French singer Charles Aznavour set up a holding company in Luxembourg to receive the dividends he gets from French companies that handle his royalties. More recently members of his family also became involved in this perfectly legal set-up. The result is that this veteran French entertainer, who is resident in Switzerland, and some of his family now pay little tax in France on the proceeds from his music. Romaric Godin reports.
The middleman Alexandre Djouhri has been released on bail by a court in London pending proceedings to extradite him to France. Examining magistrates in Paris investigating claims that Libyan regime money was used to finance Nicolas Sarkozy's 2007 election campaign want to question Djouhri over crucial documents found at his Swiss home. Mediapart understands these show that the middleman did indeed oversee the payment of half a million euros of Libyan origin to President Sarkozy's most trusted lieutenant, Claude Guéant. Karl Laske and Fabrice Arfi report.
Among those arrested were a 23-year-old Colombian woman and 27-year-old Swiss man, targets of a Swiss probe into banned Islamic groups.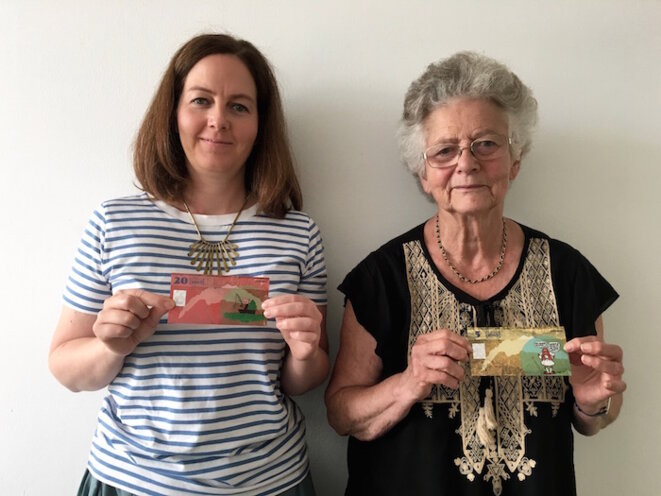 Volunteers working on the new currency, Claudine Baudin and Paule Génillard from Geneva. © Fanny Hardy
A new local currency that straddles the frontier between France and Switzerland has been set up by local volunteers. The 'Léman' was created a year ago to help forge stronger trade links between local businesses on either side of the border and is growing in popularity. Fanny Hardy reports on the first local currency to be shared by the two nations.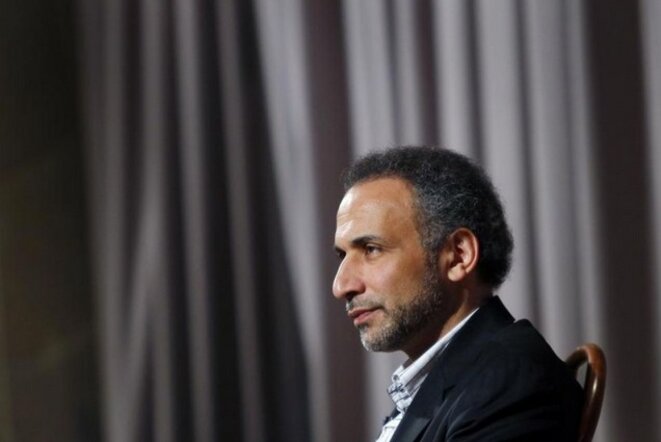 Seeking French nationality: Tariq Ramadan © Reuters
Every few years France gets swept up in a controversy over Tariq Ramadan. And since 1995 much of the French establishment has vilified and shunned this Muslim preacher, writer and academic, whom they suspect of advocating radical Islamism and sectarian views. Now the Swiss-born intellectual with Egyptian roots is seeking French nationality in a move that is likely to provoke yet another row. Mathieu Magnaudeix profiles a controversial figure who is almost impossible to classify.
Victims were all Portuguese passengers on the minibus, which was travelling across France from Switzerland to Portugal; the driver survived.
The Swiss canton, or state, of Geneva has launched legal action aimed at forcing the closure of the ageing, accident-prone French nuclear plant at Bugey, which lies just 70 kilometres from the border with Switzerland. The lawsuit is for "the deliberate endangering of lives" and "water pollution". If successful, this extraordinary move could encourage other countries bordering France and its network of 58 nuclear reactors to take similar action. Agathe Duparc reports from Geneva where the local authorities presented their case at a press conference on Monday.
Jérôme Cahuzac. © Reuters
Former French finance minister Jérôme Cahuzac will next month stand trial on charges of tax evasion and money laundering. The trial follows a two-year judicial investigation which was itself prompted by Mediapart's revelations that Cahuzac held a secret bank account abroad, which he first denied before finally confessing in April 2013. Mediapart has gained access to the concluding report by the magistrates which details the evidence for sending Cahuzac for trial. Fabrice Arfi reports.
Paris says the fighter which came in 'dangerous proximity' to a Russian airliner in French airspace was Swiss.
Swiss army helicopters flew into France to scoop up water from a lake to help with relief operation to save Swiss cows from severe drought.
An official French watchdog that monitors the financial probity of holders of public office has alerted the Paris public prosecutor's office to its "serious doubt" that a French Senator and two members of the National Assembly, the lower house, deliberately under-declared their assets to parliament "notably due to the omission" of their secret bank accounts in Switzerland. The cases of Senator Bruno Sido and MPs Lucien Degauchy and Bernard Brochand, all from the conservative opposition UMP party, emerge just one year after the socialist government's budget minister Jérôme Cahuzac was forced to resign following Mediapart's revelations of his secret account with Swiss bank UBS, and months after a junior minister was found to have avoided paying income tax for several years. Mathilde Mathieu reports.