Ruling by top French court marks a major setback for Lafarge, which is accused of paying nearly 13 million euros to jihadist groups including the Islamic State (IS) to keep its cement factory in northern Syria running through the early years of the country's war.
Human rights experts from the UN have urged 57 countries, including Britain and France, to repatriate the wives and children of jihadists.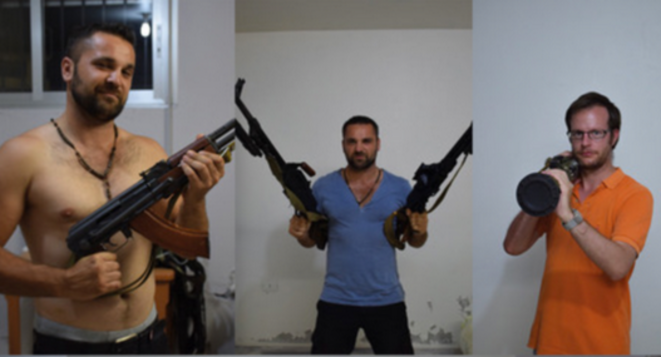 SOS Chrétiens d'Orient's former head of mission Alexandre Goodarzy (in blue and topless) and its co-founder Benjamin Blanchard (in orange) posing in a Syrian house with a rocket launcher, a Kalashnikov and machine guns. © Document Mediapart
French Catholic association SOS Chrétiens d'Orient (SOS Christians of the Orient) claims to help Christians in Syria without interfering in the conflict that for nine years has been tearing the country apart. But as an investigation for Mediapart has already shown, it has forged close relations with bodies and people supporting the Damascus regime of Syrian dictator Bashar al-Assad. And as this second investigation reveals, the NGO - which for several years has been a 'National Defence Partner' of France's Ministry of Armed Forces – also supports pro-Assad militia.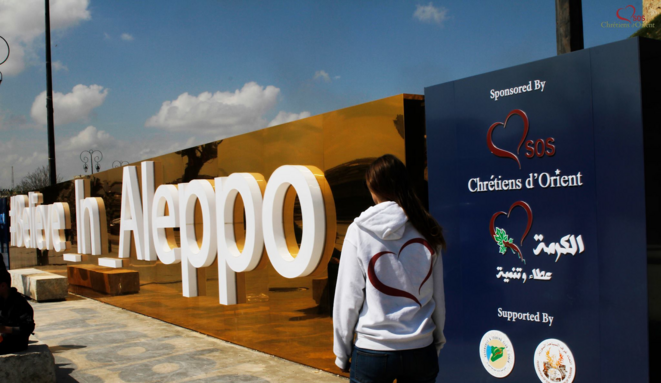 'Believe in Aleppo', a 2017 PR stunt in the war-ravaged Syrian city of Aleppo, organised by the Damascus authorities with the help of SOS Chrétiens d'Orient. © DR
French association SOS Chrétiens d'Orient (SOS Christians of the Orient) is a self-declared "apolitical" not-for-profit NGO, which sends volunteers and staff across the Middle East with the stated aim of supporting the region's persecuted Christians, notably in Syria. But, as this investigation for Mediapart reveals, its links with the French far-right and its close relations with bodies and people supporting the Damascus regime of Syrian dictator Bashar al-Assad raise disturbing questions about its mission.
No details on their destination in France nor the circumstances under which they left Syria were provided.
Rifaat al-Assad was convicted of embezzling Syrian state funds to buy homes and offices worth €90m (£80m) to build a French property portfolio.
David De Pas, coordinator of France's 12 anti-terrorism examining magistrates, said that it would be "better to know that these people are in the care of the judiciary" in France "than let them roam free".
French foreign minister Jean-Ives Le Drian on Wednesday travelled for talks with the Iraqi authorities on setting up a judicial framework to allow for the trials of jihadists detained in Syria, where Kurdish captors said they can longer ensure guarding them in face of the Turkish offensive in the north of the country.
France joined Germany in announcing this weekend a suspension of weapons sales to Turkey for as long as Ankara continues with its military invasion of a neighbouring part of northern Syria, a ban which the French defence minister said concerned 'war materials that could be used in the context of this offensive'.
A group of 12 children of deceased French jihadists was flown home on Monday from north-east Syria where they were held by Kurdish forces, the latest step in efforts to resolve the problem posed by the huge numbers of foreign jihadists and their families stranded in Syrian camps after the military defeat of the so-called Islamic State group.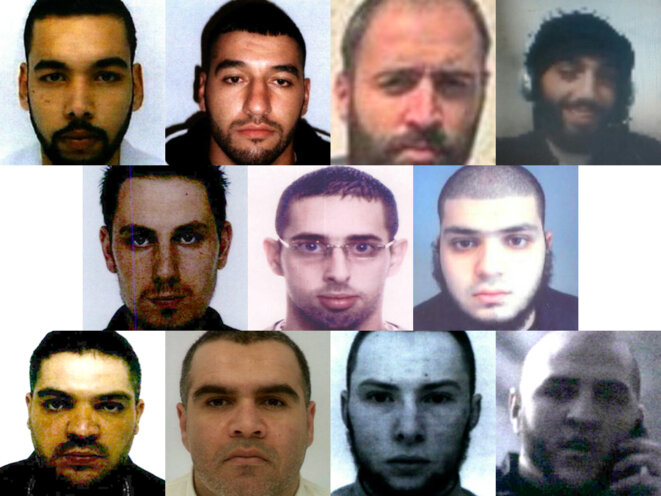 From left to right and from the top, 11 of the 12 condemned to death: Yassine Sakkam, Fodil Tahar Aouidate, Karam El Harchaoui, Bilel Kabaoui, then Kevin Gonot, Léonard Lopez, Mohamed Berriri, and finally Mustapha Merzoughi, Salim Machou and Brahim Nejara. © DR
Twelve former residents in France – eleven of them French citizens, one a Tunisian – have now been sentenced to death in Iraq for having been a member of Islamic State. But whatever charges they face, the way in which Iraqi justice is being carried out in relation to the jihadists has raised major concerns, including among many French lawyers. As Mediapart has revealed, the ides of trying these French citizens and residents in Iraq was conceived in Paris where officials want the process to be carried out "without visible involvement by France". Matthieu Suc reports.
Children, a girl aged five and a two-year-old boy, are in the care of a Kurdish militia in north-eastern Syria, according to family lawyer.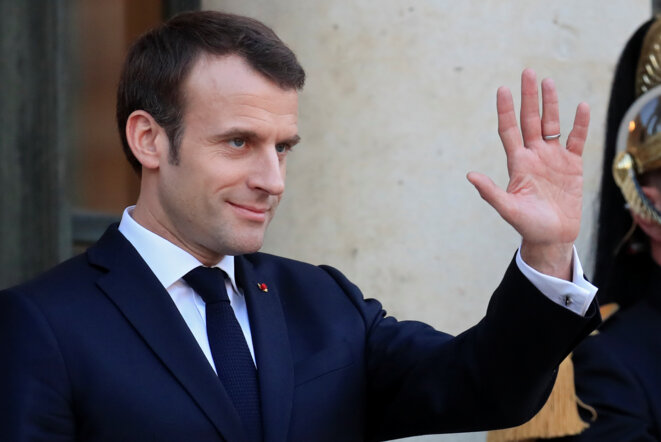 President Emmanuel Macron on February 27th 2019. © Reuters/Gonzalo Fuentes
Speaking during a recent debate with local councillors President Emmanuel Macron insisted: "No programme for a return of jihadists has today been drawn up." Yet, as Mediapart can reveal, officials at the ministries of Defence, Foreign Affairs, Interior and Justice have in fact been working since the autumn of 2018 on plans for the return of French jihadists held by Kurds in Syria. Matthieu Suc reports on the French government's change of heart.
Fabien Clain, 41, aka 'brother Omar', a veteran leading member of the so-called Islamic State group, who claimed its responsibility for the November 2015 terrorist attacks in Paris that left 130 people dead, has been killed in a coalition air strike in Syria which also wounded his brother Jean-Michel, according to French media reports.