Related keywords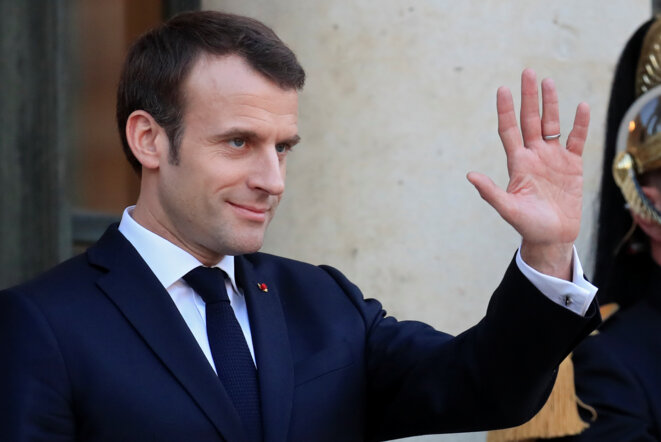 President Emmanuel Macron on February 27th 2019. © Reuters/Gonzalo Fuentes
Speaking during a recent debate with local councillors President Emmanuel Macron insisted: "No programme for a return of jihadists has today been drawn up." Yet, as Mediapart can reveal, officials at the ministries of Defence, Foreign Affairs, Interior and Justice have in fact been working since the autumn of 2018 on plans for the return of French jihadists held by Kurds in Syria. Matthieu Suc reports on the French government's change of heart.
Fabien Clain, 41, aka 'brother Omar', a veteran leading member of the so-called Islamic State group, who claimed its responsibility for the November 2015 terrorist attacks in Paris that left 130 people dead, has been killed in a coalition air strike in Syria which also wounded his brother Jean-Michel, according to French media reports.
Interior minister reported as saying fighters of French origin could be repatriated from Syria as US forces withdraw from that country.
FDrench President Emmanuel Macron, speaking during a visit to Chad, said he "very deeply' regrets the decision by his US counterpart Donald Trump to withdraw American troops from Syria, commenting that 'An ally should be dependable'.
President Macron apparently spoke to President Trump in advance to try convince him not to remove US troops from Syria.
Syrian president Bashar al-Assad's security chief and two senior Syrian air force intelligence officials are wanted by France in connection with the disappearance in 2013 of a father and son of joint French-Syrian nationality after they were arrested by agents of the regime.
France plans to start repatriating an estimated 150 children from former IS war zone but says mothers themselves will not be welcomed home.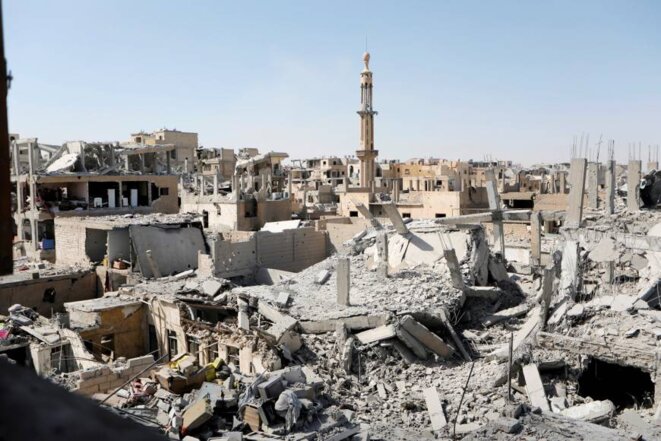 Ruins in the Syrian city of Raqqa, once a bastion of Islamic State. © Reuters
Following the military rout of the Islamic State (IS) group in Syria and Iraq, large numbers of French jihadists were forecast to return home. But in fact, those who have made the journey back represent relatively few of the estimated 700 who joined the ranks of IS in the Middle East. Since 2016, just 64 men and women jihadists have returned – and only seven so far this year. One principal reason is the logistical difficulties for those fleeing the zone and the high fees demanded by people smugglers. But the situation presents a potential security threat in that those who escape by their own means can become invisible to intelligence services.   Matthieu Suc reports.
Speaking in parliament, French foreign minister Jean-Yves Le Drian said the Damascus regime of Bashar al-Assa and its ally Russia might be held to account for war crimes over indiscriminate aerial bombing of 'civilian populations and hospitals' in Idlib, the beseiged last major stronghold of active opposition to the regime.
French company that later merged with Swiss firm is under formal investigation into claims it funded armed Syrian groups to keep a plant open.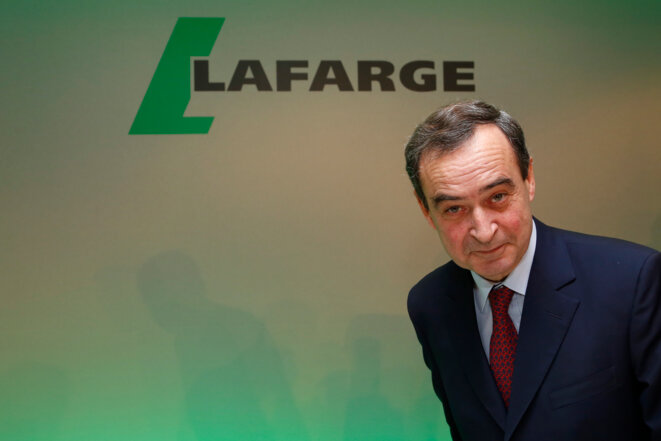 Bruno Lafont when he was CEO of Lafarge, on February 18th, 2015. © Reuters
An intercepted telephone call involving the former boss of French cement firm Lafarge, which is accused of funding terrorist group Islamic State to keep its Syrian cement plant in production, shows the extend of the "worry" that has gripped the company, which has since become a Franco-Swiss multinational. Just how far – and to whom – will the current judicial investigation extend? Fabrice Arfi reports.
Email shows that France's Syrian envoy thought it 'legitimate' to approach US over cement plant in area controlled at the time by Islamic State.
Presidents Trump and Macron are expected to tackle pressing foreign policy issues from Iran deal to Syria as French leader starts US state visit.
One of three French navy frigates taking part with the US and Britain in last weekend's strikes against chemical weapons sites in Syria found itself unable to launch its cruise missiles, the first time France had employed them in action, requiring one of the other vessels to take over its role and fire its own missiles, this time successfully, against the designated targets.