Move follows allegation that Rifaat Assad's fortune, including several dozen Paris apartments and luxurious townhouse, is result of abuse of power.
'Stunned' French president François Hollande called off military attack after US president said he was to seek Congress approval.
Presidsent François Hollande speaks of a 'controlled framework' to arm rebels caught between Syrian government and Islamist rebels.
Interior minister Manuel Valls says the 'hundreds' of homegrown Islamist militants fighting in Syria could pose a problem when they return home.
France's Laurent Fabius says UN report leaves no doubt that Syrian government is responsible for chemical attack but Russians still blame rebels.
President Hollande says while political and diplomatic solution to the Syrian conflict is possible, option of military strikes must remain on the table.
French foreign ministry says a binding U.N. Security Council resolution is needed to police Syria's promise to give up its chemical weapons.
Initial French UN Security Council resolution would require Syria to make complete declaration of its chemical weapons program within 15 days.
Text would require Syria to reveal extent of its chemical weapons program and turn its arsenal over to international inspectors to be neutralized.
At a joint press conference in Paris, US Secretary of State and his French counterpart say countries ready to join attacks number 'double digits'.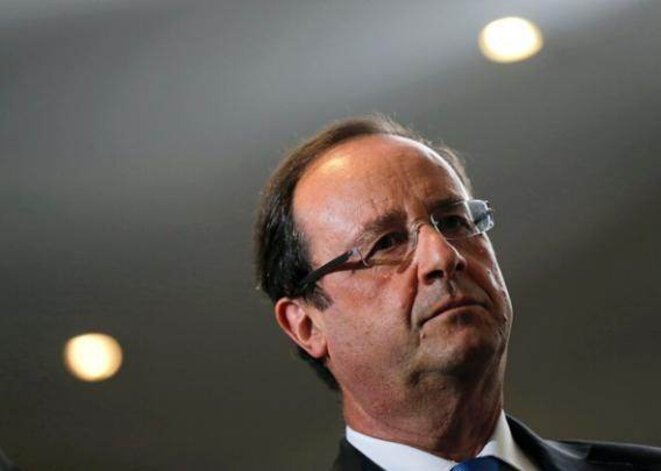 © Reuters
US Secretary of State John Kerry arrived in Paris late on Saturday to discuss what increasingly appears to be an imminent US-led military attack, with the active support of France, upon the Syrian regime of Bashar al-Assad. Kerry said the international community was now before a "Munich moment", referring to the appeasement that failed to stop Nazi Germany in the 1930s. "We in the United States know, and our French partners know, that this is not the time to be silent spectators to slaughter," he said. The present crisis will, whatever the outcome, be recorded as a turning point for French President François Hollande. Mediapart editor-in-chief Edwy Plenel argues here that Hollande has alone decided to lead his country to war in a simplistic and precipitated manner, while turning his back on the two challenges left by his predecessor Nicolas Sarkozy, namely a renewal of the democratic process in France and the establishment of a new approach to international relations.
French president François Hollande has made clear that France will join the US in military strikes against the Syrian regime of Bashar al-Assad, dismissing calls for a vote of approval beforehand in parliament. As illustrated in yesterday's heated debate in the lower house, the National Assembly, political and public opinion is deeply divided, both over the legality and consequences of the planned strikes. Lénaïg Bredoux and Caroline Donati have talked to senior French officials and experts close to the Syrian dossier, many of whom agreed to be interviewed on condition of anonymity, to find out why Hollande appears to have been finally wrongfooted amid a rushed and chaotic final denouement to a crisis of more than two years, and which one government advisor says is down to "a series of balls-ups".
Conservative UMP party accuses French government of a 'fundamental' doctrine change that puts in danger France's influence on the world stage.
A stormy debate laid bare deep conflicts in French political opinion over President Hollande's plan to join the US in air strikes against Syria.
Syrian president Bashar al-Assad warns the Middle East could "explode" if the US and France pressed ahead with threatened air strikes.